Toyota Yaris: Manual Transaxle Unit / Components
COMPONENTS
ILLUSTRATION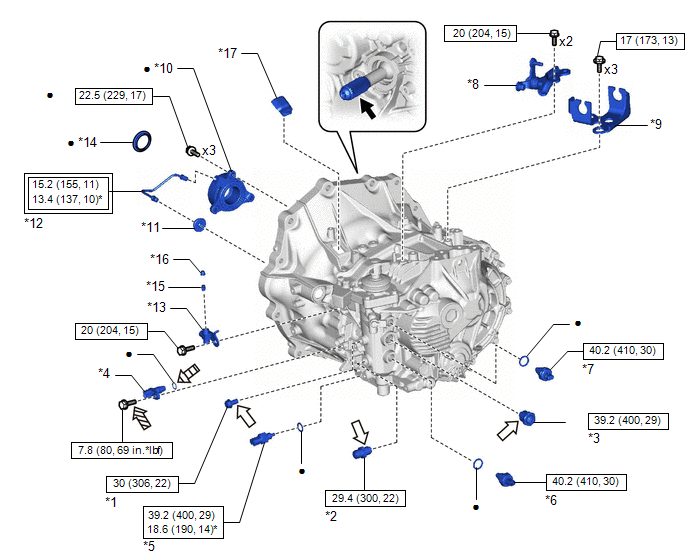 | | | | |
| --- | --- | --- | --- |
| *1 | SHIFT GATE PIN | *2 | NO. 2 LOCK BALL ASSEMBLY |
| *3 | NO. 1 LOCK BALL ASSEMBLY | *4 | TRANSMISSION REVOLUTION SENSOR |
| *5 | TEMPERATURE SENSOR | *6 | NEUTRAL POSITION SWITCH |
| *7 | BACK-UP LAMP SWITCH ASSEMBLY | *8 | SELECTING BELL CRANK ASSEMBLY |
| *9 | CONTROL CABLE BRACKET | *10 | CLUTCH RELEASE CYLINDER WITH BEARING ASSEMBLY |
| *11 | CLUTCH TUBE BOOT | *12 | BLEEDER CLUTCH RELEASE TUBE |
| *13 | CLUTCH RELEASE BLEEDER SUB-ASSEMBLY | *14 | CLUTCH RELEASE BEARING PLATE |
| *15 | RELEASE CYLINDER BLEEDER PLUG | *16 | RELEASE CYLINDER BLEEDER PLUG CAP |
| *17 | NO. 1 CLUTCH HOUSING COVER | - | - |
| | Tightening torque for "Major areas involving basic vehicle performance such as moving/turning/stopping" : N*m (kgf*cm, ft.*lbf) | | N*m (kgf*cm, ft.*lbf): Specified torque |
| * | For use with SST and union nut wrench | ● | Non-reusable part |
| | Clutch spline grease | | Adhesive 1344 |
| | Adhesive 1324 | | Gear Oil |
| ★ | Precoated part | - | - |
ILLUSTRATION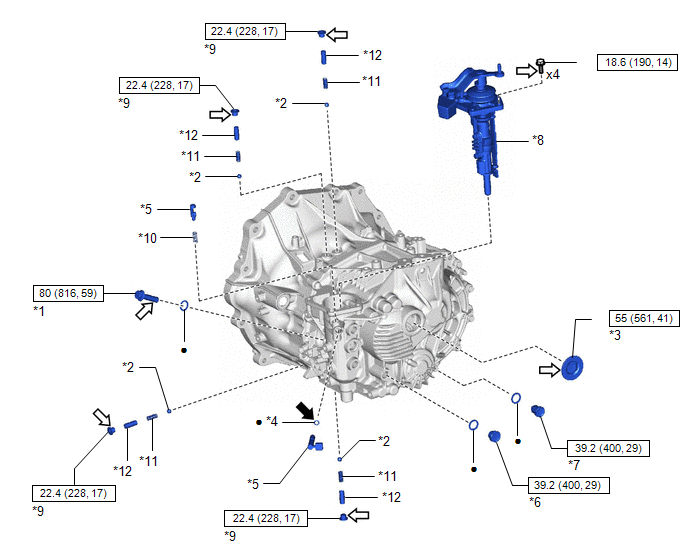 | | | | |
| --- | --- | --- | --- |
| *1 | REVERSE IDLER GEAR SHAFT BOLT | *2 | SHIFT DETENT BALL |
| *3 | MANUAL TRANSMISSION CASE PLUG | *4 | SHIFT ARM PIVOT O-RING |
| *5 | SHIFT AND SELECT LEVER SHAFT STRAIGHT PIN | *6 | MANUAL TRANSMISSION FILLER PLUG |
| *7 | MANUAL TRANSMISSION DRAIN PLUG | *8 | SHIFT AND SELECT LEVER ASSEMBLY |
| *9 | DETENT BALL PLUG | *10 | SPRING |
| *11 | SHIFT DETENT BALL COMPRESSION SPRING | *12 | SHIFT DETENT BALL COMPRESSION SPRING SEAT |
| | N*m (kgf*cm, ft.*lbf): Specified torque | ● | Non-reusable part |
| | MP grease | | Adhesive 1344 |
| ★ | Precoated part | - | - |
ILLUSTRATION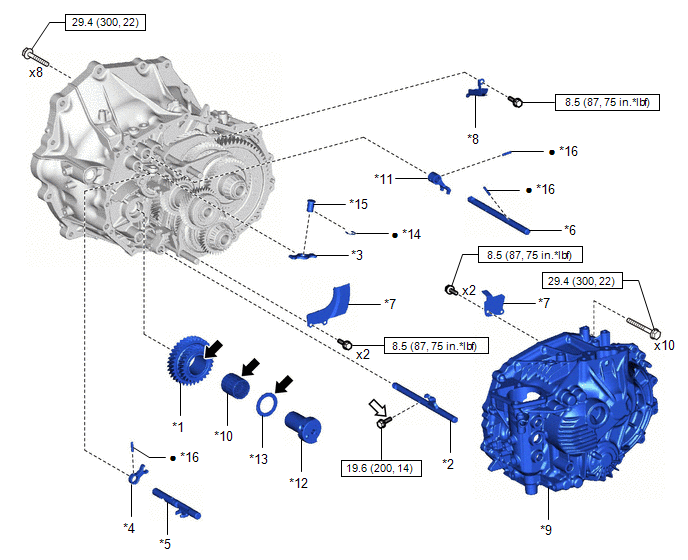 | | | | |
| --- | --- | --- | --- |
| *1 | REVERSE IDLER GEAR | *2 | REVERSE SHIFT FORK SHAFT |
| *3 | SHIFT ARM | *4 | NO. 3 GEAR SHIFT HEAD |
| *5 | NO. 5 GEAR SHIFT FORK SHAFT | *6 | 3RD AND 4TH SHIFT FORK SHAFT |
| *7 | TRANSMISSION OIL SEPARATOR | *8 | NO. 1 OIL RECEIVER PIPE |
| *9 | MANUAL TRANSMISSION CASE | *10 | NEEDLE ROLLER BEARING |
| *11 | NO. 2 GEAR SHIFT HEAD | *12 | REVERSE IDLER GEAR SHAFT |
| *13 | REVERSE IDLER THRUST WASHER | *14 | E-RING |
| *15 | SHIFT ARM PIVOT | *16 | SLOTTED SPRING PIN |
| | N*m (kgf*cm, ft.*lbf): Specified torque | ● | Non-reusable part |
| | MP grease | | Adhesive 1344 |
| ★ | Precoated part | - | - |
ILLUSTRATION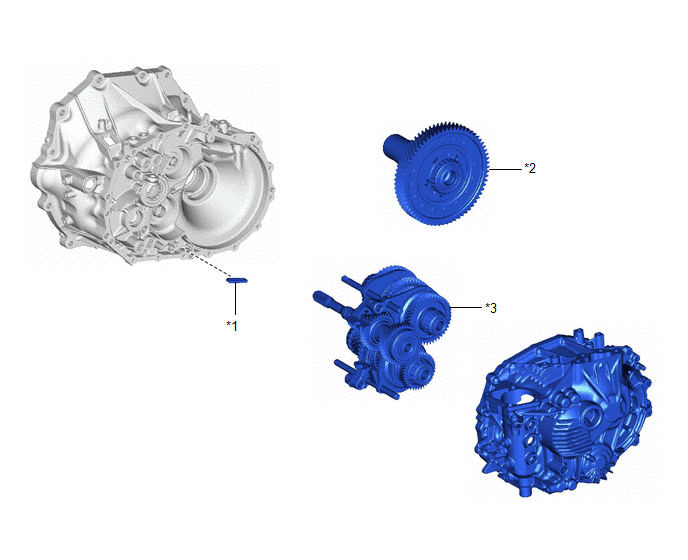 | | | | |
| --- | --- | --- | --- |
| *1 | TRANSMISSION MAGNET | *2 | DIFFERENTIAL GEAR ASSEMBLY |
| *3 | INPUT SHAFT, NO. 1 OUTPUT SHAFT AND NO. 2 OUTPUT SHAFT | - | - |
ILLUSTRATION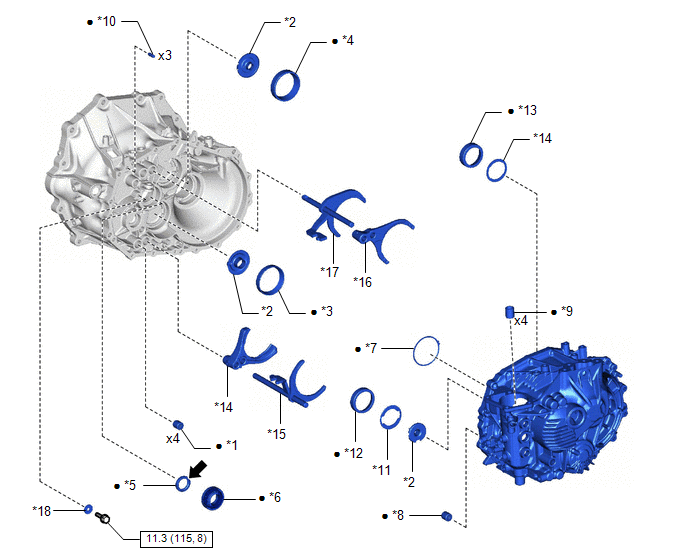 | | | | |
| --- | --- | --- | --- |
| *1 | SHIFT FORK SHAFT BEARING | *2 | OUTPUT SHAFT COVER |
| *3 | NO. 2 OUTPUT SHAFT FRONT BEARING | *4 | OUTPUT SHAFT FRONT BEARING |
| *5 | FRONT TRANSAXLE CASE OIL SEAL | *6 | INPUT SHAFT FRONT BEARING |
| *7 | INPUT SHAFT REAR BEARING SHAFT SNAP RING | *8 | SHIFT AND SELECT LEVER SHAFT NEEDLE ROLLER BEARING |
| *9 | SHIFT FORK SHAFT BEARING | *10 | MANUAL TRANSMISSION CASE STRAIGHT PIN |
| *11 | OUTPUT SHAFT REAR BEARING SHIM | *12 | NO. 2 OUTPUT SHAFT REAR BEARING |
| *13 | OUTPUT SHAFT REAR BEARING | *14 | REVERSE SHIFT FORK |
| *15 | NO. 3 GEAR SHIFT FORK | *16 | NO. 2 GEAR SHIFT FORK |
| *17 | NO. 1 GEAR SHIFT FORK | *18 | BEARING LOCK PLATE |
| | N*m (kgf*cm, ft.*lbf): Specified torque | ● | Non-reusable part |
| | MP grease | - | - |
ILLUSTRATION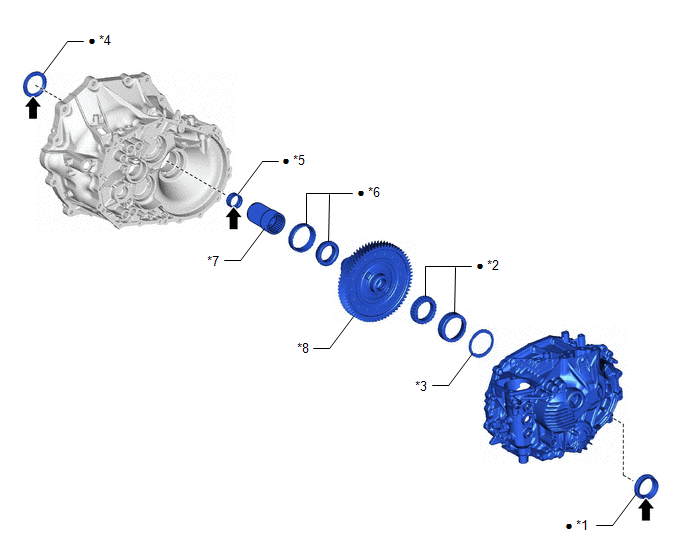 | | | | |
| --- | --- | --- | --- |
| *1 | FRONT DRIVE SHAFT OIL SEAL LH | *2 | FRONT DIFFERENTIAL CASE REAR TAPERED ROLLER BEARING |
| *3 | FRONT DIFFERENTIAL CASE REAR SHIM | *4 | TRANSAXLE CASE OIL SEAL |
| *5 | FRONT DRIVE SHAFT OIL SEAL RH | *6 | FRONT DIFFERENTIAL CASE FRONT TAPERED ROLLER BEARING |
| *7 | TRANSMISSION SLEEVE YOKE | *8 | FRONT NO. 1 DIFFERENTIAL CASE SUB-ASSEMBLY |
| ● | Non-reusable part | | MP grease |
DISASSEMBLY PROCEDURE 1. REMOVE NO. 1 CLUTCH HOUSING COVER (a) Remove the No. 1 clutch housing cover from the front transaxle case. 2. REMOVE RELEASE CYLINDER BLEEDER PLUG CAP (a) Remove the release cylinder bleeder plug cap from the release cylinder bleeder plug...
Other information:
INITIALIZATION Inspection After Repair Perform Learning Value Reset and Idle Learning after replacing or servicing parts related to engine operation. Details on procedures required are indicated by an asterisk and a number, and are explained in detail following the table...
ComponentsCOMPONENTS ILLUSTRATION *A w/ Brake Duct Hole - - *1 FRONT FENDER LINER RH - - ILLUSTRATION *1 WINDSHIELD WASHER MOTOR AND PUMP ASSEMBLY *2 WASHER HOSE RemovalREMOVAL PROCEDURE 1. REMOVE FRONT WHEEL RH Click here 2...
Categories
WARNING
When removing the fuel-filler cap, loosen the cap slightly and wait for any hissing to stop, then remove it
Fuel spray is dangerous. Fuel can burn skin and eyes and cause illness if ingested. Fuel spray is released when there is pressure in the fuel tank and the fuel-filler cap is removed too quickly.