Toyota Yaris: Rear Brake / Components
COMPONENTS
ILLUSTRATION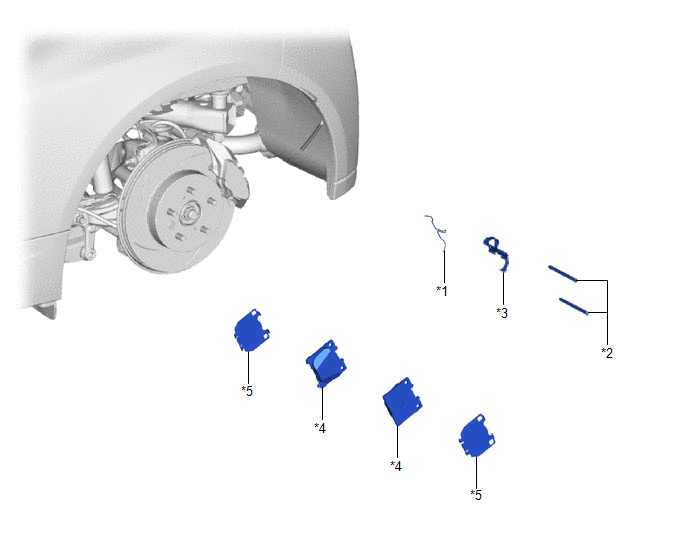 | | | | |
| --- | --- | --- | --- |
| *1 | REAR DISC BRAKE PIN HOLD CLIP | *2 | REAR DISC BRAKE ANTI-RATTLE PIN |
| *3 | REAR DISC BRAKE ANTI-RATTLE SPRING | *4 | REAR DISC BRAKE PAD |
| *5 | REAR DISC BRAKE ANTI-SQUEAL SHIM | - | - |
ILLUSTRATION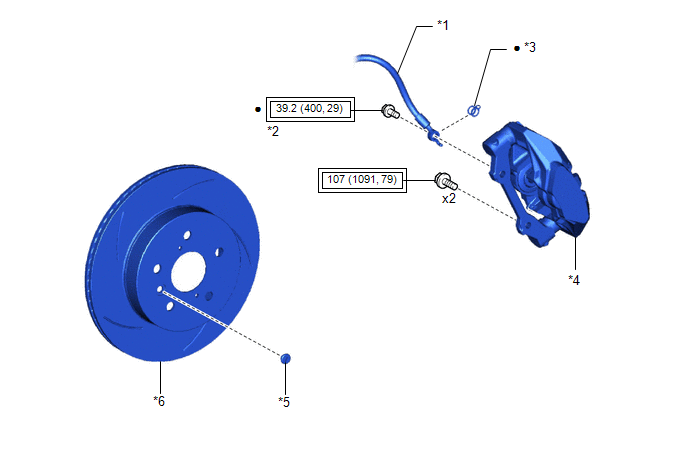 | | | | |
| --- | --- | --- | --- |
| *1 | REAR FLEXIBLE HOSE | *2 | UNION BOLT |
| *3 | GASKET | *4 | REAR DISC BRAKE CYLINDER ASSEMBLY |
| *5 | PARKING BRAKE SHOE ADJUSTING HOLE PLUG | *6 | REAR DISC |
| | Tightening torque for "Major areas involving basic vehicle performance such as moving/turning/stopping": N*m (kgf*cm, ft.*lbf) | ● | Non-reusable part |
ILLUSTRATION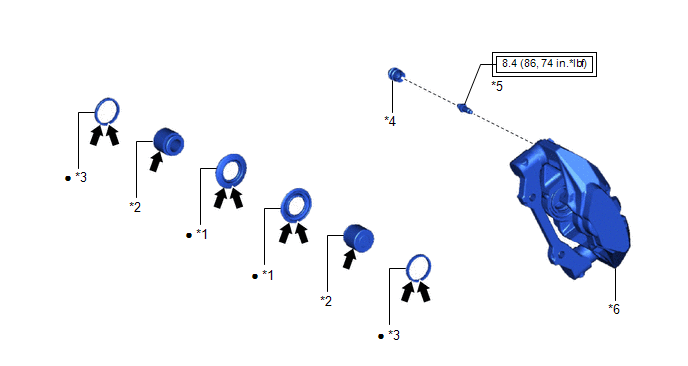 | | | | |
| --- | --- | --- | --- |
| *1 | CYLINDER BOOT | *2 | REAR DISC BRAKE PISTON |
| *3 | PISTON SEAL | *4 | REAR DISC BRAKE BLEEDER PLUG CAP |
| *5 | REAR DISC BRAKE BLEEDER PLUG | *6 | REAR DISC BRAKE CYLINDER |
| | Tightening torque for "Major areas involving basic vehicle performance such as moving/turning/stopping": N*m (kgf*cm, ft.*lbf) | ● | Non-reusable part |
| | Lithium soap base glycol grease | - | - |
REMOVAL CAUTION / NOTICE / HINT NOTICE: To avoid degrading the precision of the assembly, do not loosen or remove the 2 bolts shown in the illustration...
Other information:
DESCRIPTION The speed sensor detects wheel speed and sends the appropriate signals to the skid control ECU (brake actuator assembly). These signals are used for brake control. Speed sensor rotors have rows of alternating N and S magnetic poles, and their magnetic fields change when the rotors turn...
DESCRIPTION DTC No. Detection Item DTC Detection Condition Trouble Area DTC Output from C052C1C ABS Pump Motor Control Circuit Voltage Out of Range Any of the following is detected: When the +BS terminal voltage is from 9.5 to 17...
Categories
Stop the vehicle completely. Manual transaxle: Shift into neutral and set the parking brake.
Automatic transaxle: Shift the selector lever to the P position and set the parking brake.
Press the push button start to turn off the engine. The ignition position is off.