Toyota Yaris: Rear Brake / Components
COMPONENTS
ILLUSTRATION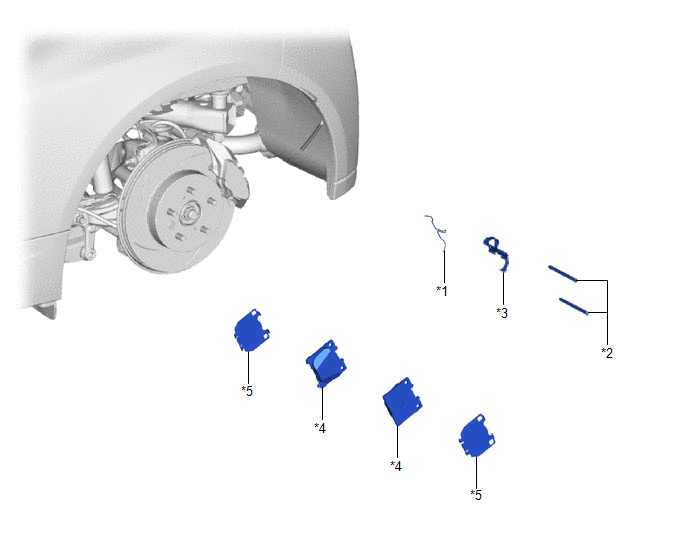 | | | | |
| --- | --- | --- | --- |
| *1 | REAR DISC BRAKE PIN HOLD CLIP | *2 | REAR DISC BRAKE ANTI-RATTLE PIN |
| *3 | REAR DISC BRAKE ANTI-RATTLE SPRING | *4 | REAR DISC BRAKE PAD |
| *5 | REAR DISC BRAKE ANTI-SQUEAL SHIM | - | - |
ILLUSTRATION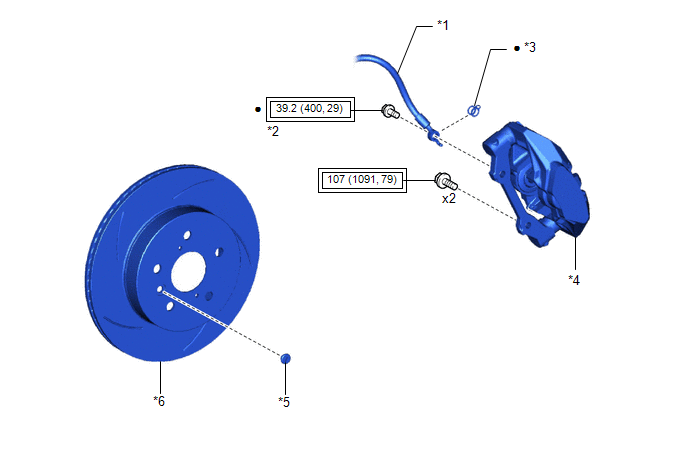 | | | | |
| --- | --- | --- | --- |
| *1 | REAR FLEXIBLE HOSE | *2 | UNION BOLT |
| *3 | GASKET | *4 | REAR DISC BRAKE CYLINDER ASSEMBLY |
| *5 | PARKING BRAKE SHOE ADJUSTING HOLE PLUG | *6 | REAR DISC |
| | Tightening torque for "Major areas involving basic vehicle performance such as moving/turning/stopping": N*m (kgf*cm, ft.*lbf) | ● | Non-reusable part |
ILLUSTRATION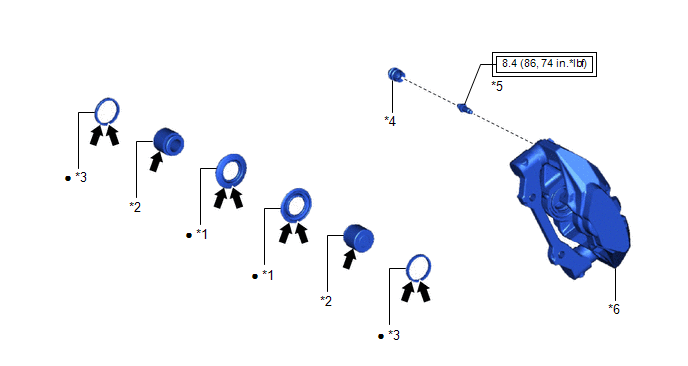 | | | | |
| --- | --- | --- | --- |
| *1 | CYLINDER BOOT | *2 | REAR DISC BRAKE PISTON |
| *3 | PISTON SEAL | *4 | REAR DISC BRAKE BLEEDER PLUG CAP |
| *5 | REAR DISC BRAKE BLEEDER PLUG | *6 | REAR DISC BRAKE CYLINDER |
| | Tightening torque for "Major areas involving basic vehicle performance such as moving/turning/stopping": N*m (kgf*cm, ft.*lbf) | ● | Non-reusable part |
| | Lithium soap base glycol grease | - | - |
REMOVAL CAUTION / NOTICE / HINT NOTICE: To avoid degrading the precision of the assembly, do not loosen or remove the 2 bolts shown in the illustration...
Other information:
ComponentsCOMPONENTS ILLUSTRATION *1 CAMSHAFT TIMING GEAR BOLT - - N*m (kgf*cm, ft.*lbf): Specified torque - - On-vehicle InspectionON-VEHICLE INSPECTION PROCEDURE 1. REMOVE CAM TIMING OIL CONTROL SOLENOID ASSEMBLY (for Intake Side) Click here 2...
COMPONENTS ILLUSTRATION *1 FRONT FLEXIBLE HOSE *2 GASKET *3 BRAKE LINE *4 FRONT SPEED SENSOR *5 UNION BOLT - - Tightening torque for "Major areas involving basic vehicle performance such as moving/turning/stopping": N*m (kgf*cm, ft...
Categories
Stop the vehicle completely. Manual transaxle: Shift into neutral and set the parking brake.
Automatic transaxle: Shift the selector lever to the P position and set the parking brake.
Press the push button start to turn off the engine. The ignition position is off.