Toyota Yaris: Rear Brake / Components
COMPONENTS
ILLUSTRATION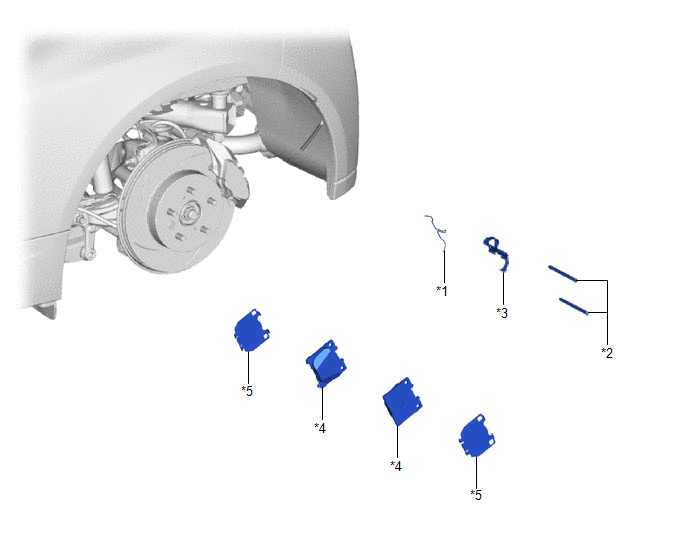 | | | | |
| --- | --- | --- | --- |
| *1 | REAR DISC BRAKE PIN HOLD CLIP | *2 | REAR DISC BRAKE ANTI-RATTLE PIN |
| *3 | REAR DISC BRAKE ANTI-RATTLE SPRING | *4 | REAR DISC BRAKE PAD |
| *5 | REAR DISC BRAKE ANTI-SQUEAL SHIM | - | - |
ILLUSTRATION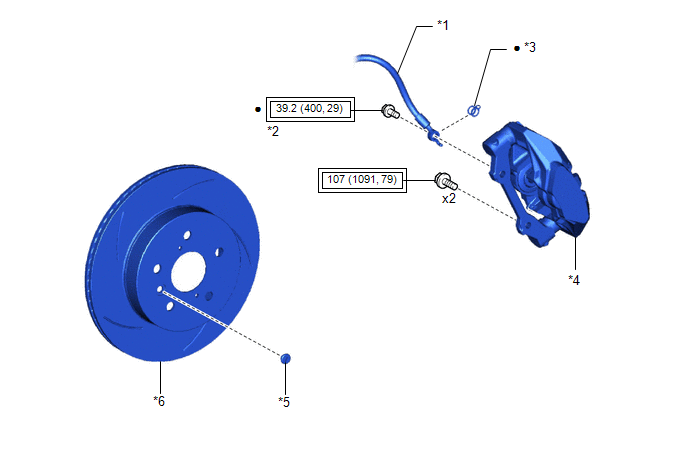 | | | | |
| --- | --- | --- | --- |
| *1 | REAR FLEXIBLE HOSE | *2 | UNION BOLT |
| *3 | GASKET | *4 | REAR DISC BRAKE CYLINDER ASSEMBLY |
| *5 | PARKING BRAKE SHOE ADJUSTING HOLE PLUG | *6 | REAR DISC |
| | Tightening torque for "Major areas involving basic vehicle performance such as moving/turning/stopping": N*m (kgf*cm, ft.*lbf) | ● | Non-reusable part |
ILLUSTRATION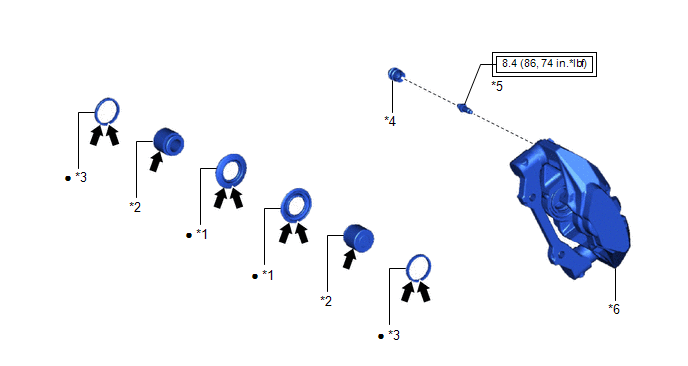 | | | | |
| --- | --- | --- | --- |
| *1 | CYLINDER BOOT | *2 | REAR DISC BRAKE PISTON |
| *3 | PISTON SEAL | *4 | REAR DISC BRAKE BLEEDER PLUG CAP |
| *5 | REAR DISC BRAKE BLEEDER PLUG | *6 | REAR DISC BRAKE CYLINDER |
| | Tightening torque for "Major areas involving basic vehicle performance such as moving/turning/stopping": N*m (kgf*cm, ft.*lbf) | ● | Non-reusable part |
| | Lithium soap base glycol grease | - | - |
REMOVAL CAUTION / NOTICE / HINT NOTICE: To avoid degrading the precision of the assembly, do not loosen or remove the 2 bolts shown in the illustration...
Other information:
Temperature control dial This dial controls temperature. Turn it clockwise for hot and counterclockwise for cold. Fan control dial This dial allows variable fan speeds. The fan has seven speeds. Mode selector dial Turn the mode selector dial to select airflow mode...
COMPONENTS ILLUSTRATION *1 PORT FUEL INJECTOR ASSEMBLY *2 NO. 5 ENGINE WIRE *3 INJECTOR VIBRATION INSULATOR *4 FUEL DELIVERY SPACER *5 FUEL DELIVERY PIPE *6 FUEL DELIVERY GUARD *7 OIL LEVEL GAUGE GUIDE *8 OIL LEVEL GAUGE SUB-ASSEMBLY *9 NO...
Categories
Stop the vehicle completely. Manual transaxle: Shift into neutral and set the parking brake.
Automatic transaxle: Shift the selector lever to the P position and set the parking brake.
Press the push button start to turn off the engine. The ignition position is off.