Toyota Yaris: Camshaft / Components
COMPONENTS
ILLUSTRATION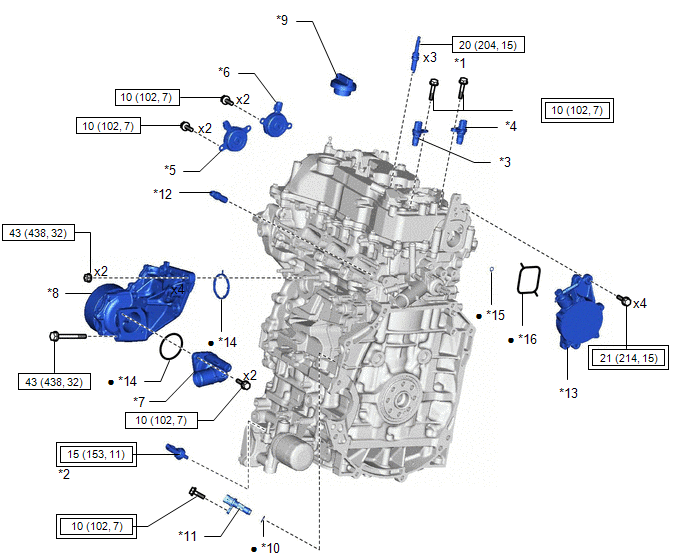 | | | | |
| --- | --- | --- | --- |
| *1 | SPARK PLUG | *2 | OIL PRESSURE AND TEMPERATURE SENSOR |
| *3 | CAMSHAFT POSITION SENSOR (for Intake Side) | *4 | CAMSHAFT POSITION SENSOR (for Exhaust Side) |
| *5 | CAM TIMING OIL CONTROL SOLENOID ASSEMBLY (for Intake Side) | *6 | CAM TIMING OIL CONTROL SOLENOID ASSEMBLY (for Exhaust Side) |
| *7 | WATER INLET WITH THERMOSTAT SUB-ASSEMBLY | *8 | WATER INLET WITH WATER PUMP HOUSING SUB-ASSEMBLY |
| *9 | OIL FILLER CAP ASSEMBLY | *10 | O-RING |
| *11 | CRANKSHAFT POSITION SENSOR | *12 | PCV VALVE (VENTILATION VALVE SUB-ASSEMBLY) |
| *13 | VACUUM PUMP ASSEMBLY | *14 | GASKET |
| *15 | NO. 4 O-RING | *16 | NO. 2 O-RING |
| | Tightening torque for "Major areas involving basic vehicle performance such as moving/turning/stopping" : N*m (kgf*cm, ft.*lbf) | | N*m (kgf*cm, ft.*lbf): Specified torque |
| ● | Non-reusable part | ★ | Precoated part |
ILLUSTRATION
*1

CRANKSHAFT PULLEY ASSEMBLY

*2

CHAIN TENSIONER GASKET

*3

CYLINDER HEAD COVER SUB-ASSEMBLY

*4

SPARK PLUG TUBE GASKET

*5

NO. 1 VACUUM PUMP BRACKET

*6

ENGINE MOUNTING BRACKET RH

*7

NO. 2 TIMING CHAIN COVER ASSEMBLY

*8

TIMING CHAIN COVER OIL SEAL

*9

TIMING CHAIN COVER ASSEMBLY

*10

NO. 1 CHAIN TENSIONER ASSEMBLY

*11

TIMING CHAIN GUIDE

*12

DAMPER PLATE SPACER

*13

CYLINDER HEAD COVER GASKET

-

-

Tightening torque for "Major areas involving basic vehicle performance such as moving/turning/stopping" : N*m (kgf*cm, ft.*lbf)

N*m (kgf*cm, ft.*lbf): Specified torque

●

Non-reusable part

-

-

*T1

1st: 260 (2651, 192)

2nd: Turn 90°

-

-
ILLUSTRATION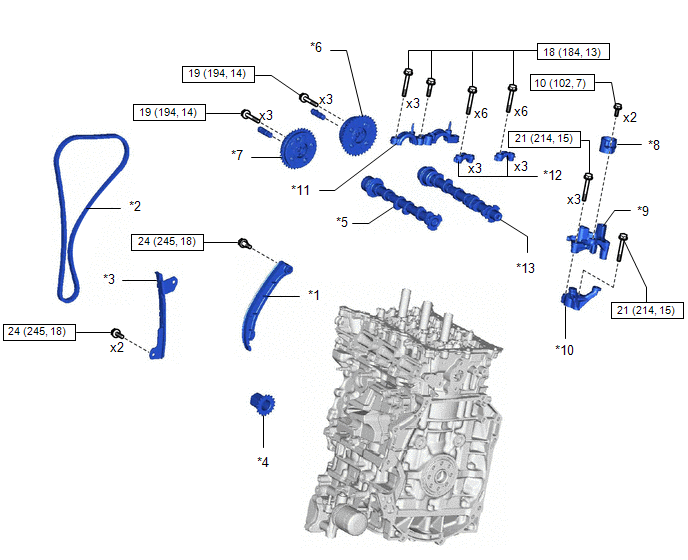 | | | | |
| --- | --- | --- | --- |
| *1 | CHAIN TENSIONER SLIPPER | *2 | CHAIN SUB-ASSEMBLY |
| *3 | NO. 1 CHAIN VIBRATION DAMPER | *4 | CRANKSHAFT TIMING GEAR OR SPROCKET |
| *5 | INTAKE CAMSHAFT SUB-ASSEMBLY | *6 | CAMSHAFT TIMING EXHAUST GEAR ASSEMBLY |
| *7 | CAMSHAFT TIMING GEAR ASSEMBLY | *8 | FUEL PUMP LIFTER GUIDE |
| *9 | FUEL PUMP LIFTER HOUSING | *10 | CAMSHAFT POSITION SENSOR HOLDER |
| *11 | NO. 2 CAMSHAFT BEARING CAP | *12 | NO. 4 CAMSHAFT BEARING CAP |
| *13 | EXHAUST CAMSHAFT SUB-ASSEMBLY | - | - |
| | N*m (kgf*cm, ft.*lbf): Specified torque | - | - |
REMOVAL CAUTION / NOTICE / HINT The necessary procedures (adjustment, calibration, initialization, or registration) that must be performed after parts are removed and installed, or replaced during camshaft removal/installation are shown below...
Other information:
ELECTRONIC CIRCUIT INSPECTION PROCEDURE BASIC INSPECTION (a) WHEN MEASURING RESISTANCE OF ELECTRONIC PARTS (1) Unless otherwise stated, all resistance measurements are standard values measured at an ambient temperature of 20°C (68°F). Resistance measurements may be inaccurate if measured at high temperatures, i...
DESCRIPTION Refer to DTC C05121F. Click here DTC No. Detection Item DTC Detection Condition Trouble Area DTC Output from C051212 Right Rear Wheel Speed Sensor Circuit Short to Battery The speed sensor short signal is ON continuously for 0...
Categories
WARNING
Never allow a person to ride in the luggage compartment/trunk
Allowing a person to ride in the luggage compartment/trunk is dangerous. The person in the luggage compartment/trunk could be seriously injured or killed during sudden braking or a collision.
Do not drive with the liftgate/trunk lid open