Toyota Yaris: Camshaft / Components
COMPONENTS
ILLUSTRATION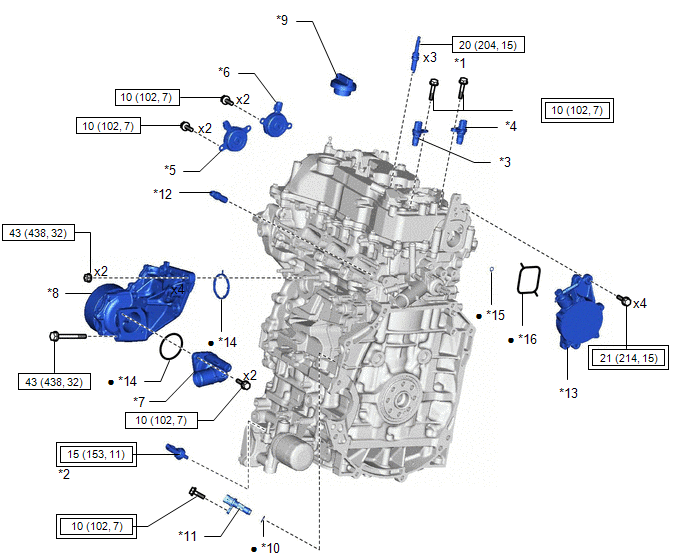 | | | | |
| --- | --- | --- | --- |
| *1 | SPARK PLUG | *2 | OIL PRESSURE AND TEMPERATURE SENSOR |
| *3 | CAMSHAFT POSITION SENSOR (for Intake Side) | *4 | CAMSHAFT POSITION SENSOR (for Exhaust Side) |
| *5 | CAM TIMING OIL CONTROL SOLENOID ASSEMBLY (for Intake Side) | *6 | CAM TIMING OIL CONTROL SOLENOID ASSEMBLY (for Exhaust Side) |
| *7 | WATER INLET WITH THERMOSTAT SUB-ASSEMBLY | *8 | WATER INLET WITH WATER PUMP HOUSING SUB-ASSEMBLY |
| *9 | OIL FILLER CAP ASSEMBLY | *10 | O-RING |
| *11 | CRANKSHAFT POSITION SENSOR | *12 | PCV VALVE (VENTILATION VALVE SUB-ASSEMBLY) |
| *13 | VACUUM PUMP ASSEMBLY | *14 | GASKET |
| *15 | NO. 4 O-RING | *16 | NO. 2 O-RING |
| | Tightening torque for "Major areas involving basic vehicle performance such as moving/turning/stopping" : N*m (kgf*cm, ft.*lbf) | | N*m (kgf*cm, ft.*lbf): Specified torque |
| ● | Non-reusable part | ★ | Precoated part |
ILLUSTRATION
*1

CRANKSHAFT PULLEY ASSEMBLY

*2

CHAIN TENSIONER GASKET

*3

CYLINDER HEAD COVER SUB-ASSEMBLY

*4

SPARK PLUG TUBE GASKET

*5

NO. 1 VACUUM PUMP BRACKET

*6

ENGINE MOUNTING BRACKET RH

*7

NO. 2 TIMING CHAIN COVER ASSEMBLY

*8

TIMING CHAIN COVER OIL SEAL

*9

TIMING CHAIN COVER ASSEMBLY

*10

NO. 1 CHAIN TENSIONER ASSEMBLY

*11

TIMING CHAIN GUIDE

*12

DAMPER PLATE SPACER

*13

CYLINDER HEAD COVER GASKET

-

-

Tightening torque for "Major areas involving basic vehicle performance such as moving/turning/stopping" : N*m (kgf*cm, ft.*lbf)

N*m (kgf*cm, ft.*lbf): Specified torque

●

Non-reusable part

-

-

*T1

1st: 260 (2651, 192)

2nd: Turn 90°

-

-
ILLUSTRATION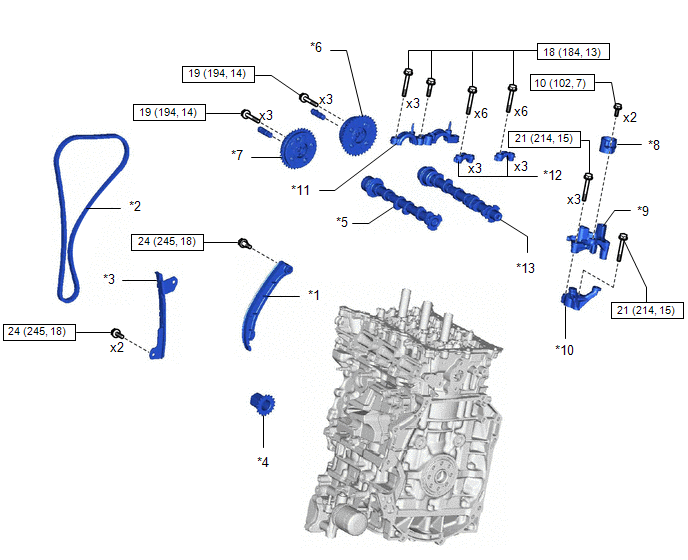 | | | | |
| --- | --- | --- | --- |
| *1 | CHAIN TENSIONER SLIPPER | *2 | CHAIN SUB-ASSEMBLY |
| *3 | NO. 1 CHAIN VIBRATION DAMPER | *4 | CRANKSHAFT TIMING GEAR OR SPROCKET |
| *5 | INTAKE CAMSHAFT SUB-ASSEMBLY | *6 | CAMSHAFT TIMING EXHAUST GEAR ASSEMBLY |
| *7 | CAMSHAFT TIMING GEAR ASSEMBLY | *8 | FUEL PUMP LIFTER GUIDE |
| *9 | FUEL PUMP LIFTER HOUSING | *10 | CAMSHAFT POSITION SENSOR HOLDER |
| *11 | NO. 2 CAMSHAFT BEARING CAP | *12 | NO. 4 CAMSHAFT BEARING CAP |
| *13 | EXHAUST CAMSHAFT SUB-ASSEMBLY | - | - |
| | N*m (kgf*cm, ft.*lbf): Specified torque | - | - |
REMOVAL CAUTION / NOTICE / HINT The necessary procedures (adjustment, calibration, initialization, or registration) that must be performed after parts are removed and installed, or replaced during camshaft removal/installation are shown below...
Other information:
DISPOSAL PROCEDURE 1. DISPOSE OF REAR SHOCK ABSORBER ASSEMBLY (a) Extend the piston rod and secure the rear shock absorber assembly at an angle in a vise. (b) Using a hacksaw, slowly make a hole at the position indicated by the arrow in the illustration to discharge the gas inside...
PARTS LOCATION ILLUSTRATION *A w/ Toyota Safety Sense - - *1 SIDE TURN SIGNAL LIGHT ASSEMBLY LH *2 SIDE TURN SIGNAL LIGHT ASSEMBLY RH *3 HEADLIGHT ASSEMBLY LH *4 HEADLIGHT ASSEMBLY RH *5 HEADLIGHT LENS SUB-ASSEMBLY LH *6 HEADLIGHT LENS SUB-ASSEMBLY RH *7 HEADLIGHT UNIT ASSEMBLY LH *8 HEADLIGHT UNIT ASSEMBLY RH *9 LIGHT CONTROL LED ECU LH *10 LIGHT CONTROL LED ECU RH *11 HEADLIGHT LEVELING MOTOR LH *12 HEADLIGHT LEVELING MOTOR RH *13 HEADLIGHT HOUSING SUB-ASSEMBLY LH (WIRE HARNESS LH) *14 HEADLIGHT HOUSING SUB-ASSEMBLY RH (WIRE HARNESS RH) *15 FOG LIGHT ASSEMBLY LH *16 FOG LIGHT ASSEMBLY RH *17 FORWARD RECOGNITION CAMERA *18 MILLIMETER WAVE RADAR SENSOR ASSEMBLY *19 ECM *20 POWER STEERING ECU ASSEMBLY *21 SKID CONTROL ECU (BRAKE ACTUATOR ASSEMBLY) *22 NO...
Categories
WARNING
Never allow a person to ride in the luggage compartment/trunk
Allowing a person to ride in the luggage compartment/trunk is dangerous. The person in the luggage compartment/trunk could be seriously injured or killed during sudden braking or a collision.
Do not drive with the liftgate/trunk lid open