Toyota Yaris: Brake System (other) / Brake System
Precaution
PRECAUTION
NOTICE:
This vehicle is equipped with an SRS (Supplemental Restraint System). Failure to carry out service operations in the correct sequence could cause the SRS to unexpectedly deploy during servicing. This may cause a serious accident. Before servicing (including inspection, replacement, removal, and installation of parts), be sure to read the precautionary notices for the Supplemental Restraint System.

Click here

Care must be taken to replace each part properly as it could affect the performance of the brake system and result in a driving hazard. Replace the parts with those having the same part number or equivalent.
It is very important to keep parts and the area clean when repairing the brake system.
If the vehicle is equipped with a mobile communication system, refer to the precautions in the Introduction section.

Click here
INSTALLATION PROCEDURE 1. INSTALL BRAKE PEDAL PAD (a) Install the brake pedal pad to the brake pedal support assembly. 2. INSTALL BRAKE PEDAL SUPPORT ASSEMBLY (a) Engage the 2 clamps to install the wire harness to the brake pedal support assembly...
Other information:
INSTALLATION PROCEDURE 1. INSTALL RAIN SENSOR TAPE HINT: Only perform this procedure when replacing the rain sensor tape. Replace the rain sensor tape with new one if it is damaged or contaminated. (a) Clean the sensing portion of the rain sensor with a piece of cloth...
REMOVAL PROCEDURE 1. REMOVE CENTER STOP LIGHT COVER (a) Disengage the claws to remove the center stop light cover. (b) Disengage the claws and disconnect the connector. 2. REMOVE REAR SPOILER HOLE COVER (a) Remove the 4 rear spoiler hole covers...
Categories
The fuel gauge shows approximately how much fuel is remaining in the tank when the ignition is switched ON. We recommend keeping the tank over 1/4 full.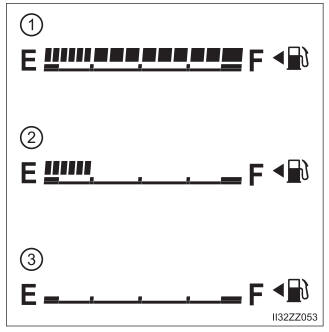 Full 1/4 Full Empty