Toyota Yaris: Audio & Visual & Telematics / Audio / Video
Other information:
COMPONENTS ILLUSTRATION *A for Driver Side *B for Front Passenger Side *1 FRONT SEAT INNER BELT ASSEMBLY *2 FRONT SEAT BELT ANCHOR PLATE *3 SEPARATE TYPE FRONT SEATBACK COVER - - Tightening torque for "Major areas involving basic vehicle performance such as moving/turning/stopping" : N*m (kgf*cm, ft...
COMPONENTS ILLUSTRATION *1 FRONT BUMPER ASSEMBLY *2 PIN HOLD CLIP ILLUSTRATION *A w/ Pre-collision System - - *1 NO. 3 ENGINE ROOM WIRE *2 MILLIMETER WAVE RADAR SENSOR ASSEMBLY N*m (kgf*cm, ft.*lbf): Specified torque - - ILLUSTRATION *1 FOG LIGHT COVER LH *2 FOG LIGHT COVER RH *3 FOG LIGHT ASSEMBLY LH *4 FOG LIGHT ASSEMBLY RH *5 FRONT BUMPER HOLE COVER *6 HOOD TO FRONT END PANEL SEAL *7 LOWER RADIATOR GRILLE SUB-ASSEMBLY *8 RADIATOR GRILLE SIDE MOULDING LH *9 RADIATOR GRILLE SIDE MOULDING RH *10 RADIATOR GRILLE EMBLEM ASSEMBLY *11 FRONT BUMPER EXTENSION MOUNTING BRACKET - - ILLUSTRATION *1 FRONT BUMPER ENERGY ABSORBER *2 FRONT BUMPER SIDE RETAINER RH *3 RADIATOR UPPER AIR GUIDE PLATE *4 HEADLIGHT ASSEMBLY RH *5 HEADLIGHT ASSEMBLY LH *6 FRONT BUMPER SIDE RETAINER LH *7 FRONT BUMPER REINFORCEMENT *8 THERMISTOR ASSEMBLY *9 COOL AIR INTAKE DUCT - - N*m (kgf*cm, ft...
Categories
The fuel gauge shows approximately how much fuel is remaining in the tank when the ignition is switched ON. We recommend keeping the tank over 1/4 full.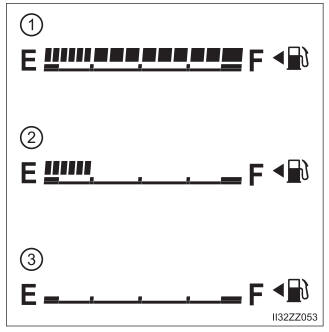 Full 1/4 Full Empty