Toyota Yaris: Warranty / Warranties for Your Toyota
New Vehicle Limited Warranty
Powertrain Limited Warranty
Safety Restraint System Limited Warranty
Anti-perforation Limited Warranty
Federal Emission Control Warranty/California Emission Control

Warranty

Emission Defect Warranty
Emission Performance Warranty

Emission Control Warranty
Replacement Parts and Accessories Limited Warranty
Tire Warranty
Warranty information varies depending on the country. Refer to the "Owner's Warranty Information Booklet" or "Owner's Manual Supplement/Scheduled Maintenance Guide" for detailed warranty information.
Government regulations in the United States/Canada require that automobiles meet specific emission regulations and safety standards. Therefore, vehicles built for use in the United States/Canada may differ from those sold in other countries...
Other information:
DESCRIPTION HINT: Turbocharger noise is classified into two types. These are whistling sound and chattering sound. During troubleshooting, first determine the type of noise. Type of Abnormal Noise Outline of Abnormal Noise Major Trouble Area Whistling sound (airflow sound) The whistling sound volume and pitch are proportional to the turbocharger or engine speed...
DESCRIPTION When a malfunction has occurred in the linear solenoid power source system, the AWD ECU assembly stores DTC C120C1C. DTC No. Detection Item DTC Detection Condition Trouble Area Warning Indicate Memory C120C1C Linear Solenoid Power Supply System Circuit Voltage Out of Range When the IG1 terminal voltage is 9...
Categories
Before refueling, close all the doors, windows, and the liftgate/trunk lid, and switch the ignition OFF.
To open the fuel-filler lid, pull the remote fuel-filler lid release.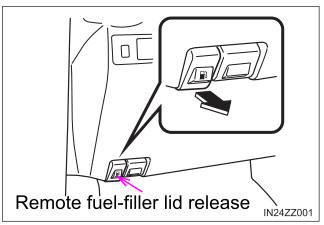 To remove the fuel-filler cap, turn it counterclockwise. Attach the removed cap to the inner side of the fuel-filler lid.