Toyota Yaris: Seat Belt / Unfastening the Seat Belt
Depress the button on the seat belt buckle. If the belt does not fully retract, pull it out and check for kinks or twists. Then make sure it remains untwisted as it retracts.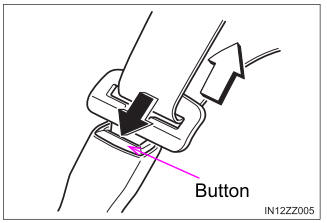 If a belt does not fully retract, inspect it for kinks and twists. If it is still not retracting properly, have it inspected at your Toyota dealer.
Position the lap belt as low as possible, not on the abdominal area, then adjust the shoulder belt so that it fits snugly against your body. 4-Door Before fastening the rear seat belt, make sure that the seat belt passes through the seat belt guide correctly and it is not twisted...
Other information:
After replacing the engine oil, have a repair shop such as your Toyota dealer perform the initialization (engine oil data resetting) of the recorded value. If the value recorded by the computer is not initialized, the wrench indicator light may not turn off or it may turn on earlier than normal...
4-Door Remove dirt and grime from the mounting surfaces of the wheel and hub, including the hub bolts, with a cloth. Mount the spare tire. Install the lug nuts with the beveled edge inward; tighten them by hand. Turn the lug wrench counterclockwise and lower the vehicle...
Categories
WARNING
When removing the fuel-filler cap, loosen the cap slightly and wait for any hissing to stop, then remove it
Fuel spray is dangerous. Fuel can burn skin and eyes and cause illness if ingested. Fuel spray is released when there is pressure in the fuel tank and the fuel-filler cap is removed too quickly.