Toyota Yaris: Turn and Lane-Change Signals / Turn Signals
Move the signal lever down (for a left turn) or up (for a right turn) to the stop position. The signal will self-cancel after the turn is completed.
If the indicator light continues to flash after a turn, manually return the lever to its original position.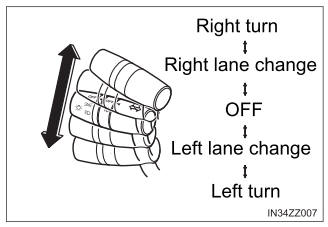 The turn signal indicators (green) in the combination meter flash according to the operation of the turn signal lever to show which signal is working.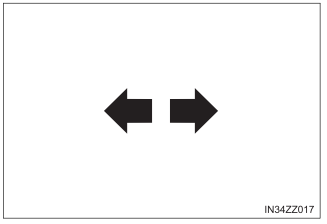 If an indicator light stays on without flashing or if it flashes abnormally, one of the turn signal bulbs may be burned out.
A customized function is available to change the turn indicator sound volume.
Move the lever halfway toward the direction of the lane change—until the indicator flashes—and hold it there. It will return to the off position when released...
Other information:
If any of the following warning lights turns on/flashes, the system may have a malfunction. Contact your Toyota dealer to have your vehicle inspected. ABS Warning Light When the engine is jump-started to charge the battery, uneven rpm occurs and the ABS warning light may illuminate...
DESCRIPTION The fuel pump control ECU performs PWM (Pulse Width Modulation) control to control the fuel pump (for low pressure side) speed steplessly over a wide range. The fuel pump control ECU controls the speed of the fuel pump (for low pressure side) by switching the current of FPU, FPV and FPW based on operation signals output from the ECM...
Categories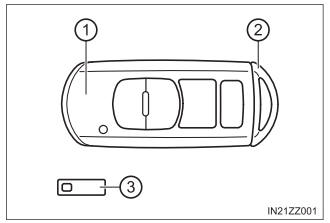 Smart key Auxiliary key Key code number plate
To use the auxiliary key, press the knob and pull out the auxiliary key from the smart key.