Toyota Yaris: Front Radar Sensor System / System Diagram
SYSTEM DIAGRAM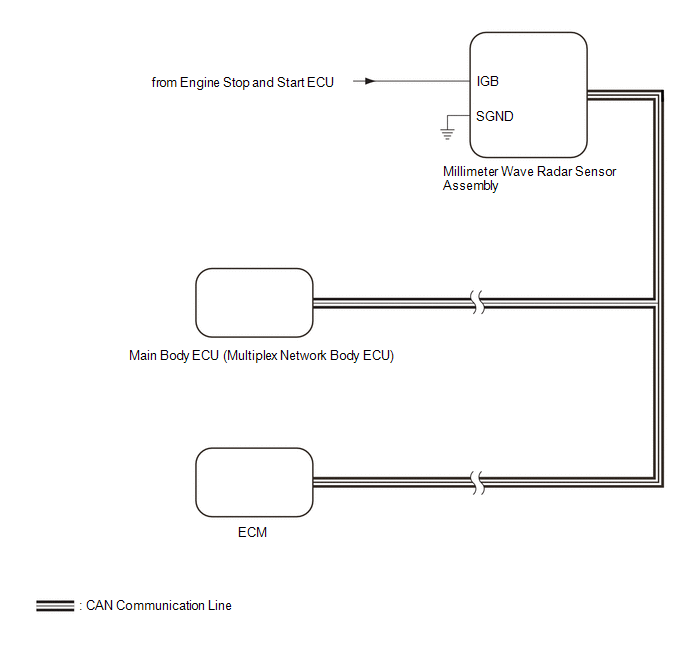 CAUTION / NOTICE / HINT HINT: Before performing troubleshooting for the front radar sensor system, perform troubleshooting for the pre-collision system...
Other information:
Press the SET/- switch and hold it. The vehicle will gradually slow. Release the switch at the desired speed. Press the SET/- switch and release it immediately to adjust the preset speed. Multiple operations will decrease the preset speed according to the number of times it is operated...
COMPONENTS ILLUSTRATION *1 INTAKE VALVE GUIDE BUSH *2 EXHAUST VALVE GUIDE BUSH *3 SPARK PLUG TUBE *4 RING PIN *5 STUD BOLT *6 VALVE SPRING RETAINER LOCK *7 NO. 2 STRAIGHT SCREW PLUG *8 NO. 1 STRAIGHT SCREW PLUG *9 INTAKE VALVE SPRING SEAT *10 EXHAUST VALVE SPRING SEAT *11 INTAKE VALVE STEM OIL SEAL *12 EXHAUST VALVE STEM OIL SEAL *13 INTAKE VALVE *14 EXHAUST VALVE *15 INTAKE VALVE COMPRESSION SPRING *16 EXHAUST VALVE COMPRESSION SPRING *17 VALVE SPRING RETAINER - - N*m (kgf*cm, ft...
Categories
No special break-in is necessary, but a few precautions in the first 600 miles (1,000 km) may add to the performance, economy, and life of the vehicle.
Do not race the engine. Do not maintain one constant speed, either slow or fast, for a long period of time. Do not drive constantly at full-throttle or high engine rpm for extended periods of time. Avoid unnecessary hard stops. Avoid full-throttle starts.