Toyota Yaris: Front Radar Sensor System / System Diagram
SYSTEM DIAGRAM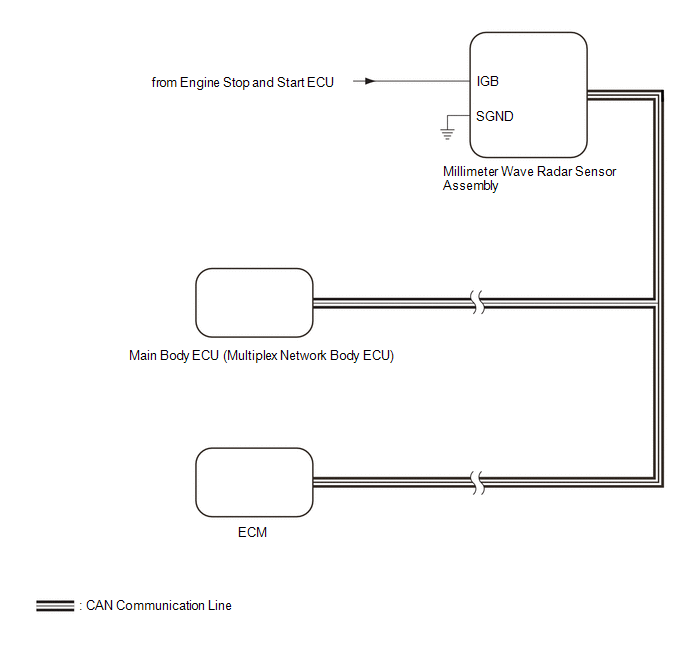 CAUTION / NOTICE / HINT HINT: Before performing troubleshooting for the front radar sensor system, perform troubleshooting for the pre-collision system...
Other information:
DESCRIPTION Code Tester Display Measurement Item Trouble Area RoB Output from X20D7 Zero Point Calibration of Steering Angle Sensor Malfunction History of the steering angle sensor zero point calibration position differing from the stored value Poor adjustment of the center position of the steering wheel Poor adjustment of wheel alignment Brake CAUTION / NOTICE / HINT NOTICE: After performing the inspection, check and clear the vehicle control history (RoB)...
REPLACEMENT CAUTION / NOTICE / HINT The necessary procedures (adjustment, calibration, initialization, or registration) that must be performed after parts are removed and installed, or replaced during diaphragm oil seal replacement are shown below. Necessary Procedure After Parts Removed/Installed/Replaced Replaced Part or Performed Procedure Necessary Procedure Effect/Inoperative Function when Necessary Procedure not Performed Link Gas leaks from exhaust system Inspection after repair Poor idle, etc...
Categories
No special break-in is necessary, but a few precautions in the first 600 miles (1,000 km) may add to the performance, economy, and life of the vehicle.
Do not race the engine. Do not maintain one constant speed, either slow or fast, for a long period of time. Do not drive constantly at full-throttle or high engine rpm for extended periods of time. Avoid unnecessary hard stops. Avoid full-throttle starts.