Toyota Yaris: Ignition System / System Diagram
SYSTEM DIAGRAM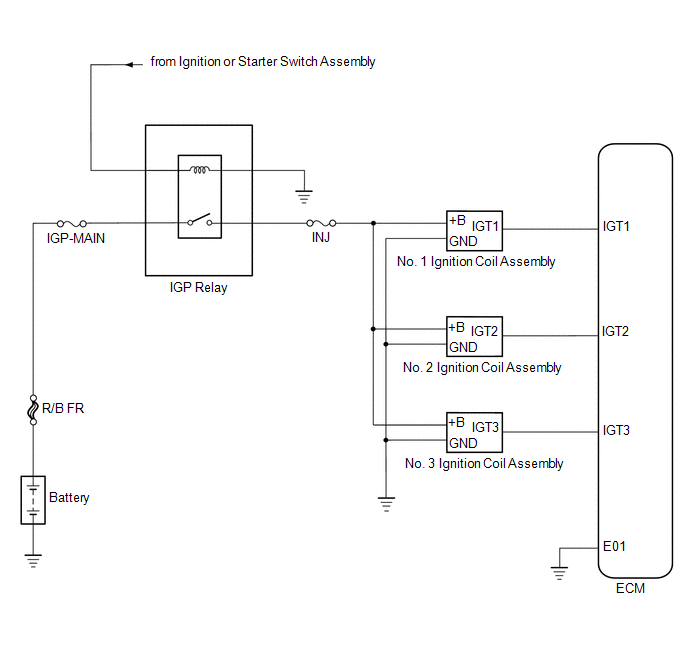 ON-VEHICLE INSPECTION CAUTION / NOTICE / HINT CAUTION: To prevent injury due to contact with an operating V-ribbed belt or cooling fan, keep your hands and clothing away from the V-ribbed belt and cooling fan when working in the engine compartment with the engine running or the ignition switch on (IG)...
Other information:
DISASSEMBLY PROCEDURE 1. REMOVE CYLINDER BOOT (a) Using a screwdriver with its tip wrapped with protective tape, remove the 4 cylinder boots from the front disc brake cylinder. NOTICE: Do not forcefully pry off the retainer. Be careful not to damage the front disc brake cylinder...
COMPONENTS ILLUSTRATION *1 WATER GUARD PLATE RH *2 NO. 1 FRONT VENTILATOR SEAL *3 OUTER COWL TOP PANEL SUB-ASSEMBLY - - N*m (kgf*cm, ft.*lbf): Specified torque - - ILLUSTRATION *1 NO. 1 ENGINE COVER SUB-ASSEMBLY *2 FUEL PIPE CLAMP *3 NO...
Categories
If a key is left in the vehicle, the functions of the key left in the vehicle are temporarily suspended to prevent theft of the vehicle.
To restore the functions, press the unlock button on the functions-suspended key in the vehicle.