Toyota Yaris: Ignition System / System Diagram
SYSTEM DIAGRAM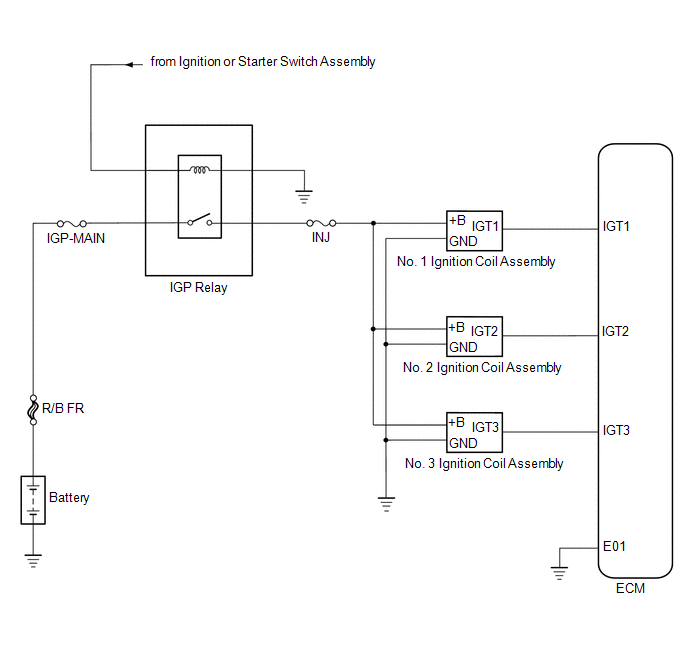 ON-VEHICLE INSPECTION CAUTION / NOTICE / HINT CAUTION: To prevent injury due to contact with an operating V-ribbed belt or cooling fan, keep your hands and clothing away from the V-ribbed belt and cooling fan when working in the engine compartment with the engine running or the ignition switch on (IG)...
Other information:
COMPONENTS ILLUSTRATION *1 CHARCOAL CANISTER OUTLET HOSE *2 FUEL PUMP GAUGE RETAINER *3 FUEL SUCTION WITH PUMP AND GAUGE TUBE ASSEMBLY *4 FUEL TANK EVAP TUBE SUB-ASSEMBLY *5 FUEL TANK MAIN TUBE SUB-ASSEMBLY *6 NO. 1 FUEL EVAPORATION TUBE SUB-ASSEMBLY *7 REAR FLOOR SERVICE HOLE COVER *8 NO...
DESCRIPTION Refer to DTC P008700. Click here DTC No. Detection Item DTC Detection Condition Trouble Area MIL Note P008800 Fuel Rail / System Pressure - Too High Although the ECM is requesting the fuel pump assembly (for high pressure side) to open the spill control valve, fuel pressure increases 3 MPa (30...
Categories
If a key is left in the vehicle, the functions of the key left in the vehicle are temporarily suspended to prevent theft of the vehicle.
To restore the functions, press the unlock button on the functions-suspended key in the vehicle.