Toyota Yaris: Spare Tire and Tool Storage / Spare Tire
Your Toyota has a temporary spare tire. The temporary spare tire is lighter and smaller than a conventional tire, and is designed only for emergency use and should be used only for VERY short periods. Temporary spare tires should NEVER be used for long drives or extended periods.
To remove the spare tire
Lift the trunk/luggage compartment mat.

Turn the spare tire hold-down bolt counterclockwise.
To secure the spare tire
Store the spare tire in the reverse order of removal. After storing, verify that the spare tire is stored securely.
WARNING
Do not install the temporary spare tire on the front wheels (driving wheels)
Driving with the temporary spare tire on one of the front driving wheels is dangerous. Handling will be affected. You could lose control of the vehicle, especially on ice or snow bound roads, and have an accident. Move a regular tire to the front wheel and install the temporary spare tire to the rear.
NOTICE
When using the temporary spare tire, driving stability may decrease compared to when using only the conventional tire. Drive carefully.
To avoid damage to the temporary spare tire or to the vehicle, observe the following precautions:

Do not exceed 50 mph (80 km/h).
Avoid driving over obstacles. Also, do not drive through an automatic car wash. This tire's diameter is smaller than a conventional tire, so the ground clearance is reduced.
Do not use a tire chain on this tire because it will not fit properly.
Do not use your temporary spare tire on any other vehicle, it has been designed only for your Toyota.
Use only one temporary spare tire on your vehicle at the same time.
To remove the jack 4-Door Lift the trunk mat. Remove trunk board. Turn the wing bolt and jack screw counterclockwise. 5-Door Remove the cover...
If you have a flat tire, drive slowly to a level spot that is well off the road and out of the way of traffic to change the tire. Stopping in traffic or on the shoulder of a busy road is danger- ous...
Other information:
USB port Auxiliary jack Connecting a device Connect the connector on the device to the USB port. Connecting with a connector cable Connect the device plug/connector cable to the auxiliary jack/USB port. Insert the plug into the auxiliary jack/USB port securely...
D..
Categories
Before refueling, close all the doors, windows, and the liftgate/trunk lid, and switch the ignition OFF.
To open the fuel-filler lid, pull the remote fuel-filler lid release.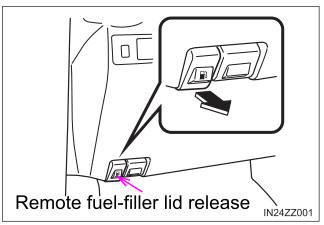 To remove the fuel-filler cap, turn it counterclockwise. Attach the removed cap to the inner side of the fuel-filler lid.