Toyota Yaris: Rear View Monitor / Rear View Monitor Operation
The operation of the rear view monitor when reversing the vehicle varies depending on the traffic, road, and vehicle conditions. The amount of steering and the timing also varies depending on conditions, so confirm the surrounding conditions directly with your eyes and steer the vehicle in accordance with the conditions.
Be well aware of the above cautions prior to using the rear view monitor.
Shift the shift lever to R to switch the display to the rear view monitor display.
Confirming the surrounding conditions, reverse the vehicle.

After your vehicle begins entering the parking space, continue backing up slowly so that the distance between the vehicle width lines and the sides of the parking space on the left and right are roughly equal.
Continue to adjust the steering wheel until the vehicle width guide lines are parallel to the left and right sides of the parking space.
Once they are parallel, straighten the wheels and back your vehicle slowly into the parking space. Continue checking the vehicle's surroundings and then stop the vehicle in the best possible position. (If the parking space has division lines, check whether the vehicle width guide lines are parallel to them.)

When the shift lever is shifted from R to another shift lever position, the screen returns to the previous display.
Images displayed on the monitor from the rear view parking camera are reversed images (mirror images).
Because there may be a difference between the displayed image, such as indicated below, and the actual conditions when parking, always verify the safety at the rear of the vehicle and the surrounding area directly with your eyes.

In the image of the parking space (or garage) displayed below, even though the back end and distance guide lines appear parallel in the monitor, they may not actually be parallel on the ground.
When parking in a space with a division line on only one side of the parking space, the division line and the vehicle width guide line may appear parallel on the monitor, but they may not actually be parallel on the ground.
Categories
Before refueling, close all the doors, windows, and the liftgate/trunk lid, and switch the ignition OFF.
To open the fuel-filler lid, pull the remote fuel-filler lid release.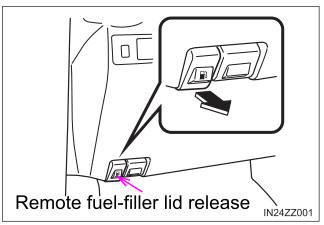 To remove the fuel-filler cap, turn it counterclockwise. Attach the removed cap to the inner side of the fuel-filler lid.