Toyota Yaris: Heated Steering Wheel System / Precaution
PRECAUTION
HANDLING PRECAUTIONS FOR SRS AIRBAG SYSTEM
CAUTION:
This vehicle is equipped with a Supplemental Restraint System (SRS). Failure to carry out service operations in the correct sequence could cause the SRS to unexpectedly deploy during servicing. This may cause a serious accident.
Before servicing (including inspection, replacement, removal and installation of parts), be sure to read the precautionary notices for Supplemental Restraint System.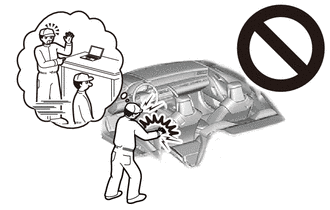 Click here

PARTS LOCATION ILLUSTRATION *1 SPIRAL CABLE SUB-ASSEMBLY *2 STEERING HEATER SWITCH *3 STEERING WHEEL ASSEMBLY - STEERING WHEEL HEATER UNIT - - ILLUSTRATION *1 NO...
Other information:
DESCRIPTION The alternator performs self-diagnosis of its internal circuits to detect malfunctions (open or short circuits). The ECM receives the result via LIN communication and stores a DTC. DTC No. Detection Item DTC Detection Condition Trouble Area MIL Note P065C07 Generator "A" Mechanical Performance Mechanical Failure All of the following conditions are met (1 trip detection logic): Engine running (except during engine cranking)...
REASSEMBLY PROCEDURE 1. INSTALL COOLER DRYER (a) Using pliers, install a new cooler dryer to the modulator. *a Modulator (b) Sufficiently apply compressor oil to the 3 O-rings and fitting surfaces of a new cap. Compressor Oil: ND-OIL 8 or equivalent NOTICE: Keep the O-rings and O-ring fitting surfaces free from dirt or foreign matter...
Categories
Stop the vehicle completely. Manual transaxle: Shift into neutral and set the parking brake.
Automatic transaxle: Shift the selector lever to the P position and set the parking brake.
Press the push button start to turn off the engine. The ignition position is off.