Toyota Yaris: Brake System / Parking Brake
Setting the parking brake
Depress the brake pedal and then firmly pull the parking brake lever fully upwards with sufficient force to hold the vehicle in a stationary position.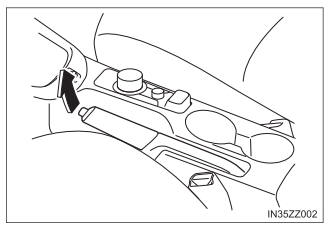 Releasing the parking brake
Depress the brake pedal and pull the parking brake lever upwards, then press the release button. While holding the button, lower the parking brake lever all the way down to the released position.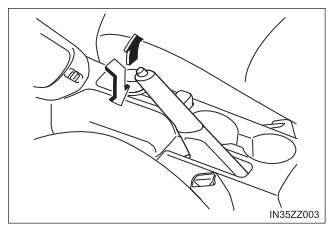 For parking in snow, refer to Winter Driving regarding parking brake use.
NOTICE
Driving with the parking brake on will cause excessive wear of the brake parts.
This vehicle has power-assisted brakes that adjust automatically through normal use. Should power-assist fail, you can stop by applying greater force than normal to the brake pedal...
Other information:
If the vehicle battery is dead or there is a malfunction in the electrical system and the liftgate/trunk lid cannot be opened, perform the following procedure as an emergency measure to open it: WARNING Perform the procedure using a cloth to cover sharp edges which could injure your hands...
The Low Speed Pre-Collision System laser sensor is installed at the top of the windshield near the rearview mirror. Always keep the surface of the windshield around the laser sensor clean to assure proper operation of the Low Speed PreCollision System...
Categories
Before refueling, close all the doors, windows, and the liftgate/trunk lid, and switch the ignition OFF.
To open the fuel-filler lid, pull the remote fuel-filler lid release.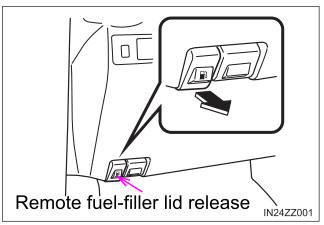 To remove the fuel-filler cap, turn it counterclockwise. Attach the removed cap to the inner side of the fuel-filler lid.