Toyota Yaris: Radiator / Components
COMPONENTS
ILLUSTRATION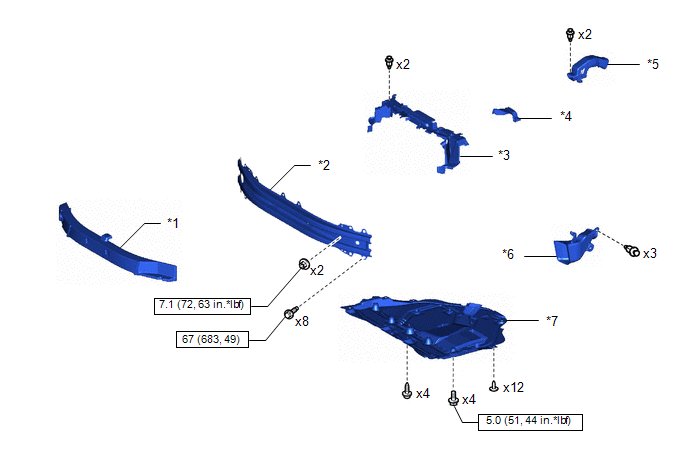 | | | | |
| --- | --- | --- | --- |
| *1 | FRONT BUMPER ENERGY ABSORBER | *2 | FRONT BUMPER REINFORCEMENT |
| *3 | RADIATOR UPPER AIR GUIDE PLATE | *4 | NO. 3 AIR CLEANER INLET |
| *5 | NO. 1 AIR CLEANER INLET | *6 | COOL AIR INTAKE DUCT |
| *7 | NO. 1 ENGINE UNDER COVER ASSEMBLY | - | - |
| | N*m (kgf*cm, ft.*lbf): Specified torque | - | - |
ILLUSTRATION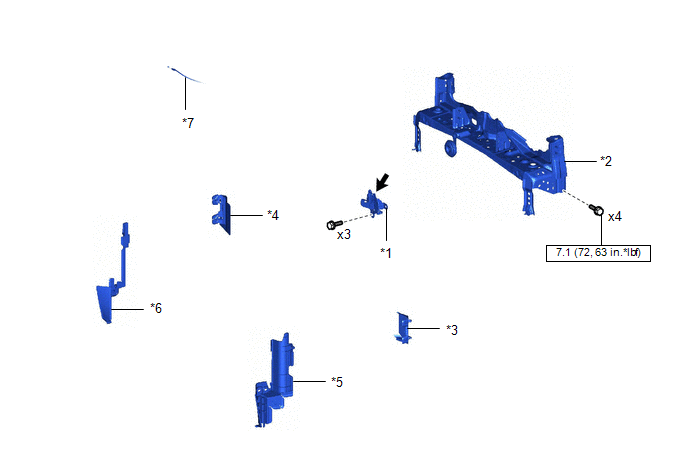 | | | | |
| --- | --- | --- | --- |
| *1 | HOOD LOCK ASSEMBLY | *2 | UPPER RADIATOR SUPPORT SUB-ASSEMBLY |
| *3 | FRONT RADIATOR SIDE AIR GUIDE PLATE LH | *4 | FRONT RADIATOR SIDE AIR GUIDE PLATE RH |
| *5 | NO. 1 RADIATOR AIR GUIDE LH | *6 | NO. 1 RADIATOR AIR GUIDE RH |
| *7 | HOOD LOCK CONTROL CABLE ASSEMBLY | - | - |
| | N*m (kgf*cm, ft.*lbf): Specified torque | | MP grease |
ILLUSTRATION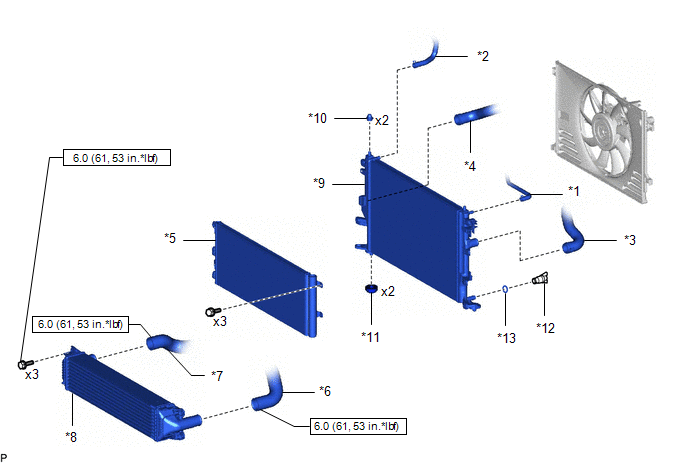 | | | | |
| --- | --- | --- | --- |
| *1 | WATER BY-PASS HOSE | *2 | NO. 3 WATER BY-PASS HOSE |
| *3 | NO. 1 RADIATOR HOSE | *4 | NO. 2 RADIATOR HOSE |
| *5 | COOLER CONDENSER ASSEMBLY | *6 | NO. 4 AIR HOSE |
| *7 | NO. 3 AIR HOSE | *8 | INTERCOOLER ASSEMBLY |
| *9 | RADIATOR ASSEMBLY | *10 | RADIATOR SUPPORT CUSHION |
| *11 | LOWER RADIATOR SUPPORT | *12 | RADIATOR DRAIN COCK PLUG |
| *13 | O-RING | - | - |
| | N*m (kgf*cm, ft.*lbf): Specified torque | - | - |
ON-VEHICLE INSPECTION PROCEDURE 1. INSPECT RESERVE TANK CAP CAUTION: Do not remove the reserve tank cap and air release valve while the engine and radiator assembly are still hot...
Other information:
DESCRIPTION A backup boost converter is built into the engine stop and start ECU. The backup boost converter helps maintain auxiliary battery voltage to prevent various functions from failing if power source voltage supplied from the backup boost converter drops due to the high electrical load when the engine is restarted by stop and start control...
Set the mode selector dial to the position. Set the air intake selector to the outside air position. Set the temperature control dial to the hot position. Set the fan control dial to the desired speed. If dehumidified heating is desired, turn on the air conditioner...
Categories
WARNING
Never allow a person to ride in the luggage compartment/trunk
Allowing a person to ride in the luggage compartment/trunk is dangerous. The person in the luggage compartment/trunk could be seriously injured or killed during sudden braking or a collision.
Do not drive with the liftgate/trunk lid open