Toyota Yaris: Radiator / Components
COMPONENTS
ILLUSTRATION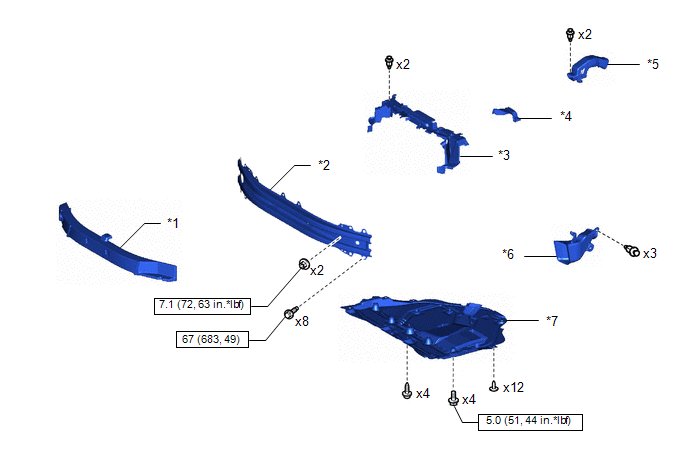 | | | | |
| --- | --- | --- | --- |
| *1 | FRONT BUMPER ENERGY ABSORBER | *2 | FRONT BUMPER REINFORCEMENT |
| *3 | RADIATOR UPPER AIR GUIDE PLATE | *4 | NO. 3 AIR CLEANER INLET |
| *5 | NO. 1 AIR CLEANER INLET | *6 | COOL AIR INTAKE DUCT |
| *7 | NO. 1 ENGINE UNDER COVER ASSEMBLY | - | - |
| | N*m (kgf*cm, ft.*lbf): Specified torque | - | - |
ILLUSTRATION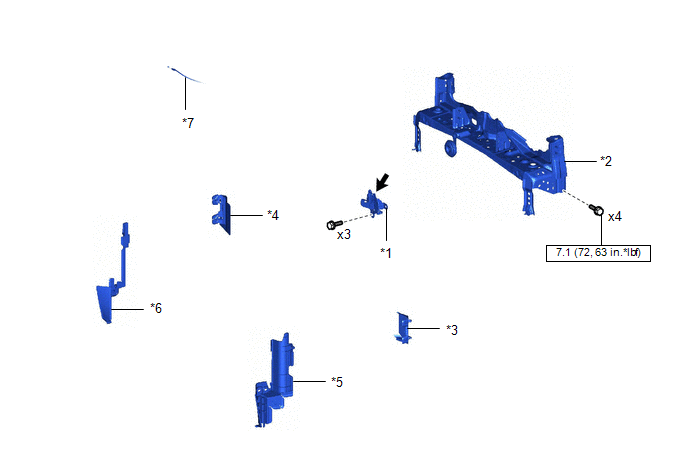 | | | | |
| --- | --- | --- | --- |
| *1 | HOOD LOCK ASSEMBLY | *2 | UPPER RADIATOR SUPPORT SUB-ASSEMBLY |
| *3 | FRONT RADIATOR SIDE AIR GUIDE PLATE LH | *4 | FRONT RADIATOR SIDE AIR GUIDE PLATE RH |
| *5 | NO. 1 RADIATOR AIR GUIDE LH | *6 | NO. 1 RADIATOR AIR GUIDE RH |
| *7 | HOOD LOCK CONTROL CABLE ASSEMBLY | - | - |
| | N*m (kgf*cm, ft.*lbf): Specified torque | | MP grease |
ILLUSTRATION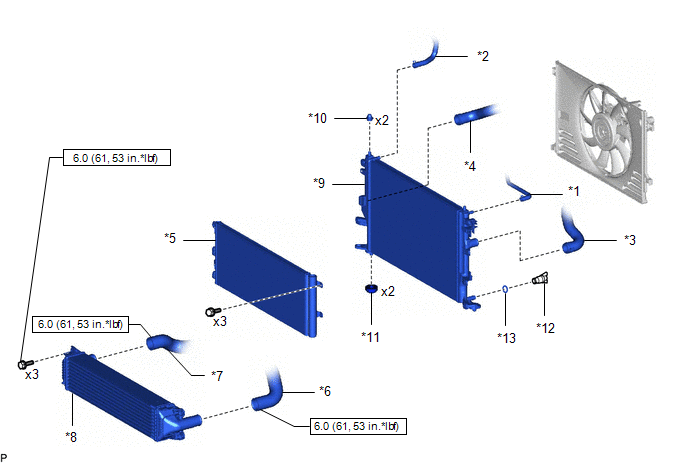 | | | | |
| --- | --- | --- | --- |
| *1 | WATER BY-PASS HOSE | *2 | NO. 3 WATER BY-PASS HOSE |
| *3 | NO. 1 RADIATOR HOSE | *4 | NO. 2 RADIATOR HOSE |
| *5 | COOLER CONDENSER ASSEMBLY | *6 | NO. 4 AIR HOSE |
| *7 | NO. 3 AIR HOSE | *8 | INTERCOOLER ASSEMBLY |
| *9 | RADIATOR ASSEMBLY | *10 | RADIATOR SUPPORT CUSHION |
| *11 | LOWER RADIATOR SUPPORT | *12 | RADIATOR DRAIN COCK PLUG |
| *13 | O-RING | - | - |
| | N*m (kgf*cm, ft.*lbf): Specified torque | - | - |
ON-VEHICLE INSPECTION PROCEDURE 1. INSPECT RESERVE TANK CAP CAUTION: Do not remove the reserve tank cap and air release valve while the engine and radiator assembly are still hot...
Other information:
The ignition must be switched ON to use the wipers. Because heavy ice and snow can jam the wiper blades, the wiper motor is protected from motor breakdown, overheating and possible fire by a circuit breaker. This mechanism will automatically stop operation of the blades, but only for about 5 minutes...
The window opens while the switch is pressed and it closes while the switch is pulled up with the ignition switched ON. Do not open or close three or more windows at the same time. The front passenger's side and rear windows can be opened/closed when the power window lock switch on the driver's door is in the unlock position...
Categories
WARNING
Never allow a person to ride in the luggage compartment/trunk
Allowing a person to ride in the luggage compartment/trunk is dangerous. The person in the luggage compartment/trunk could be seriously injured or killed during sudden braking or a collision.
Do not drive with the liftgate/trunk lid open