Toyota Yaris: Door Locks / Locking, Unlocking with Smart Key and Door-Lock Switch
Locking, Unlocking with Smart Key
All doors and the liftgate can be locked/unlocked by operating the keyless entry system smart key, refer to Keyless Entry System
Locking, Unlocking with Door-Lock Switch
All doors and the liftgate lock automatically when the lock side is pressed. They all unlock when the unlock side is pressed.
Driver's door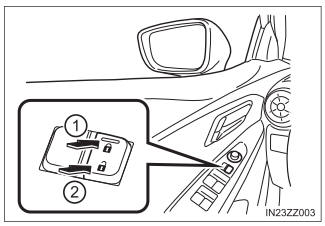 Lock
Unlock
Front passenger's door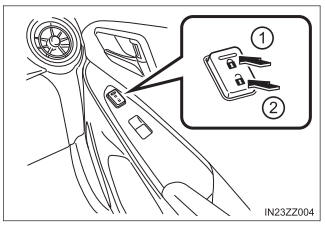 To lock all the doors and the liftgate from an open front door, press the lock side of the door lock switch and then close the door.
When locking the doors this way, be careful not to leave the key inside the vehicle.
Categories
Before refueling, close all the doors, windows, and the liftgate/trunk lid, and switch the ignition OFF.
To open the fuel-filler lid, pull the remote fuel-filler lid release.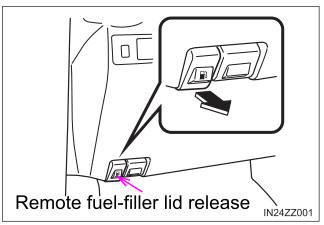 To remove the fuel-filler cap, turn it counterclockwise. Attach the removed cap to the inner side of the fuel-filler lid.