Toyota Yaris: AUX/USB mode / How to use Android Auto™ mode
What is Android Auto™?
Android Auto™ is an application which allows the operation of an Android™ Smartphone using the vehicle's audio. Android Auto™ functions such as the phone, messages, music, and map can be used with the vehicle's audio system.
NOTICE
YOU EXPRESSLY ACKNOWLEDGE AND AGREE THAT USE OF ANDROID AUTO™ ("THE APPLICATION") IS AT YOUR SOLE RISK AND THAT THE ENTIRE RISK AS TO SATISFACTORY QUALITY, PERFORMANCE, ACCURACY AND EFFORT IS WITH YOU TO THE MAXIMUM EXTENT PERMITTED BY APPLICABLE LAW, AND THAT THE APPLICATION AND INFORMATION ON THE APPLICATION IS PROVIDED "AS IS" AND "AS AVAILABLE," WITH ALL FAULTS AND WITHOUT WARRANTY OF ANY KIND, AND TOYOTA HEREBY DISCLAIMS ALL WARRANTIES AND CONDITIONS WITH RESPECT TO THE APPLICATION AND INFORMATION ON THE APPLICATION, EITHER EXPRESS, IMPLIED OR STATUTORY, INCLUDING, BUT NOT LIMITED TO, THE IMPLIED WARRANTIES AND/OR CONDITIONS OF MERCHANTABILITY, SATISFACTORY QUALITY, FITNESS FOR A PARTICULAR PURPOSE, ACCURACY, QUIET ENJOYMENT, AND NONINFRINGEMENT OF THIRD PARTY RIGHTS. AS EXAMPLES, AND WITHOUT LIMITATION, TOYOTA DISCLAIMS ANY WARRANTY REGARDING THE ACCURACY OF DATA PROVIDED BY THE APPLICATION, SUCH AS THE ACCURACY OF DIRECTIONS, ESTIMATED TRAVEL TIME, SPEED LIMITS, ROAD CONDITIONS, NEWS, WEATHER, TRAFFIC, OR OTHER CONTENT PROVIDED BY GOOGLE, ITS AFFILIATES, OR THIRD PARTY PROVIDERS; TOYOTA DOES NOT GUARANTEE AGAINST LOSS OF APPLICATION DATA, WHICH MAY BE LOST AT ANY TIME; TOYOTA DOES NOT GUARANTEE THAT THE APPLICATION OR ANY SERVICES PROVIDED THROUGH THEM WILL BE PROVIDED AT ALL TIMES OR THAT ANY OR ALL SERVICES WILL BE AVAILABLE AT ANY PARTICULAR TIME OR LOCATION. FOR EXAMPLE, SERVICES MAY BE SUSPENDED OR INTERRUPTED WITHOUT NOTICE FOR REPAIR, MAINTENANCE, SECURITY FIXES, UPDATES, ETC., SERVICES MAY BE UNAVAILABLE IN YOUR AREA OR LOCATION, ETC. IN ADDITION, YOU UNDERSTAND THAT CHANGES IN THIRD PARTY TECHNOLOGY OR GOVERNMENT REGULATION MAY RENDER THE SERVICES AND/OR APPLICATIONS OBSOLETE AND/OR UNUSABLE.
TO THE EXTENT NOT PROHIBITED BY LAW, IN NO EVENT SHALL TOYOTA OR ITS AFFILIATES BE LIABLE FOR PERSONAL INJURY, OR ANY INCIDENTAL, SPECIAL, INDIRECT OR CONSEQUENTIAL DAMAGES WHATSOEVER, INCLUDING, WITHOUT LIMITATION, DAMAGES FOR LOSS OF PROFITS, CORRUPTION OR LOSS OF DATA, FAILURE TO TRANSMIT OR RECEIVE ANY DATA, BUSINESS INTERRUPTION OR ANY OTHER COMMERCIAL DAMAGES OR LOSSES, ARISING OUT OF OR RELATED TO THE APPLICATION OR YOUR USE OF OR INABILITY TO USE THE APPLICATION OR INFORMATION ON THE APPLICATION.
NOTICE
When using Android Auto™, please avoid distraction and use Android Auto™ responsibly. Stay fully aware of driving conditions and always obey applicable laws.
Android Auto™ is provided by Google and its use is subject to your agreement to the Android Auto™ terms of use.
When using Android Auto™, location, speed, and other vehicle data is transferred to your smart phone. For further details, refer to Google's Privacy Policy.
How to use the Android Auto™ mode
Insert an Android™ Smartphone-genuine connector cord into the USB terminal indicated by the

icon to connect the Smartphone. Refer to How to connect USB port/Auxiliary jack.
When an Android™ Smartphone connected to Bluetooth® is connected to the vehicle's USB terminal, Bluetooth® is used by Android Auto™ and the system switches to Android Auto™ mode.
If the Android™ Smartphone is connected to a USB terminal with no icon indicated, the system operates in USB mode.
Display of Android Auto™ Mode Screen
Use any of the following methods to display the Android Auto™ mode screen in the center display.
Select

on the home screen, and select

from

the Applications screen.
Select

on the home screen.
Press and hold

on the commander switch.
Android Auto™ mode home screen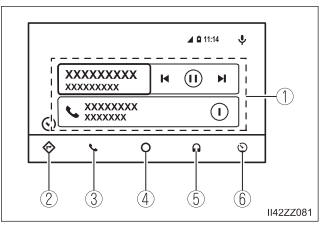 The media displayed on the Android Auto™ home screen may differ depending on the use conditions and version of the connected Android™ Smartphone.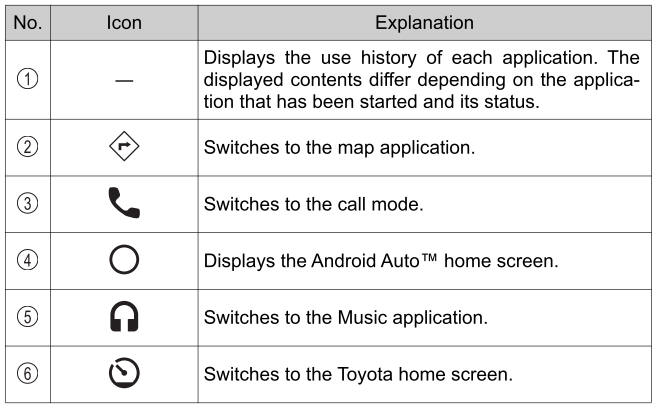 Convenient ways to use Android Auto™ mode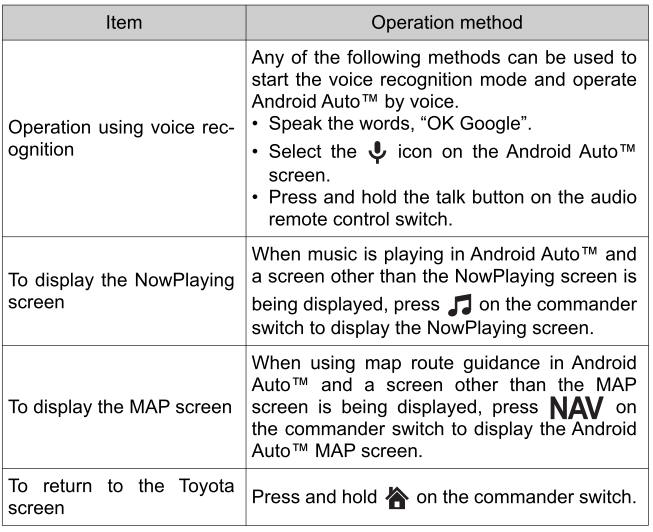 To end Android Auto™
To end the Android Auto™ mode, disconnect the Android™-genuine connector cord from the USB terminal or disconnect the Android™ Smartphone from the connector cord.
If Android Auto™ cannot be connected When the message, "Mobile Device Error", is displayed and Android Auto™ cannot be connected.
Make sure that the Android™ Smartphone in question is compatible with Android Auto™.
Before trying to reconnect your Android™ Smartphone to the connector cord, do the Bluetooth® device pairing again.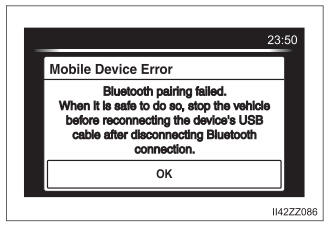 If the Android Auto™ connection setting cannot be changed
Depending on your Android™ Smartphone, the connection setting may have been in charging mode only when the connector cord is connected.
In this case, switch off the Android Auto™ connection setting once, and then switch it back on while connected to USB mode.
The connection setting can be changed to the Android Auto™ connection in the

tab on the Settings screen.
What is Apple CarPlay™? Apple CarPlay™ allows you to make calls, send or receive messages, and listen to music using your iPhone® with the vehicle's audio system, or search for destinations using the maps...
Other information:
INSIDE VEHICLE These are maintenance and inspection items that are considered to be the owner's responsibility. The owner can do them or they can have them done at a service center. These items include those that should be checked on a daily basis, those that in most cases do not require special tools, and those that are considered to be reasonable for the owner to do...
DESCRIPTION When an internal malfunction is detected in the forward recognition camera, these DTCs are stored. DTC No. Detection Item DTC Detection Condition Trouble Area C100A62 Control Module Internal Temperature Sensor A/B Correlation Signal Compare Failure A forward recognition camera internal malfunction is detected...