Toyota Yaris: Manual Transaxle System / Freeze Frame Data
FREEZE FRAME DATA
DESCRIPTION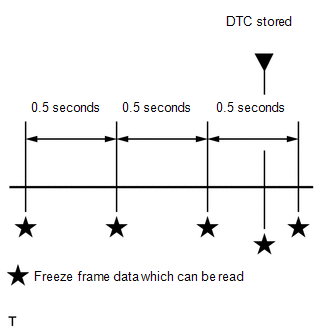 The ECM records vehicle and driving condition information as freeze frame data the moment a DTC is stored. When troubleshooting, freeze frame data can be helpful in determining whether the vehicle was moving or stationary, whether the engine was warmed up or not, whether the air fuel ratio was lean or rich, as well as other data recorded at the time of a malfunction.
HINT:
If it is impossible to replicate the problem even though a DTC is detected, confirm the freeze frame data.
The ECM records engine conditions in the form of freeze frame data every 0.5 seconds. Using the GTS, 5 separate sets of freeze frame data can be checked.
3 data sets before the DTC was stored.
1 data set when the DTC was stored.
1 data set after the DTC was stored.
These data sets can be used to simulate the condition of the vehicle around the time of the occurrence the malfunction. The data may assist in identifying the cause of the malfunction, and judging whether it was temporary or not.
LIST OF FREEZE FRAME DATA
Powertrain > Engine
Tester Display
Total Distance Traveled
Total Distance Traveled - Unit
Vehicle Speed
Engine Speed
Mass Air Flow Sensor
Intake Manifold Absolute Pressure
Intake Manifold Absolute Pressure Supported
Coolant Temperature
BATT Voltage
Throttle Motor Duty Ratio
Starter SW
Neutral Position SW
Stop Light SW
Cruise Main SW
NIM Sensor Speed
NIM Sensor Voltage
Shift SW Status (R Range)
Clutch Stroke Position
Clutch Stroke Sensor Voltage
M/T Oil Temperature
iMT SW
iMT Telltale
DTC CHECK / CLEAR CHECK DTC (Using GTS) (a) DTCs which are stored in the ECM can be output to the GTS. (1) Connect the GTS to the DLC3. (2) Turn the ignition switch to ON...
DATA LIST / ACTIVE TEST DATA LIST NOTICE: In the table below, the values listed under "Normal Condition" are reference values. Do not depend solely on these reference values when deciding whether a part is faulty or not...
Other information:
PRECAUTION PRECAUTION FOR WASHER NOZZLE ADJUSTMENT (a) Do not clean or adjust the washer nozzle with a safety pin, etc. because: (1) The washer nozzle tip is made of resin and may be damaged. (2) Adjustment is not necessary for this spray type washer nozzle...
COMPONENTS ILLUSTRATION *1 NO. 1 ENGINE UNDER COVER ASSEMBLY *2 ENGINE UNDER COVER LH *3 ENGINE UNDER COVER RH - - N*m (kgf*cm, ft.*lbf): Specified torque - - ILLUSTRATION *1 FRONT AXLE SHAFT NUT *2 FRONT SPEED SENSOR *3 FRONT FLEXIBLE HOSE *4 STEERING KNUCKLE SEAL *5 COTTER PIN *6 TIE ROD END SUB-ASSEMBLY *7 FRONT STABILIZER LINK ASSEMBLY *8 FRONT LOWER NO...
Categories
WARNING
Never allow a person to ride in the luggage compartment/trunk
Allowing a person to ride in the luggage compartment/trunk is dangerous. The person in the luggage compartment/trunk could be seriously injured or killed during sudden braking or a collision.
Do not drive with the liftgate/trunk lid open