Toyota Yaris: Input Shaft / Disassembly
DISASSEMBLY
PROCEDURE
1. REMOVE INPUT SHAFT REAR BEARING SHAFT SNAP RING
| | |
| --- | --- |
| (a) Using a snap ring expander, remove the input shaft rear bearing shaft snap ring from the input shaft. | |
2. REMOVE INPUT SHAFT REAR RADIAL BALL BEARING
(a) Using SST, remove the input shaft rear radial ball bearing from the input shaft.

SST: 09950-40011

09951-04020

09952-04010

09953-04020

09954-04010

09955-04011

09957-04010

09958-04011

SST: 09631-20031
3. REMOVE 6TH DRIVE GEAR
(a) Using SST and a press, remove the 6th drive gear from the input shaft.

SST: 09950-00020
4. REMOVE 3RD DRIVE GEAR
(a) Using SST and a press, remove the 3rd drive gear from the input shaft.

SST: 09950-00020
| | |
| --- | --- |
| (b) Remove the spacer from the input shaft. | |
5. REMOVE 4TH DRIVE GEAR
(a) Using SST and a press, remove the 4th drive gear from the input shaft.

SST: 09950-00020
6. REMOVE INPUT SHAFT SNAP RING
| | |
| --- | --- |
| (a) Using 2 screwdrivers and a hammer, remove the input shaft snap ring from the input shaft. | |
7. REMOVE INPUT SHAFT FRONT BEARING INNER RACE
(a) Using SST and a press, remove the input shaft front bearing inner race from the input shaft.

SST: 09950-00020
INSPECTION PROCEDURE 1. INSPECT INPUT SHAFT (a) Check the input shaft for wear and damage. (b) Using a dial indicator, measure the input shaft runout...
Other information:
Opening the liftgate (5-Door) Using the electric liftgate opener Unlock the doors and liftgate, then press the electric liftgate opener on the liftgate and raise the liftgate when the latch releases. Opening the liftgate (With the advanced keyless function) A locked liftgate can also be opened while the key is being carried...
Inspect all tire pressures monthly (including the spare) when the tires are cold. Maintain recommended pressures for the best ride, handling, and minimum tire wear. Refer to the specification charts. With tire pressure monitoring system: After adjusting the tire pressure, initialization of the tire pressure monitoring system is necessary to make the system operate normally...
Categories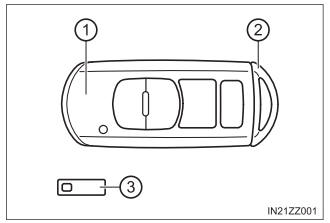 Smart key Auxiliary key Key code number plate
To use the auxiliary key, press the knob and pull out the auxiliary key from the smart key.