Toyota Yaris: Rear Drive Shaft Assembly / Components
COMPONENTS
ILLUSTRATION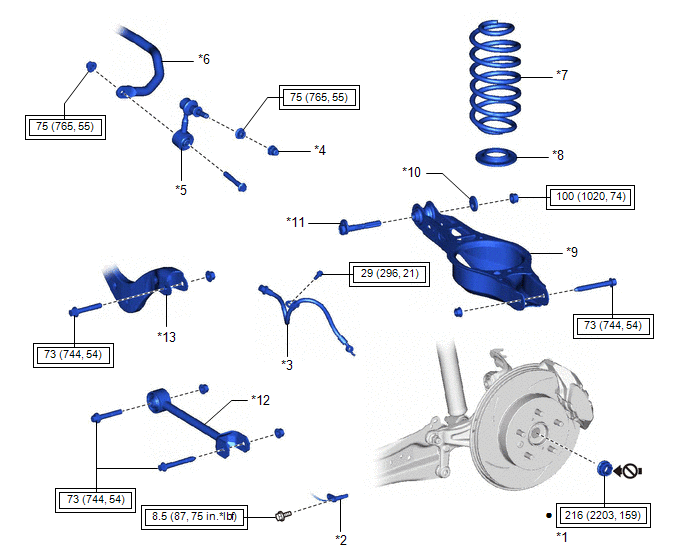 | | | | |
| --- | --- | --- | --- |
| *1 | REAR AXLE SHAFT NUT | *2 | REAR SPEED SENSOR |
| *3 | REAR FLEXIBLE HOSE | *4 | CAP |
| *5 | REAR STABILIZER LINK ASSEMBLY | *6 | REAR STABILIZER BAR |
| *7 | REAR COIL SPRING | *8 | REAR LOWER COIL SPRING INSULATOR |
| *9 | REAR NO. 2 SUSPENSION ARM ASSEMBLY | *10 | NO. 2 CAMBER ADJUST CAM |
| *11 | REAR SUSPENSION TOE ADJUST CAM SUB-ASSEMBLY | *12 | REAR NO. 1 SUSPENSION ARM ASSEMBLY |
| *13 | REAR UPPER CONTROL ARM ASSEMBLY | - | - |
| | Tightening torque for "Major areas involving basic vehicle performance such as moving/turning/stopping": N*m (kgf*cm, ft.*lbf) | ● | Non-reusable part |
| | Do not apply lubricants to the threaded parts | - | - |
ILLUSTRATION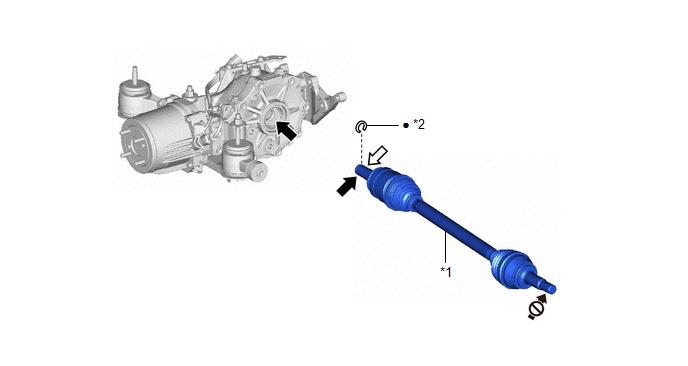 | | | | |
| --- | --- | --- | --- |
| *1 | REAR DRIVE SHAFT ASSEMBLY | *2 | REAR DRIVE SHAFT INBOARD JOINT SHAFT SNAP RING |
| ● | Non-reusable part | | MP grease |
| | Toyota genuine differential gear oil LX | | Do not apply lubricants to the threaded parts |
ILLUSTRATION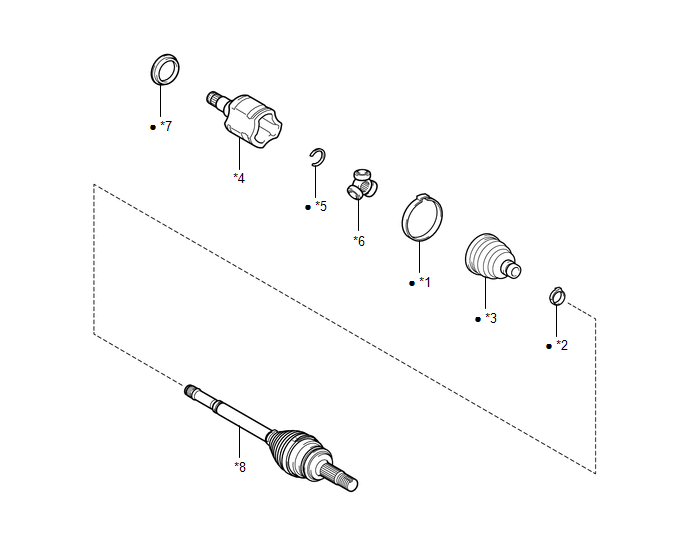 | | | | |
| --- | --- | --- | --- |
| *1 | REAR NO. 2 DRIVE SHAFT INBOARD JOINT BOOT CLAMP | *2 | REAR DRIVE SHAFT INBOARD JOINT BOOT CLAMP |
| *3 | REAR DRIVE SHAFT INBOARD JOINT BOOT | *4 | REAR DRIVE SHAFT INBOARD JOINT ASSEMBLY |
| *5 | REAR DRIVE SHAFT SNAP RING | *6 | TRIPOD JOINT |
| *7 | REAR DRIVE SHAFT DUST COVER | *8 | REAR DRIVE OUTBOARD JOINT SHAFT ASSEMBLY |
| ● | Non-reusable part | - | - |
REMOVAL CAUTION / NOTICE / HINT The necessary procedures (adjustment, calibration, initialization, or registration) that must be performed after parts are removed and installed, or replaced during the rear drive shaft assembly removal/installation are shown below...
Other information:
CAUTION / NOTICE / HINT NOTICE: After replacing the skid control ECU (brake actuator assembly), perform "Calibration". Click here PROCEDURE 1. PERFORM ROAD TEST (a) After turning the ignition switch to ON, compare the operating sound of the brake actuator the first time the vehicle speed reaches approximately 25 km/h (16 mph) with a known good vehicle of the same model...
INSTALLATION PROCEDURE 1. INSTALL AIR CONDITIONING AMPLIFIER ASSEMBLY (a) Connect the 3 connectors. (b) Engage the guide to install the air conditioning amplifier assembly. (c) Install the 3 screws. (d) Install the front floor carpet assembly with the 2 clips as shown in the illustration...
Categories
WARNING
Never allow a person to ride in the luggage compartment/trunk
Allowing a person to ride in the luggage compartment/trunk is dangerous. The person in the luggage compartment/trunk could be seriously injured or killed during sudden braking or a collision.
Do not drive with the liftgate/trunk lid open