Toyota Yaris: Brake Actuator / Components
COMPONENTS
ILLUSTRATION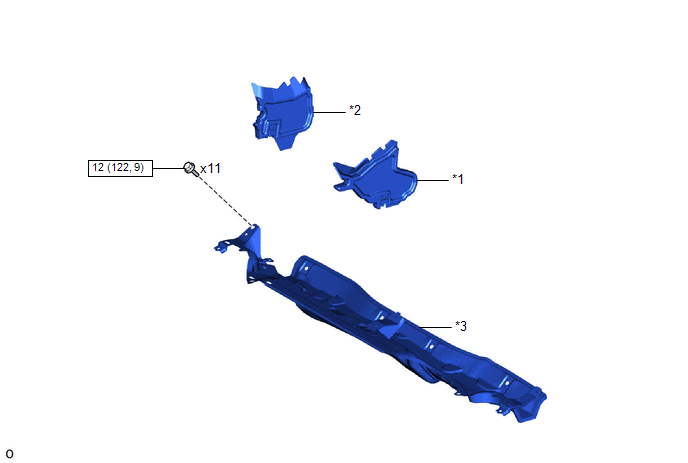 | | | | |
| --- | --- | --- | --- |
| *1 | FRONT NO. 1 VENTILATOR SEAL | *2 | WATER GUARD PLATE RH |
| *3 | OUTER COWL TOP PANEL SUB-ASSEMBLY | - | - |
| | N*m (kgf*cm, ft.*lbf): Specified torque | - | - |
ILLUSTRATION

| | | | |
| --- | --- | --- | --- |
| *1 | NO. 1 ENGINE UNDER COVER ASSEMBLY | - | - |
| | N*m (kgf*cm, ft.*lbf): Specified torque | - | - |
ILLUSTRATION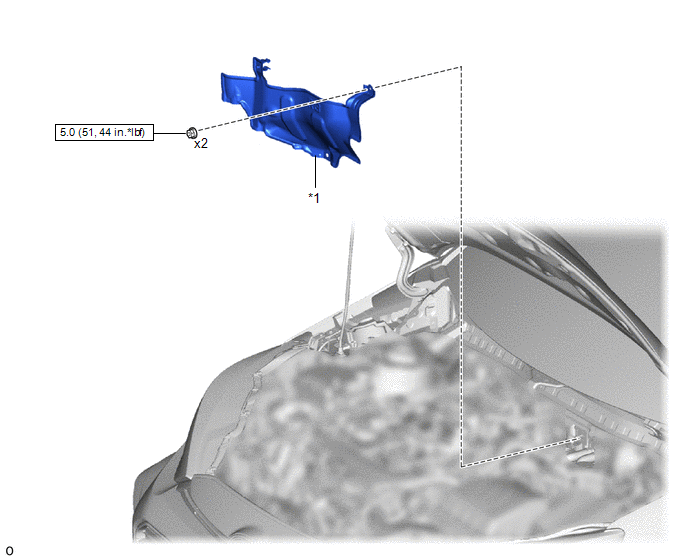 | | | | |
| --- | --- | --- | --- |
| *1 | DASH PANEL HEAT INSULATOR | - | - |
| | N*m (kgf*cm, ft.*lbf): Specified torque | - | - |
ILLUSTRATION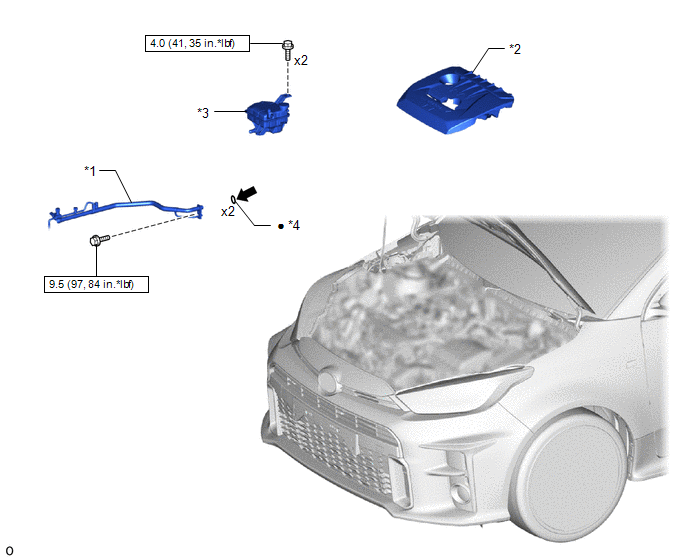 *1

AIR CONDITIONING TUBE AND ACCESSORY ASSEMBLY

*2

NO. 1 ENGINE COVER SUB-ASSEMBLY

*3

RESERVE SEALED TANK

*4

O-RING

N*m (kgf*cm, ft.*lbf): Specified torque

●

Non-reusable part

HFC-134a (R134a):

Compressor oil ND-OIL 8 or equivalent

-

-
ILLUSTRATION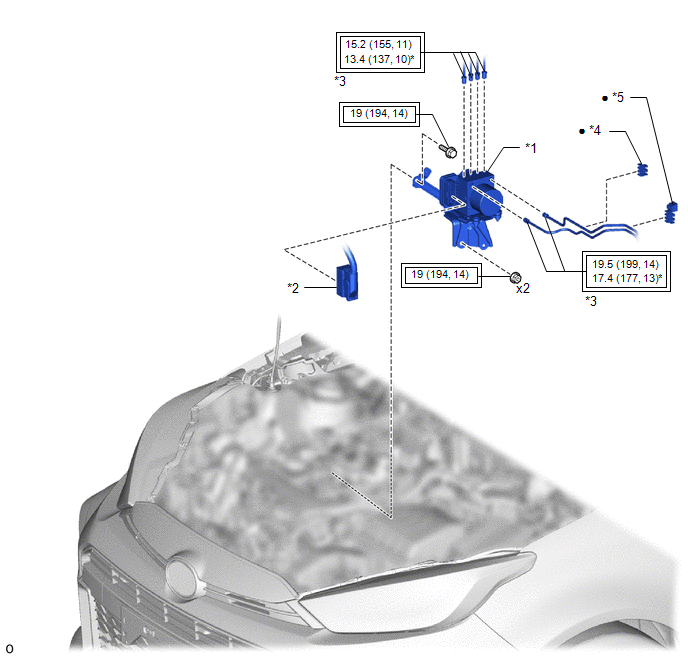 | | | | |
| --- | --- | --- | --- |
| *1 | BRAKE ACTUATOR WITH BRACKET | *2 | CONNECTOR |
| *3 | BRAKE LINE | *4 | NO. 1 BRAKE TUBE CLAMP |
| *5 | NO. 2 BRAKE TUBE CLAMP | - | - |
| | Tightening torque for "Major areas involving basic vehicle performance such as moving/turning/stopping" : N*m (kgf*cm, ft.*lbf) | * | For use with a union nut wrench |
| ● | Non-reusable part | - | - |
ILLUSTRATION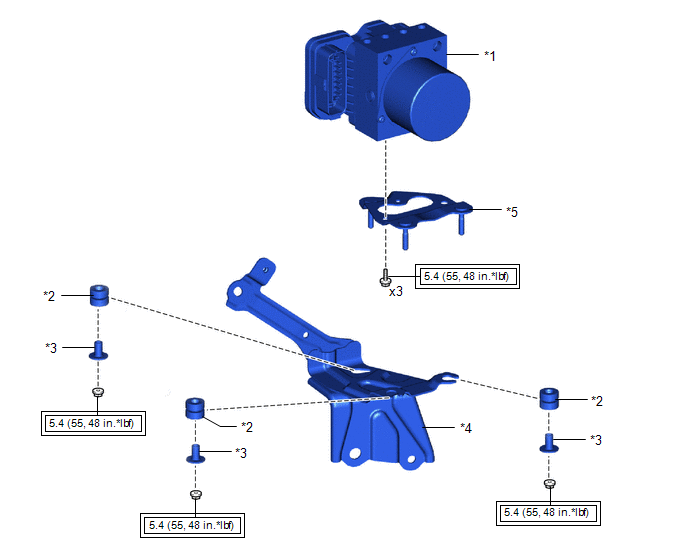 | | | | |
| --- | --- | --- | --- |
| *1 | BRAKE ACTUATOR ASSEMBLY | *2 | BRAKE ACTUATOR BRACKET CUSHION |
| *3 | NO. 1 BRAKE ACTUATOR CASE COLLAR | *4 | NO. 1 BRAKE ACTUATOR BRACKET |
| *5 | BRAKE ACTUATOR BRACKET ASSEMBLY | - | - |
| | Tightening torque for "Major areas involving basic vehicle performance such as moving/turning/stopping" : N*m (kgf*cm, ft.*lbf) | - | - |
ON-VEHICLE INSPECTION PROCEDURE 1. CONNECT GTS (a) Connect the GTS to the DLC3 with the engine switch off. (b) Start the engine and run it at idle. (c) Turn the GTS on...
Other information:
REASSEMBLY PROCEDURE 1. INSTALL NO. 2 ANTENNA CORD SUB-ASSEMBLY Click here 2. INSTALL NO. 1 ROOF WIRE (a) Apply butyl tape onto the roof headlining so that it does not protrude from the markings. *a Butyl Tape - - HINT: Apply the butyl tape securely, making sure that it is not out of position or peeling off...
DESCRIPTION DTC No. Detection Item DTC Detection Condition Trouble Area DTC Output from C054017 Brake Pressure Sensor "A" Circuit Voltage Above Threshold When vehicle speed exceeds 3 km/h (2 mph) and stop light switch assembly is OFF, master cylinder pressure continuously exceeds 1...
Categories
Stop the vehicle completely. Manual transaxle: Shift into neutral and set the parking brake.
Automatic transaxle: Shift the selector lever to the P position and set the parking brake.
Press the push button start to turn off the engine. The ignition position is off.