Toyota Yaris: Brake Actuator / Components
COMPONENTS
ILLUSTRATION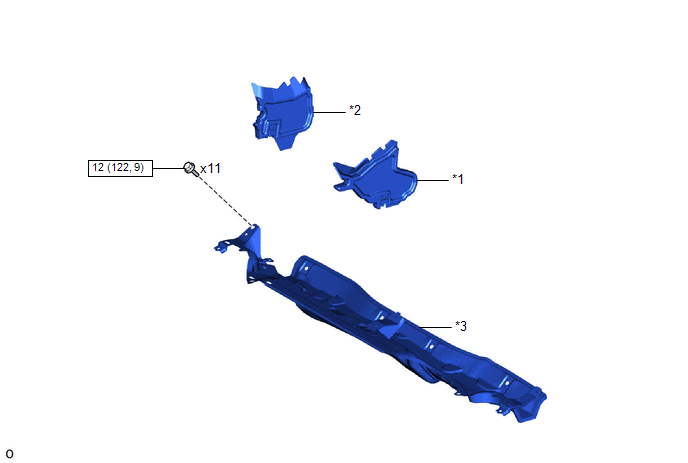 | | | | |
| --- | --- | --- | --- |
| *1 | FRONT NO. 1 VENTILATOR SEAL | *2 | WATER GUARD PLATE RH |
| *3 | OUTER COWL TOP PANEL SUB-ASSEMBLY | - | - |
| | N*m (kgf*cm, ft.*lbf): Specified torque | - | - |
ILLUSTRATION

| | | | |
| --- | --- | --- | --- |
| *1 | NO. 1 ENGINE UNDER COVER ASSEMBLY | - | - |
| | N*m (kgf*cm, ft.*lbf): Specified torque | - | - |
ILLUSTRATION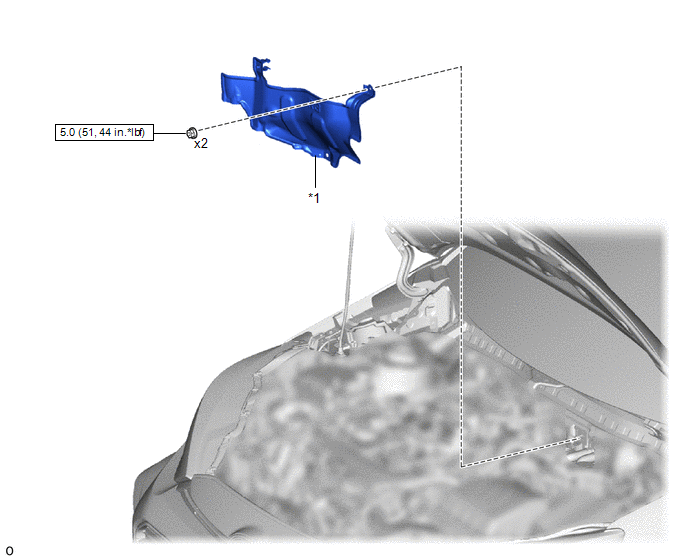 | | | | |
| --- | --- | --- | --- |
| *1 | DASH PANEL HEAT INSULATOR | - | - |
| | N*m (kgf*cm, ft.*lbf): Specified torque | - | - |
ILLUSTRATION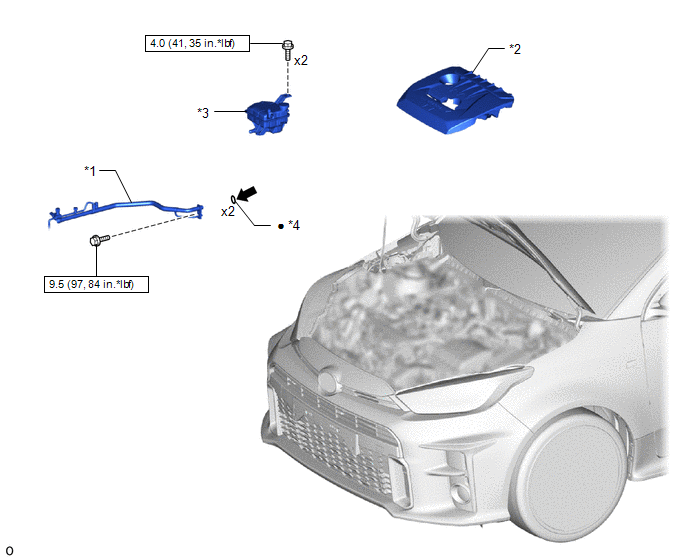 *1

AIR CONDITIONING TUBE AND ACCESSORY ASSEMBLY

*2

NO. 1 ENGINE COVER SUB-ASSEMBLY

*3

RESERVE SEALED TANK

*4

O-RING

N*m (kgf*cm, ft.*lbf): Specified torque

●

Non-reusable part

HFC-134a (R134a):

Compressor oil ND-OIL 8 or equivalent

-

-
ILLUSTRATION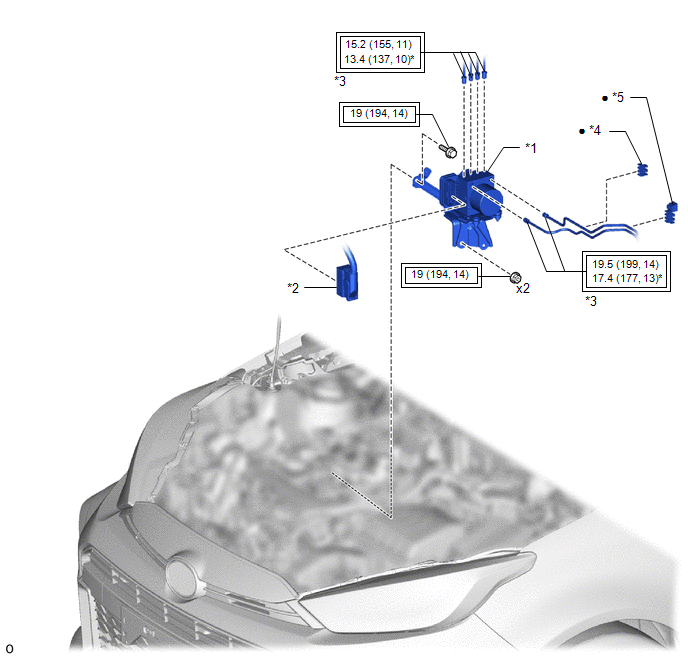 | | | | |
| --- | --- | --- | --- |
| *1 | BRAKE ACTUATOR WITH BRACKET | *2 | CONNECTOR |
| *3 | BRAKE LINE | *4 | NO. 1 BRAKE TUBE CLAMP |
| *5 | NO. 2 BRAKE TUBE CLAMP | - | - |
| | Tightening torque for "Major areas involving basic vehicle performance such as moving/turning/stopping" : N*m (kgf*cm, ft.*lbf) | * | For use with a union nut wrench |
| ● | Non-reusable part | - | - |
ILLUSTRATION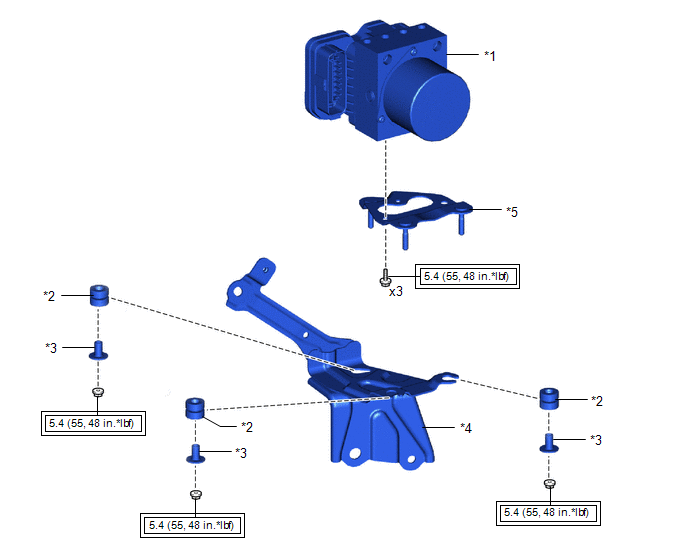 | | | | |
| --- | --- | --- | --- |
| *1 | BRAKE ACTUATOR ASSEMBLY | *2 | BRAKE ACTUATOR BRACKET CUSHION |
| *3 | NO. 1 BRAKE ACTUATOR CASE COLLAR | *4 | NO. 1 BRAKE ACTUATOR BRACKET |
| *5 | BRAKE ACTUATOR BRACKET ASSEMBLY | - | - |
| | Tightening torque for "Major areas involving basic vehicle performance such as moving/turning/stopping" : N*m (kgf*cm, ft.*lbf) | - | - |
ON-VEHICLE INSPECTION PROCEDURE 1. CONNECT GTS (a) Connect the GTS to the DLC3 with the engine switch off. (b) Start the engine and run it at idle. (c) Turn the GTS on...
Other information:
Without auto-light control Turn the headlight switch to turn the headlights, other exterior lights and dashboard illumination on or off. * 1: The lights are turned on while the vehicle is driven. * 2: The lights are turned on for the specified period by the auto headlight off function...
REMOVAL CAUTION / NOTICE / HINT The necessary procedures (adjustment, calibration, initialization, or registration) that must be performed after parts are removed, installed, or replaced during the front seat airbag assembly removal/installation are shown below...
Categories
Stop the vehicle completely. Manual transaxle: Shift into neutral and set the parking brake.
Automatic transaxle: Shift the selector lever to the P position and set the parking brake.
Press the push button start to turn off the engine. The ignition position is off.