Toyota Yaris: Front Bumper / Components
COMPONENTS
ILLUSTRATION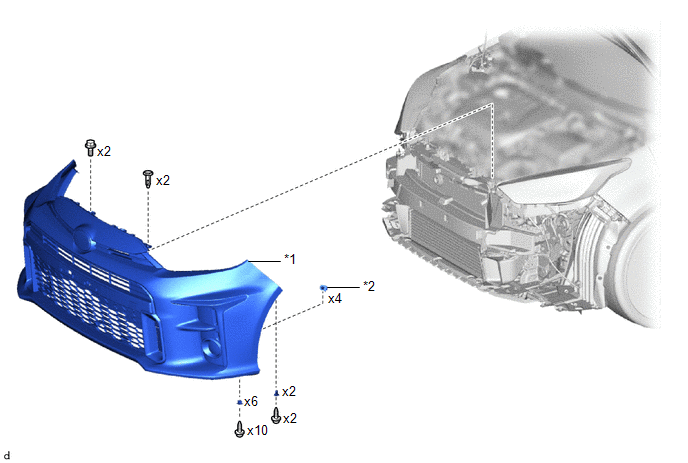 | | | | |
| --- | --- | --- | --- |
| *1 | FRONT BUMPER ASSEMBLY | *2 | PIN HOLD CLIP |
ILLUSTRATION

| | | | |
| --- | --- | --- | --- |
| *A | w/ Pre-collision System | - | - |
| *1 | NO. 3 ENGINE ROOM WIRE | *2 | MILLIMETER WAVE RADAR SENSOR ASSEMBLY |
| | N*m (kgf*cm, ft.*lbf): Specified torque | - | - |
ILLUSTRATION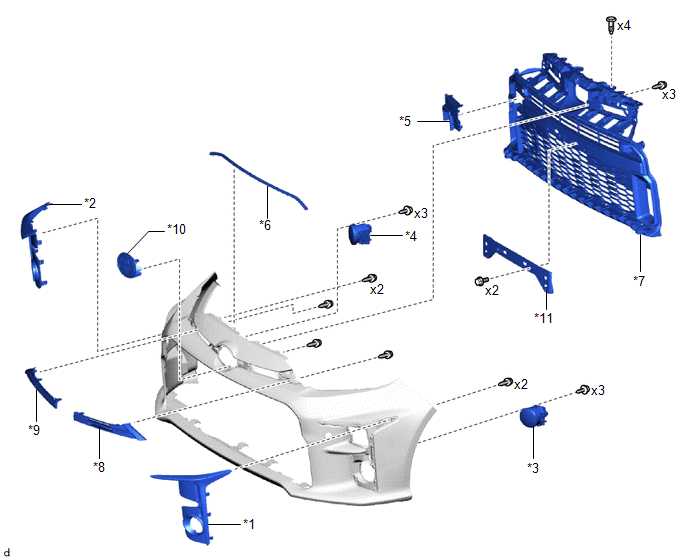 | | | | |
| --- | --- | --- | --- |
| *1 | FOG LIGHT COVER LH | *2 | FOG LIGHT COVER RH |
| *3 | FOG LIGHT ASSEMBLY LH | *4 | FOG LIGHT ASSEMBLY RH |
| *5 | FRONT BUMPER HOLE COVER | *6 | HOOD TO FRONT END PANEL SEAL |
| *7 | LOWER RADIATOR GRILLE SUB-ASSEMBLY | *8 | RADIATOR GRILLE SIDE MOULDING LH |
| *9 | RADIATOR GRILLE SIDE MOULDING RH | *10 | RADIATOR GRILLE EMBLEM ASSEMBLY |
| *11 | FRONT BUMPER EXTENSION MOUNTING BRACKET | - | - |
ILLUSTRATION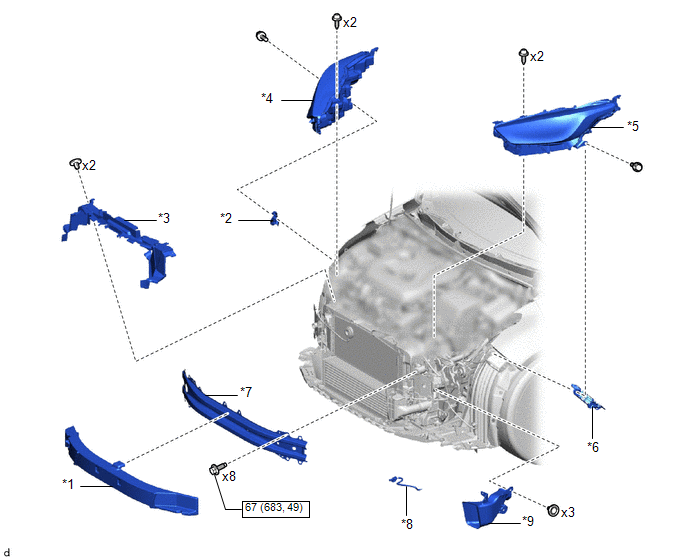 | | | | |
| --- | --- | --- | --- |
| *1 | FRONT BUMPER ENERGY ABSORBER | *2 | FRONT BUMPER SIDE RETAINER RH |
| *3 | RADIATOR UPPER AIR GUIDE PLATE | *4 | HEADLIGHT ASSEMBLY RH |
| *5 | HEADLIGHT ASSEMBLY LH | *6 | FRONT BUMPER SIDE RETAINER LH |
| *7 | FRONT BUMPER REINFORCEMENT | *8 | THERMISTOR ASSEMBLY |
| *9 | COOL AIR INTAKE DUCT | - | - |
| | N*m (kgf*cm, ft.*lbf): Specified torque | - | - |
ILLUSTRATION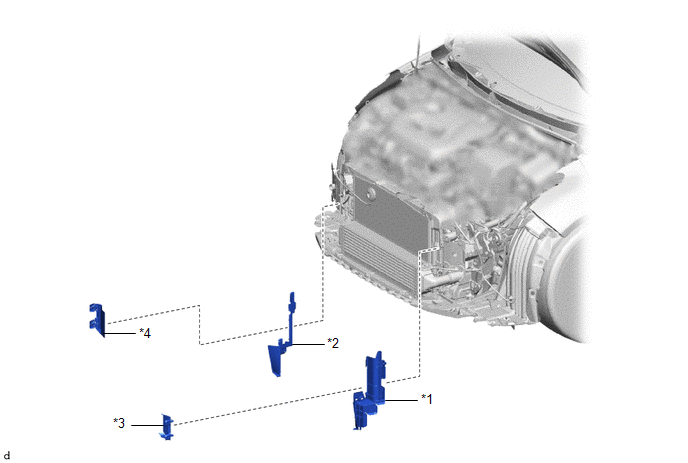 | | | | |
| --- | --- | --- | --- |
| *1 | NO. 1 RADIATOR AIR GUIDE LH | *2 | NO. 1 RADIATOR AIR GUIDE RH |
| *3 | FRONT RADIATOR SIDE AIR GUIDE PLATE LH | *4 | FRONT RADIATOR SIDE AIR GUIDE PLATE RH |
ILLUSTRATION
| | | | |
| --- | --- | --- | --- |
| *1 | FRONT SIDE MEMBER BRACKET SUB-ASSEMBLY LH | *2 | FRONT SIDE MEMBER BRACKET SUB-ASSEMBLY RH |
| *3 | NO. 1 ENGINE UNDER COVER ASSEMBLY | *4 | FRONT BUMPER LOWER ABSORBER |
| | N*m (kgf*cm, ft.*lbf): Specified torque | - | - |
REMOVAL PROCEDURE 1. REMOVE PIN HOLD CLIP (a) Apply protective tape around the front bumper assembly. HINT: Use the same procedure for the RH side and LH side...
Other information:
ComponentsCOMPONENTS ILLUSTRATION *1 REAR DRIVE SHAFT OIL SEAL *2 REAR DIFFERENTIAL FILLER PLUG *3 REAR DIFFERENTIAL DRAIN PLUG *4 REAR DIFFERENTIAL CARRIER ASSEMBLY *5 GASKET - - Tightening torque for "Major areas involving basic vehicle performance such as moving/turning/stopping" : N*m (kgf*cm, ft...
INSTALLATION PROCEDURE 1. INSTALL ENGINE COOLANT TEMPERATURE SENSOR HINT: Perform "Inspection After Repair" after replacing the engine coolant temperature sensor. Click here (a) Apply a light coat of engine coolant to the O-ring of the engine coolant temperature sensor...
Categories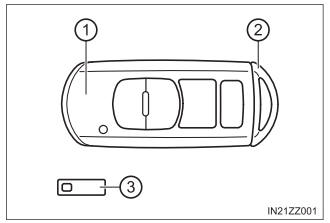 Smart key Auxiliary key Key code number plate
To use the auxiliary key, press the knob and pull out the auxiliary key from the smart key.