Toyota Yaris: Front Suspension Member / Components
COMPONENTS
ILLUSTRATION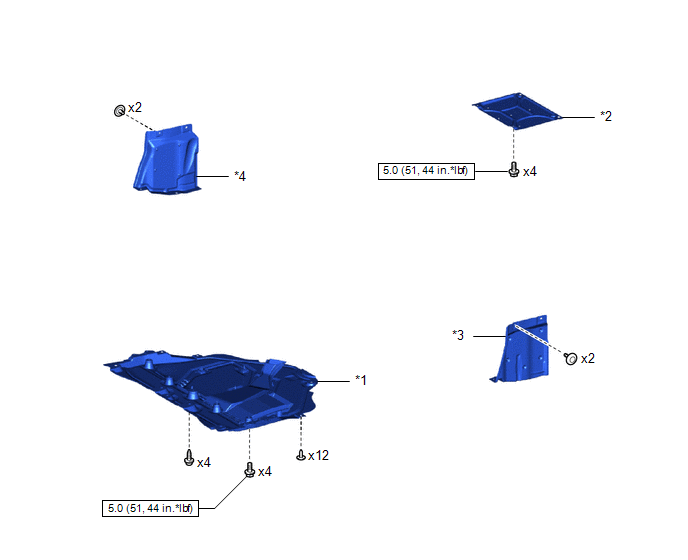 | | | | |
| --- | --- | --- | --- |
| *1 | NO. 1 ENGINE UNDER COVER ASSEMBLY | *2 | CENTER NO. 4 ENGINE UNDER COVER |
| *3 | ENGINE UNDER COVER LH | *4 | ENGINE UNDER COVER RH |
| | N*m (kgf*cm, ft.*lbf): Specified torque | - | - |
ILLUSTRATION

| | | | |
| --- | --- | --- | --- |
| *1 | FRONT FENDER LINER LH | *2 | FRONT FENDER LINER RH |
ILLUSTRATION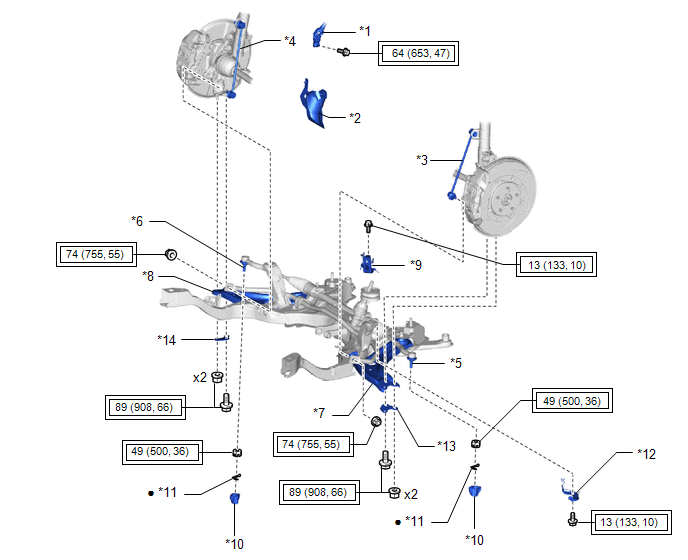 | | | | |
| --- | --- | --- | --- |
| *1 | NO. 2 STEERING INTERMEDIATE SHAFT ASSEMBLY | *2 | COLUMN HOLE COVER SILENCER SHEET |
| *3 | FRONT STABILIZER LINK ASSEMBLY LH | *4 | FRONT STABILIZER LINK ASSEMBLY RH |
| *5 | TIE ROD END SUB-ASSEMBLY LH | *6 | TIE ROD END SUB-ASSEMBLY RH |
| *7 | FRONT LOWER NO. 1 SUSPENSION ARM SUB-ASSEMBLY LH | *8 | FRONT LOWER NO. 1 SUSPENSION ARM SUB-ASSEMBLY RH |
| *9 | WIRING HARNESS CLAMP BRACKET | *10 | STEERING KNUCKLE SEAL |
| *11 | COTTER PIN | *12 | EXHAUST SENSOR CLAMP BRACKET |
| *13 | INNER NO. 1 ARM ATTACHMENT PLATE LH | *14 | INNER NO. 1 ARM ATTACHMENT PLATE RH |
| | Tightening torque for "Major areas involving basic vehicle performance such as moving/turning/stopping" : N*m (kgf*cm, ft.*lbf) | ● | Non-reusable part |
ILLUSTRATION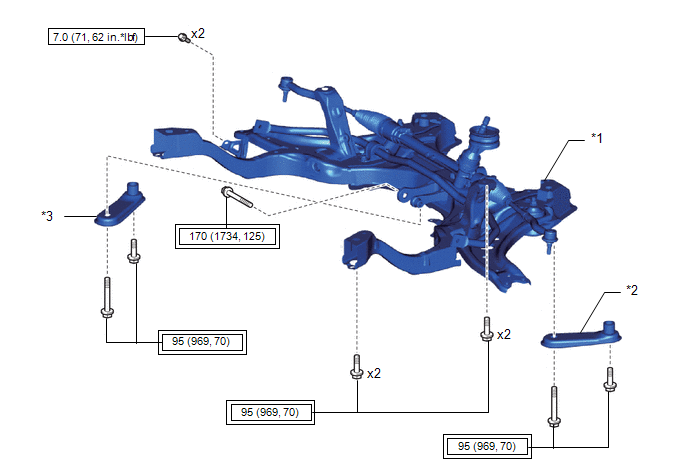 | | | | |
| --- | --- | --- | --- |
| *1 | FRONT SUSPENSION CROSSMEMBER SUB-ASSEMBLY | *2 | FRONT SUSPENSION MEMBER REINFORCEMENT LH |
| *3 | FRONT SUSPENSION MEMBER REINFORCEMENT RH | - | - |
| | Tightening torque for "Major areas involving basic vehicle performance such as moving/turning/stopping" : N*m (kgf*cm, ft.*lbf) | | N*m (kgf*cm, ft.*lbf): Specified torque |
ILLUSTRATION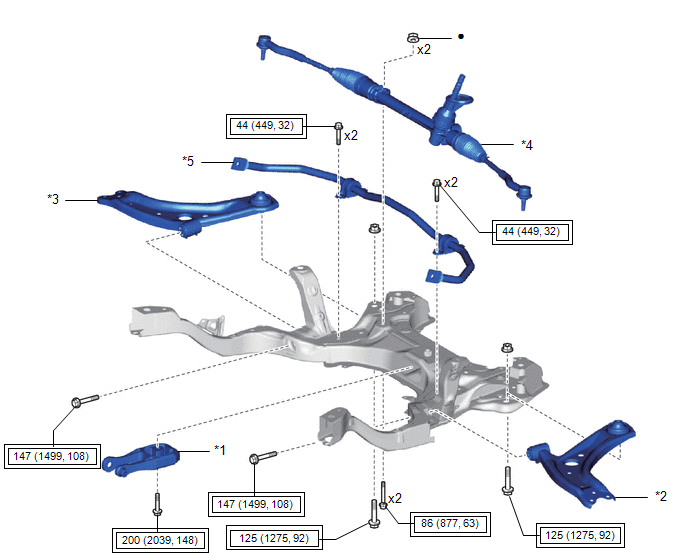 | | | | |
| --- | --- | --- | --- |
| *1 | ENGINE MOVING CONTROL ROD | *2 | FRONT LOWER NO. 1 SUSPENSION ARM SUB-ASSEMBLY LH |
| *3 | FRONT LOWER NO. 1 SUSPENSION ARM SUB-ASSEMBLY RH | *4 | STEERING LINK ASSEMBLY |
| *5 | FRONT STABILIZER BAR | - | - |
| | Tightening torque for "Major areas involving basic vehicle performance such as moving/turning/stopping" : N*m (kgf*cm, ft.*lbf) | ● | Non-reusable part |
REMOVAL CAUTION / NOTICE / HINT The necessary procedures (adjustment, calibration, initialization, or registration) that must be performed after parts are removed, installed, or replaced during the front suspension crossmember sub-assembly removal/installation are shown below...
Other information:
REASSEMBLY PROCEDURE 1. INSTALL ANTENNA CORD SUB-ASSEMBLY Click here 2. INSTALL INSTRUMENT PANEL PASSENGER WITHOUT DOOR AIRBAG ASSEMBLY Click here 3. INSTALL NO. 2 INSTRUMENT PANEL WIRE Click here 4. INSTALL INSTRUMENT CLUSTER FINISH PANEL ORNAMENT (a) Engage the guide and claws to install the instrument cluster finish panel ornament...
PrecautionPRECAUTION Before disassembly, clean the outside of the differential assembly and remove any sand or mud to prevent it from entering the inside of the assembly during disassembly and installation. When removing an installed part made of light alloy such as the differential side bearing retainer, tap it off with a brass bar and a hammer...
Categories
The fuel gauge shows approximately how much fuel is remaining in the tank when the ignition is switched ON. We recommend keeping the tank over 1/4 full.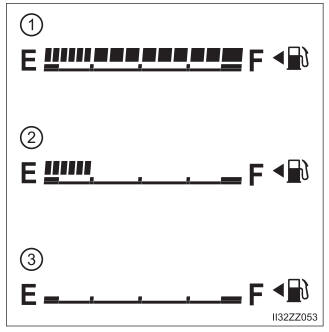 Full 1/4 Full Empty