Toyota Yaris: Front Suspension Member / Components
COMPONENTS
ILLUSTRATION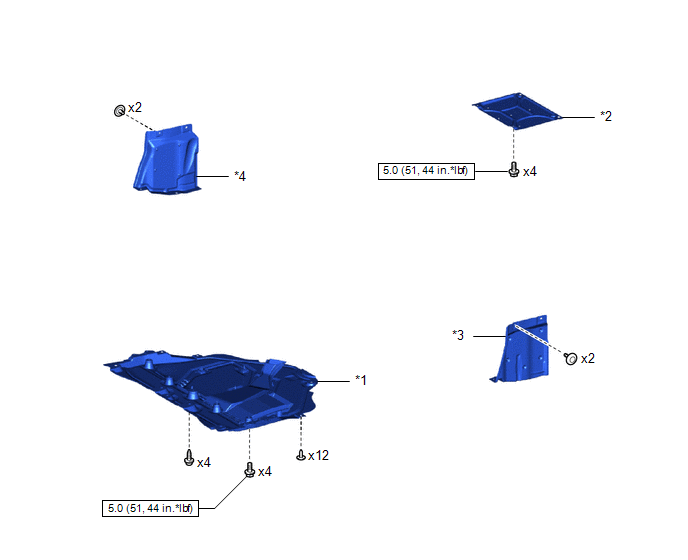 | | | | |
| --- | --- | --- | --- |
| *1 | NO. 1 ENGINE UNDER COVER ASSEMBLY | *2 | CENTER NO. 4 ENGINE UNDER COVER |
| *3 | ENGINE UNDER COVER LH | *4 | ENGINE UNDER COVER RH |
| | N*m (kgf*cm, ft.*lbf): Specified torque | - | - |
ILLUSTRATION

| | | | |
| --- | --- | --- | --- |
| *1 | FRONT FENDER LINER LH | *2 | FRONT FENDER LINER RH |
ILLUSTRATION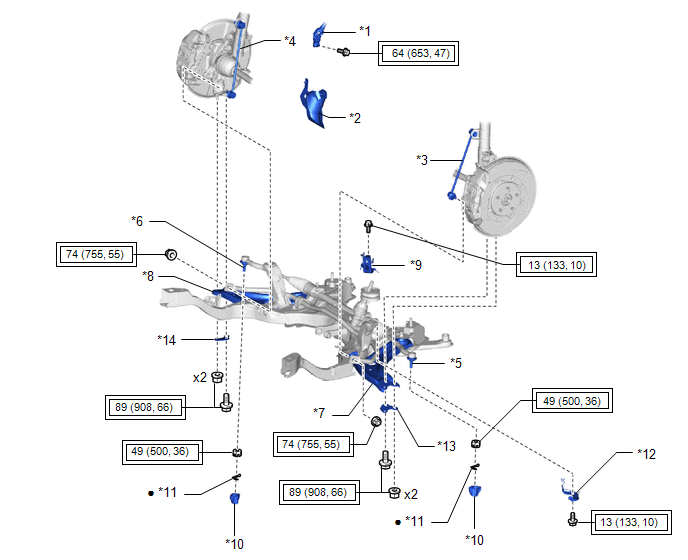 | | | | |
| --- | --- | --- | --- |
| *1 | NO. 2 STEERING INTERMEDIATE SHAFT ASSEMBLY | *2 | COLUMN HOLE COVER SILENCER SHEET |
| *3 | FRONT STABILIZER LINK ASSEMBLY LH | *4 | FRONT STABILIZER LINK ASSEMBLY RH |
| *5 | TIE ROD END SUB-ASSEMBLY LH | *6 | TIE ROD END SUB-ASSEMBLY RH |
| *7 | FRONT LOWER NO. 1 SUSPENSION ARM SUB-ASSEMBLY LH | *8 | FRONT LOWER NO. 1 SUSPENSION ARM SUB-ASSEMBLY RH |
| *9 | WIRING HARNESS CLAMP BRACKET | *10 | STEERING KNUCKLE SEAL |
| *11 | COTTER PIN | *12 | EXHAUST SENSOR CLAMP BRACKET |
| *13 | INNER NO. 1 ARM ATTACHMENT PLATE LH | *14 | INNER NO. 1 ARM ATTACHMENT PLATE RH |
| | Tightening torque for "Major areas involving basic vehicle performance such as moving/turning/stopping" : N*m (kgf*cm, ft.*lbf) | ● | Non-reusable part |
ILLUSTRATION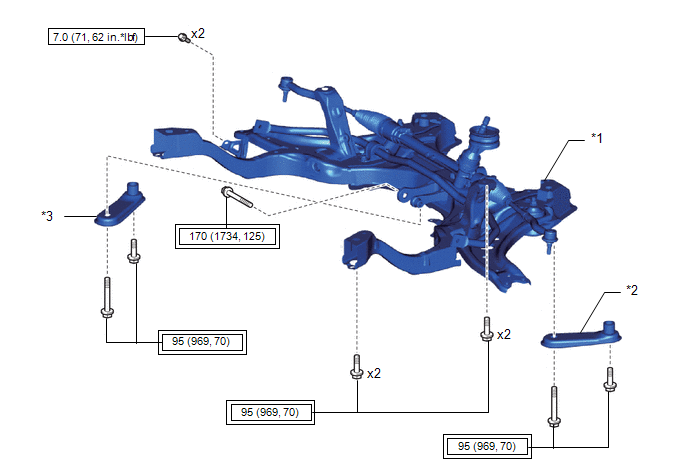 | | | | |
| --- | --- | --- | --- |
| *1 | FRONT SUSPENSION CROSSMEMBER SUB-ASSEMBLY | *2 | FRONT SUSPENSION MEMBER REINFORCEMENT LH |
| *3 | FRONT SUSPENSION MEMBER REINFORCEMENT RH | - | - |
| | Tightening torque for "Major areas involving basic vehicle performance such as moving/turning/stopping" : N*m (kgf*cm, ft.*lbf) | | N*m (kgf*cm, ft.*lbf): Specified torque |
ILLUSTRATION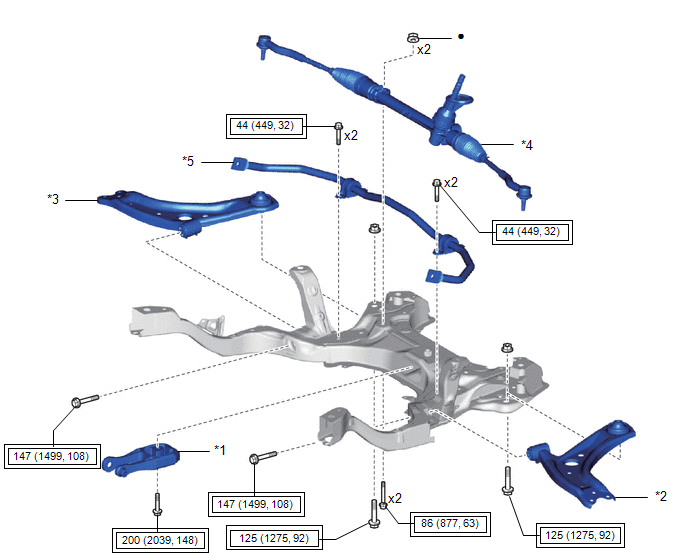 | | | | |
| --- | --- | --- | --- |
| *1 | ENGINE MOVING CONTROL ROD | *2 | FRONT LOWER NO. 1 SUSPENSION ARM SUB-ASSEMBLY LH |
| *3 | FRONT LOWER NO. 1 SUSPENSION ARM SUB-ASSEMBLY RH | *4 | STEERING LINK ASSEMBLY |
| *5 | FRONT STABILIZER BAR | - | - |
| | Tightening torque for "Major areas involving basic vehicle performance such as moving/turning/stopping" : N*m (kgf*cm, ft.*lbf) | ● | Non-reusable part |
REMOVAL CAUTION / NOTICE / HINT The necessary procedures (adjustment, calibration, initialization, or registration) that must be performed after parts are removed, installed, or replaced during the front suspension crossmember sub-assembly removal/installation are shown below...
Other information:
INSTALLATION CAUTION / NOTICE / HINT HINT: Use the same procedure for the RH and LH sides. The procedure listed below is for the LH side. PROCEDURE 1. INSTALL REAR COMBINATION LIGHT ASSEMBLY (a) Connect the 3 connectors and engage the clamp...
ComponentsCOMPONENTS ILLUSTRATION *1 WHEEL ASSEMBLY *2 AXLE HUB NUT Tightening torque for "Major areas involving basic vehicle performance such as moving/turning/stopping" : N*m (kgf*cm, ft.*lbf) - - RemovalREMOVAL PROCEDURE 1...
Categories
The fuel gauge shows approximately how much fuel is remaining in the tank when the ignition is switched ON. We recommend keeping the tank over 1/4 full.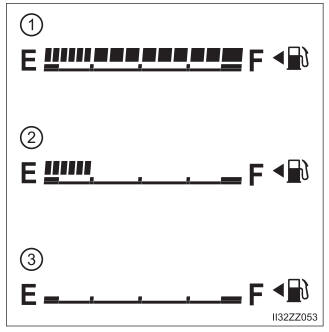 Full 1/4 Full Empty