Toyota Yaris: Fuel Pump (for High Pressure) / Components
COMPONENTS
ILLUSTRATION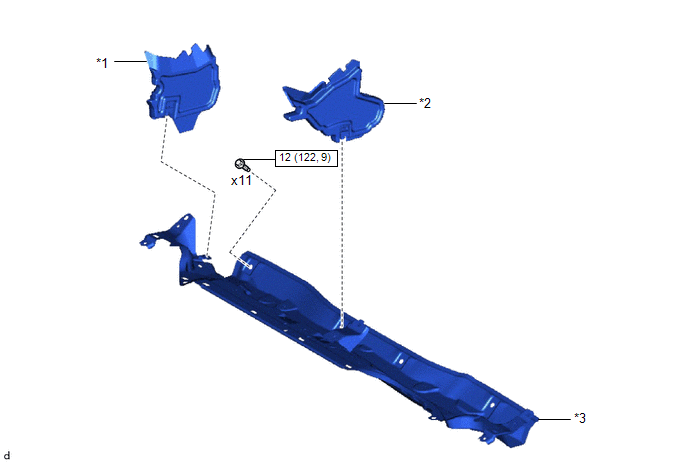 | | | | |
| --- | --- | --- | --- |
| *1 | WATER GUARD PLATE RH | *2 | NO. 1 FRONT VENTILATOR SEAL |
| *3 | OUTER COWL TOP PANEL SUB-ASSEMBLY | - | - |
| | N*m (kgf*cm, ft.*lbf): Specified torque | - | - |
ILLUSTRATION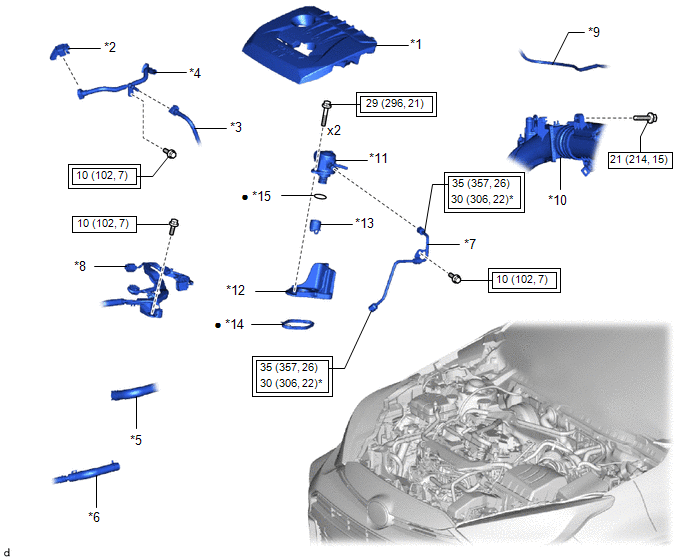 | | | | |
| --- | --- | --- | --- |
| *1 | NO. 1 ENGINE COVER SUB-ASSEMBLY | *2 | FUEL PIPE CLAMP |
| *3 | NO. 1 FUEL TUBE SUB-ASSEMBLY | *4 | NO. 2 FUEL TUBE SUB-ASSEMBLY |
| *5 | NO. 1 WATER BY-PASS HOSE | *6 | NO. 8 WATER BY-PASS HOSE |
| *7 | NO. 1 FUEL PIPE SUB-ASSEMBLY | *8 | ENGINE WIRE |
| *9 | NO. 1 VACCUM TRANSMITTING HOSE | *10 | INTAKE AIR RESONATOR |
| *11 | FUEL PUMP ASSEMBLY | *12 | FUEL PUMP FLANGE |
| *13 | FUEL PUMP LIFTER ASSEMBLY | *14 | FUEL PUMP SPACER GASKET |
| *15 | O-RING | - | - |
| | Tightening torque for "Major areas involving basic vehicle performance such as moving/turning/stopping": N*m (kgf*cm, ft.*lbf) | | N*m (kgf*cm, ft.*lbf): Specified torque |
| * | For use with a union nut wrench | ● | Non-reusable part |
ON-VEHICLE INSPECTION PROCEDURE 1. FUEL PUMP ASSEMBLY OPERATION (a) Check fuel pressure. (1) Connect the GTS to the DLC3. (2) Turn the ignition switch to ON...
Other information:
DESCRIPTION The engine stop and start ECU detects abnormalities in the DI (+B) value that is input from the integrated IC (stop and start backup boost converter integrated IC) to the CPU. If a logical inconsistency occurs between the +B value and DI (+B) value input to the CPU, the engine stop and start ECU stores DTC P16449E and blinks the stop and start cancel indicator...
REASSEMBLY PROCEDURE 1. INSTALL FRONT DIFFERENTIAL SIDE GEAR (w/o LSD) (a) Coat the front differential side gear, front No. 1 differential side gear thrust washer and conical spring with gear oil. *1 Front Differential Side Gear *2 Conical Spring *3 Front No...
Categories
No special break-in is necessary, but a few precautions in the first 600 miles (1,000 km) may add to the performance, economy, and life of the vehicle.
Do not race the engine. Do not maintain one constant speed, either slow or fast, for a long period of time. Do not drive constantly at full-throttle or high engine rpm for extended periods of time. Avoid unnecessary hard stops. Avoid full-throttle starts.