Toyota Yaris: Fuel Injector (for Direct Injection) / Components
COMPONENTS
ILLUSTRATION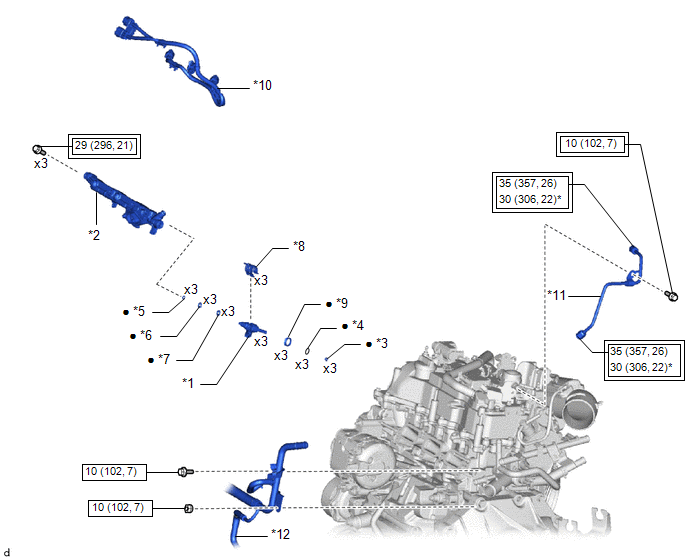 | | | | |
| --- | --- | --- | --- |
| *1 | FUEL INJECTOR ASSEMBLY | *2 | FUEL DELIVERY PIPE |
| *3 | FUEL INJECTOR SEAL | *4 | C-RING |
| *5 | NO. 3 FUEL INJECTOR BACK-UP RING | *6 | O-RING |
| *7 | NO. 1 FUEL INJECTOR BACK-UP RING | *8 | NOZZLE HOLDER CLAMP |
| *9 | INJECTOR VIBRATION INSULATOR | *10 | NO. 6 ENGINE WIRE |
| *11 | NO. 1 FUEL PIPE SUB-ASSEMBLY | *12 | NO. 2 WATER BY-PASS PIPE |
| | Tightening torque for "Major areas involving basic vehicle performance such as moving/turning/stopping": N*m (kgf*cm, ft.*lbf) | | N*m (kgf*cm, ft.*lbf): Specified torque |
| * | For use with SST | ● | Non-reusable part |
REMOVAL CAUTION / NOTICE / HINT The necessary procedures (adjustment, calibration, initialization or registration) that must be performed after parts are removed and installed, or replaced during fuel injector assembly removal/installation are shown below...
Other information:
DATA LIST / ACTIVE TEST DATA LIST (BRAKE) NOTICE: In the table below, the values listed under "Normal Condition" are reference values. Do not depend solely on these reference values when deciding whether a part is faulty or not. HINT: Using the GTS to read the Data List allows the values or states of switches, sensors, actuators and other items to be read without removing any parts...
DESCRIPTION The air fuel ratio sensor (sensor 2) generates current that corresponds to the actual air fuel ratio. This sensor current is used to provide the ECM with feedback so that it can control the air fuel ratio. The ECM determines the deviation from the stoichiometric air fuel ratio level, and regulates the fuel injection duration...
Categories
The fuel gauge shows approximately how much fuel is remaining in the tank when the ignition is switched ON. We recommend keeping the tank over 1/4 full.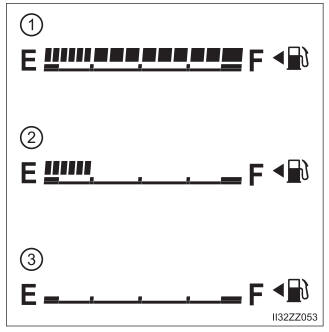 Full 1/4 Full Empty