Toyota Yaris: Engine Unit / Components
COMPONENTS
ILLUSTRATION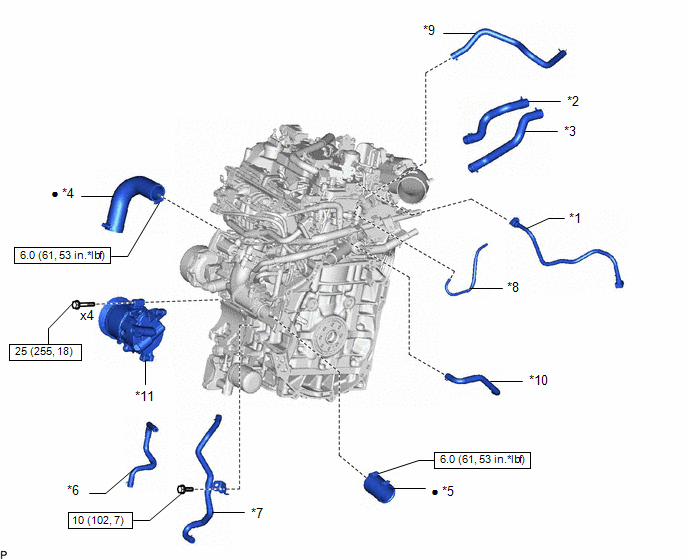 | | | | |
| --- | --- | --- | --- |
| *1 | FUEL TUBE SUB-ASSEMBLY | *2 | HEATER WATER HOSE INLET |
| *3 | HEATER WATER HOSE OUTLET | *4 | NO. 2 AIR HOSE |
| *5 | NO. 5 AIR HOSE | *6 | NO. 6 WATER BY-PASS HOSE |
| *7 | NO. 5 WATER BY-PASS HOSE | *8 | NO. 3 VACUUM TRANSMITTING HOSE |
| *9 | UNION TO CONNECTOR TUBE HOSE | *10 | NO. 1 TURBO WATER HOSE |
| *11 | COMPRESSOR WITH PULLEY ASSEMBLY | - | - |
| | N*m (kgf*cm, ft.*lbf): Specified torque | ● | Non-reusable part |
ILLUSTRATION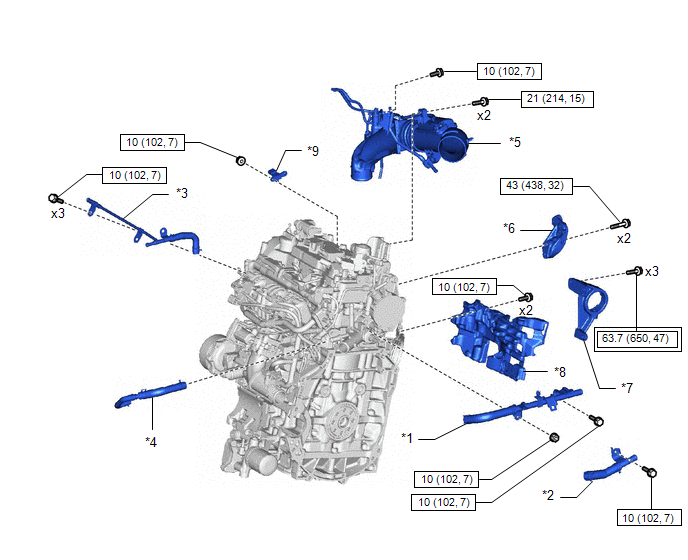 | | | | |
| --- | --- | --- | --- |
| *1 | NO. 1 WATER BY-PASS PIPE | *2 | NO. 3 WATER BY-PASS PIPE |
| *3 | NO. 4 WATER BY-PASS PIPE | *4 | WATER BY-PASS HOSE ASSEMBLY |
| *5 | INTAKE AIR PIPE | *6 | ENGINE HANGER BRACKET |
| *7 | DRIVE SHAFT BEARING BRACKET | *8 | NO. 4 CYLINDER BROCK INSULATOR |
| *9 | VACUUM SENSOR ASSEMBLY | - | - |
| | Tightening torque for "Major areas involving basic vehicle performance such as moving/turning/stopping" : N*m (kgf*cm, ft.*lbf) | | N*m (kgf*cm, ft.*lbf): Specified torque |
| ● | Non-reusable part | - | - |
ILLUSTRATION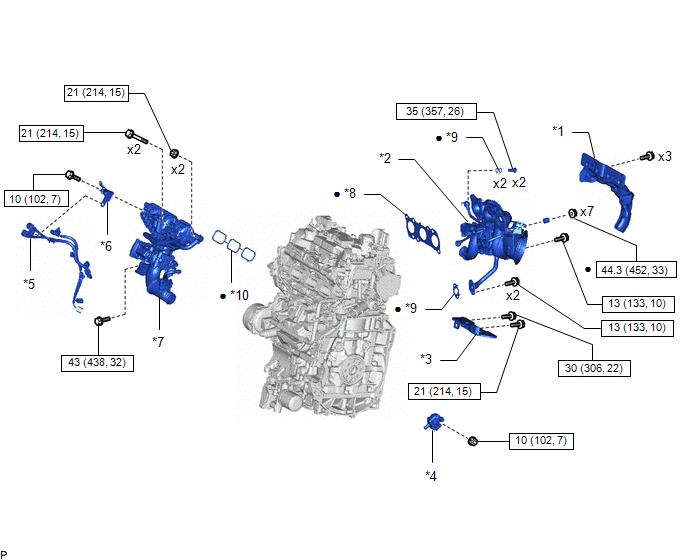 | | | | |
| --- | --- | --- | --- |
| *1 | NO. 1 TURBO INSULATOR | *2 | TURBOCHARGER SUB-ASSEMBLY |
| *3 | NO. 2 TURBO INSULATOR | *4 | PURGE VALVE (PURGE VSV) |
| *5 | NO. 6 ENGINE WIRE | *6 | NO. 2 ENGINE COVER BRACKET |
| *7 | INTAKE MANIFOLD | *8 | EXHAUST MANIFOLD TO HEAD GASKET |
| *9 | GASKET | *10 | NO. 1 INTAKE MANIFOLD TO HEAD GASKET |
| | N*m (kgf*cm, ft.*lbf): Specified torque | ● | Non-reusable part |
ILLUSTRATION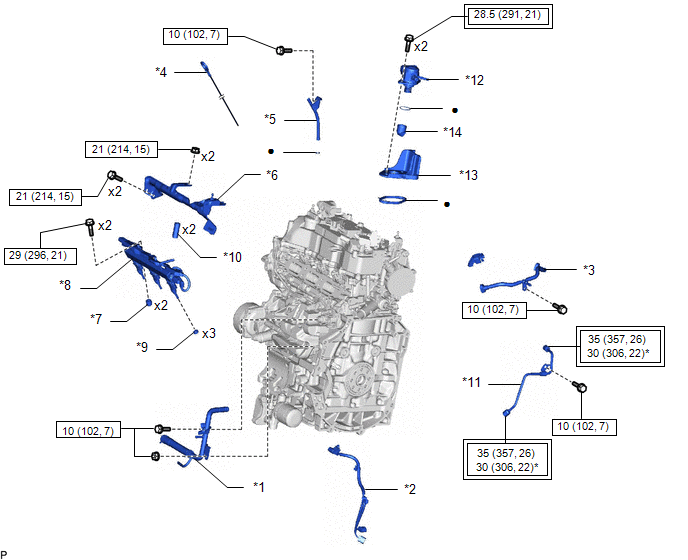 | | | | |
| --- | --- | --- | --- |
| *1 | WATER BY-PASS PIPE | *2 | NO. 7 ENGINE WIRE |
| *3 | FUEL TUBE SUB-ASSEMBLY | *4 | OIL LEVEL GAGE SUB-ASSEMBLY |
| *5 | OIL LEVEL GAGE GUIDE | *6 | FUEL DELIVERY GUARD |
| *7 | NO. 1 DELIVERY PIPE SPACER | *8 | FUEL DELIVERY PIPE |
| *9 | INJECTOR VIBRATION INSULATOR | *10 | FUEL DELIVERY SPACER |
| *11 | NO. 1 FUEL PIPE SUB-ASSEMBLY | *12 | FUEL PUMP ASSEMBLY |
| *13 | FUEL PUMP FLANGE | *14 | FUEL PUMP LIFTER ASSEMBLY |
| | Tightening torque for "Major areas involving basic vehicle performance such as moving/turning/stopping" : N*m (kgf*cm, ft.*lbf) | | N*m (kgf*cm, ft.*lbf): Specified torque |
| ● | Non-reusable part | * | For use with a union nut wrench |
ILLUSTRATION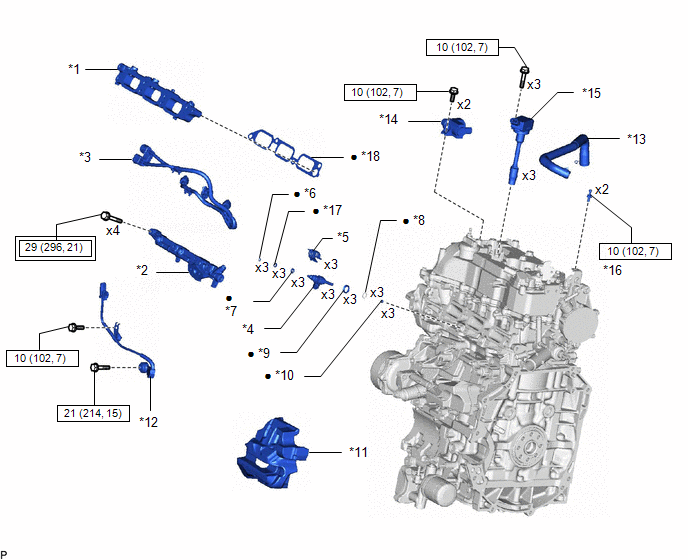 | | | | |
| --- | --- | --- | --- |
| *1 | NO. 1 VENTILATION FLANGE SEPARATOR | *2 | FUEL DELIVERY PIPE SUB-ASSEMBLY |
| *3 | NO. 6 ENGINE WIRE | *4 | DIRECT FUEL INJECTOR ASSEMBLY |
| *5 | NOZZLE HOLDER CLAMP | *6 | NO. 3 FUEL INJECTOR BACK-UP RING |
| *7 | NO. 1 FUEL INJECTOR BACK-UP RING | *8 | C-RING |
| *9 | INJECTOR VIBRATION INSULATOR | *10 | FUEL INJECTOR SEAL |
| *11 | NO. 2 CYLINDER BLOCK INSULATOR | *12 | SENSOR WIRE |
| *13 | VENTILATION HOSE | *14 | VACUUM REGULATING VALVE ASSEMBLY |
| *15 | IGNITION COIL ASSEMBLY | *16 | ENGINE COVER JOINT |
| *17 | O-RING | *18 | MANIFOLD TO CYLINDER HEAD GASKET |
| | Tightening torque for "Major areas involving basic vehicle performance such as moving/turning/stopping" : N*m (kgf*cm, ft.*lbf) | | N*m (kgf*cm, ft.*lbf): Specified torque |
| ● | Non-reusable part | - | - |
ILLUSTRATION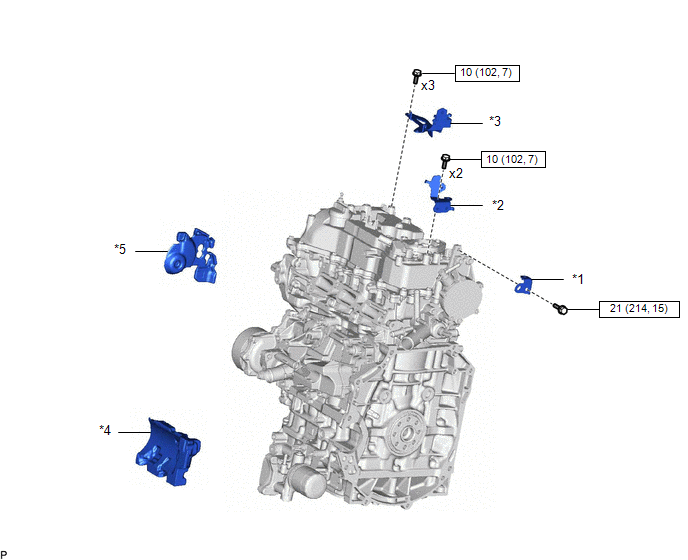 | | | | |
| --- | --- | --- | --- |
| *1 | ENGINE COVER BRACKET | *2 | FUEL HOSE BRACKET |
| *3 | INTAKE PIPE OR HOSE STAY | *4 | NO. 3 CYLINDER BLOCK INSULATOR |
| *5 | TIMING GEAR COVER INSULATOR | - | - |
| | N*m (kgf*cm, ft.*lbf): Specified torque | - | - |
ILLUSTRATION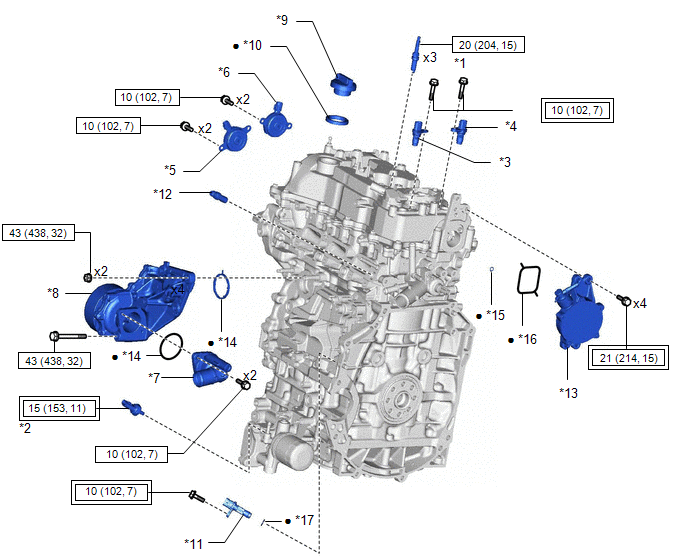 | | | | |
| --- | --- | --- | --- |
| *1 | SPARK PLUG | *2 | OIL PRESSURE AND TEMPERATURE SENSOR |
| *3 | CAMSHAFT POSITION SENSOR (for Intake Side) | *4 | CAMSHAFT POSITION SENSOR (for Exhaust Side) |
| *5 | CAM TIMING OIL CONTROL SOLENOID ASSEMBLY (for Intake Side) | *6 | CAM TIMING OIL CONTROL SOLENOID ASSEMBLY (for Exhaust Side) |
| *7 | WATER INLET WITH THERMOSTAT SUB-ASSEMBLY | *8 | WATER INLET WITH WATER PUMP HOUSING SUB-ASSEMBLY |
| *9 | OIL FILLER CAP ASSEMBLY | *10 | OIL FILLER CAP GASKET |
| *11 | CRANKSHAFT POSITION SENSOR | *12 | PCV VALVE (VENTILATION VALVE SUB-ASSEMBLY) |
| *13 | VACUUM PUMP ASSEMBLY | *14 | GASKET |
| *15 | NO. 4 O-RING | *16 | NO. 2 O-RING |
| *17 | O-RING | - | - |
| | Tightening torque for "Major areas involving basic vehicle performance such as moving/turning/stopping" : N*m (kgf*cm, ft.*lbf) | | N*m (kgf*cm, ft.*lbf): Specified torque |
| ● | Non-reusable part | ★ | Precoated part |
ILLUSTRATION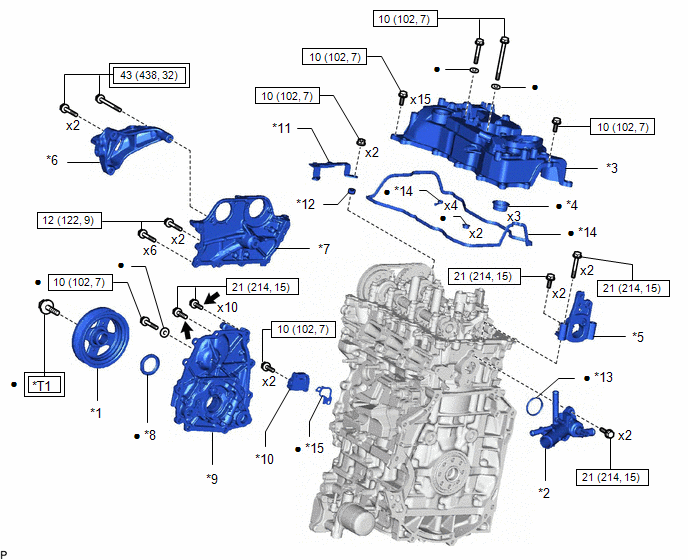 *1

CRANKSHAFT PULLEY ASSEMBLY

*2

OUTLET WATER SUB-ASSEMBLY

*3

CYLINDER HEAD COVER SUB-ASSEMBLY

*4

SPARK PLUG TUBE GASKET

*5

NO. 1 VACUUM PUMP BRACKET

*6

ENGINE MOUNTING BRACKET RH

*7

NO. 2 TIMING CHAIN COVER ASSEMBLY

*8

TIMING CHAIN COVER OIL SEAL

*9

TIMING CHAIN COVER ASSEMBLY

*10

NO. 1 CHAIN TENSIONER ASSEMBLY

*11

TIMING CHAIN GUIDE

*12

DAMPER PLATE SPACER

*13

OUTLET WATER GASKET

*14

CYLINDER HEAD COVER GASKET

*15

CHAIN TENSIONER GASKET

-

-

Tightening torque for "Major areas involving basic vehicle performance such as moving/turning/stopping" : N*m (kgf*cm, ft.*lbf)

N*m (kgf*cm, ft.*lbf): Specified torque

●

Non-reusable part

-

-

*T1

1st: 260 (2651 , 192)

2nd: Turn 90°

-

-
ILLUSTRATION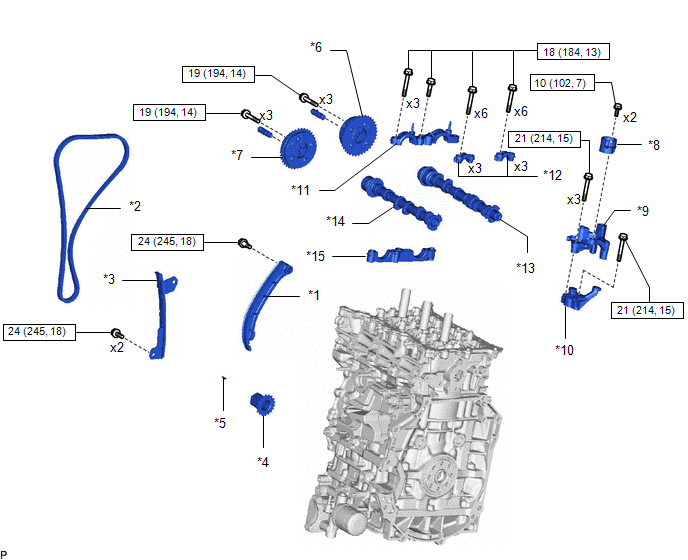 | | | | |
| --- | --- | --- | --- |
| *1 | CHAIN TENSIONER SLIPPER | *2 | CHAIN SUB-ASSEMBLY |
| *3 | NO. 1 CHAIN VIBRATION DAMPER | *4 | CRANKSHAFT TIMING GEAR OR SPROCKET |
| *5 | CRANKSHAFT TIMING GEAR KEY | *6 | CAMSHAFT TIMING EXHAUST GEAR ASSEMBLY |
| *7 | CAMSHAFT TIMING GEAR ASSEMBLY | *8 | FUEL PUMP LIFTER GUIDE |
| *9 | FUEL PUMP LIFTER HOUSING | *10 | CAMSHAFT POSITION SENSOR HOLDER |
| *11 | NO. 2 CAMSHAFT BEARING CAP | *12 | NO. 4 CAMSHAFT BEARING CAP |
| *13 | EXHAUST CAMSHAFT SUB-ASSEMBLY | *14 | INTAKE CAMSHAFT SUB-ASSEMBLY |
| *15 | NO. 1 CAMSHAFT BEARING CAP | - | - |
| | N*m (kgf*cm, ft.*lbf): Specified torque | - | - |
ILLUSTRATION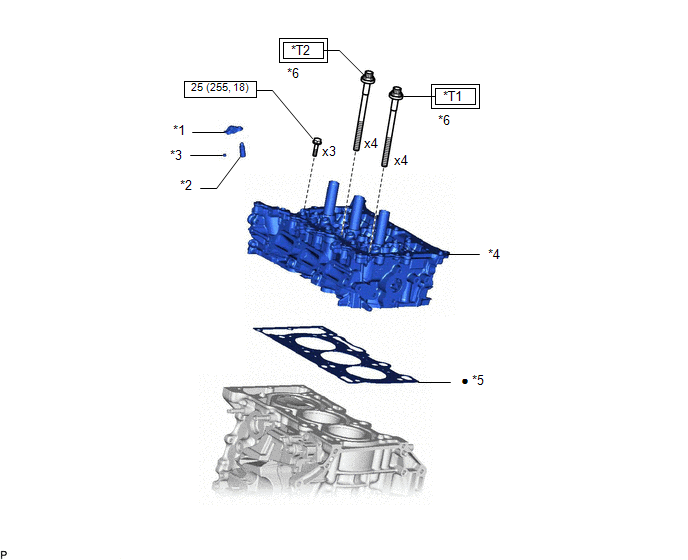 *1

NO. 1 VALVE ROCKER ARM SUB-ASSEMBLY

*2

VALVE LASH ADJUSTER ASSEMBLY

*3

VALVE STEM CAP

*4

CYLINDER HEAD SUB-ASSEMBLY

*5

CYLINDER HEAD GASKET

*6

CYLINDER HEAD SET BOLT

Tightening torque for "Major areas involving basic vehicle performance such as moving/turning/stopping" : N*m (kgf*cm, ft.*lbf)

N*m (kgf*cm, ft.*lbf): Specified torque

●

Non-reusable part

-

-

*T1

1st: 50 (510, 37)

2nd: Turn 90°

3rd: Turn 90°

*T2

1st: 40 (408, 30)

2nd: Turn 90°

3rd: Turn 90°
ILLUSTRATION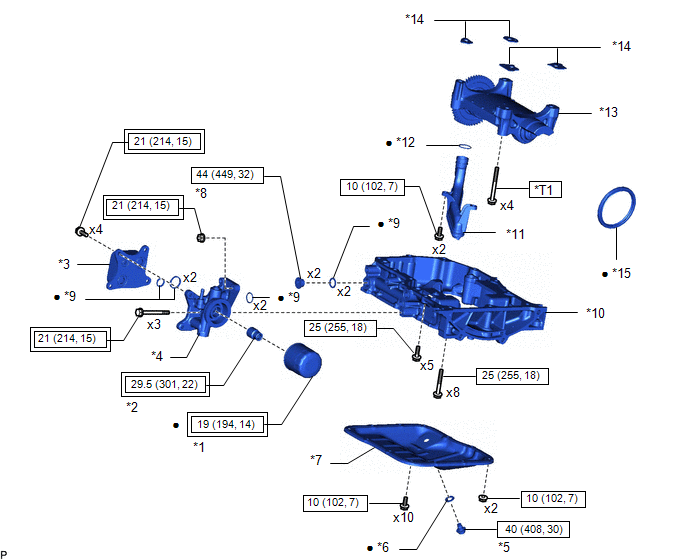 *1

OIL FILTER SUB-ASSEMBLY

*2

OIL FILTER UNION

*3

OIL COOLER ASSEMBLY

*4

OIL FILTER BRACKET SUB-ASSEMBLY

*5

OIL PAN DRAIN PLUG

*6

OIL PAN DRAIN GASKET

*7

NO. 2 OIL PAN SUB-ASSEMBLY

*8

NO. 1 OIL PAN PLUG

*9

GASKET

*10

OIL PAN SUB-ASSEMBLY

*11

OIL STRAINER SUB-ASSEMBLY

*12

OIL STRAINER GASKET

*13

ENGINE BALANCER ASSEMBLY

*14

BALANCESHAFT HOUSING SPACER

*15

REAR ENGINE OIL SEAL

-

-

Tightening torque for "Major areas involving basic vehicle performance such as moving/turning/stopping" : N*m (kgf*cm, ft.*lbf)

N*m (kgf*cm, ft.*lbf): Specified torque

●

Non-reusable part

-

-

*T1

1st: 43 (438, 32)

2nd: 54 (551, 40)

-

-
ILLUSTRATION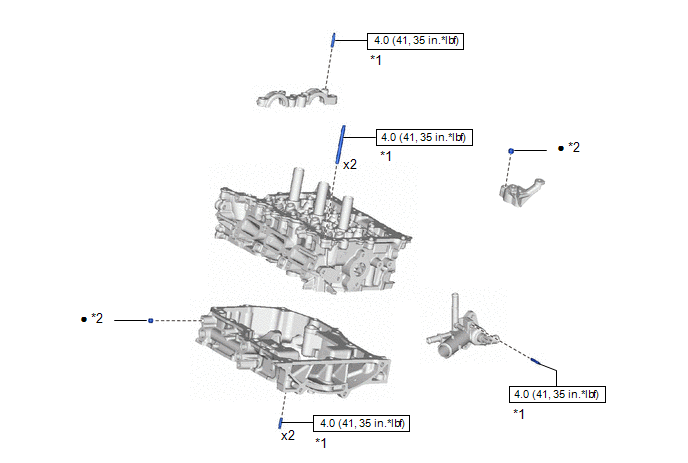 | | | | |
| --- | --- | --- | --- |
| *1 | STUD BOLT | *2 | RING PIN |
| | N*m (kgf*cm, ft.*lbf): Specified torque | ● | Non-reusable part |
PRECAUTION HINT: Any digits beyond the 0.01 mm (1/1000 in.) place for standard, minimum and maximum values should be used as a reference only. When both standard and maximum or minimum values are listed for an inspection, use the standard value as a reference only and base any judgments on the maximum and minimum values...
REMOVAL CAUTION / NOTICE / HINT The necessary procedures (adjustment, calibration, initialization, or registration) that must be performed after parts are removed and installed, or replaced during engine unit removal/installation are shown below...
Other information:
PROBLEM SYMPTOMS TABLE HINT: Use the table below to help determine the cause of problem symptoms. If multiple suspected areas are listed, the potential causes of the symptoms are listed in order of probability in the "Suspected Area" column of the table...
C..
Categories
Before refueling, close all the doors, windows, and the liftgate/trunk lid, and switch the ignition OFF.
To open the fuel-filler lid, pull the remote fuel-filler lid release.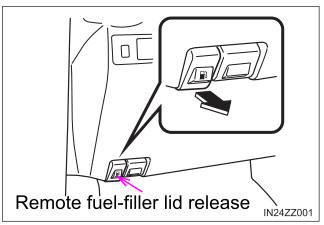 To remove the fuel-filler cap, turn it counterclockwise. Attach the removed cap to the inner side of the fuel-filler lid.