Toyota Yaris: Stop And Start / Backup Boost Converter
Other information:
DESCRIPTION If none of the switch indicators on the air conditioning control assembly illuminate, the following factors may be the cause. Symptom Factor A/C switch indicator does not illuminate Vehicle control history (RoB) Air conditioning amplifier assembly malfunction Air conditioning control assembly malfunction A/C switch malfunction A/C switch indicator malfunction (including when indicator turned off without switch operation) Servo motor initialization (incomplete) Mechanical locking of damper and damper link Refrigerant pressure is extremely low Low detected ambient temperature (including thermistor assembly malfunction) PROCEDURE 1...
DESCRIPTION When a malfunction has occurred in the linear solenoid power source system, the AWD ECU assembly stores DTC C120C1C. DTC No. Detection Item DTC Detection Condition Trouble Area Warning Indicate Memory C120C1C Linear Solenoid Power Supply System Circuit Voltage Out of Range When the IG1 terminal voltage is 9...
Categories
Before refueling, close all the doors, windows, and the liftgate/trunk lid, and switch the ignition OFF.
To open the fuel-filler lid, pull the remote fuel-filler lid release.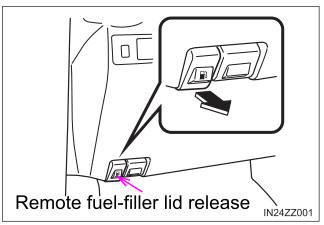 To remove the fuel-filler cap, turn it counterclockwise. Attach the removed cap to the inner side of the fuel-filler lid.