Toyota Yaris: Dynamic Radar Cruise Control System / Parts Location
PARTS LOCATION
ILLUSTRATION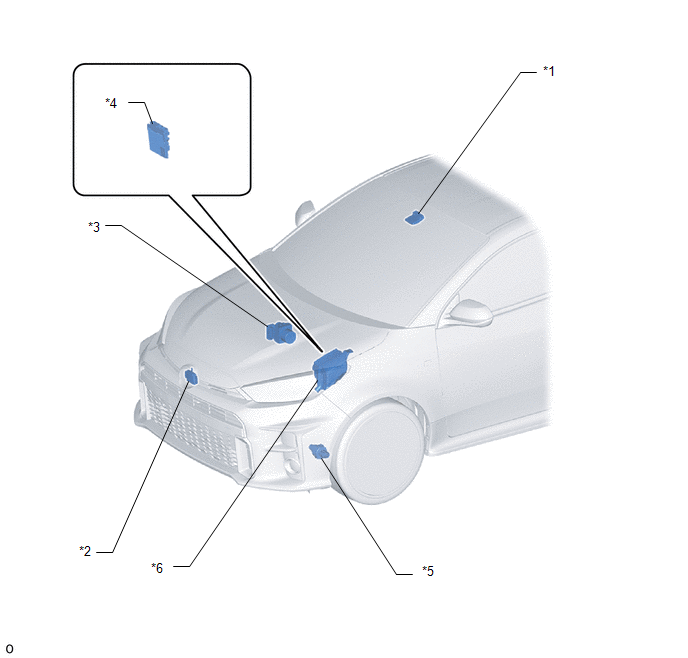 *1

FORWARD RECOGNITION CAMERA

*2

MILLIMETER WAVE RADAR SENSOR ASSEMBLY

*3

BRAKE ACTUATOR ASSEMBLY

- SKID CONTROL ECU

*4

ECM

*5

NEUTRAL POSITION SWITCH

*6

ENGINE ROOM RELAY BLOCK

- ECU IGP NO. 3 FUSE
ILLUSTRATION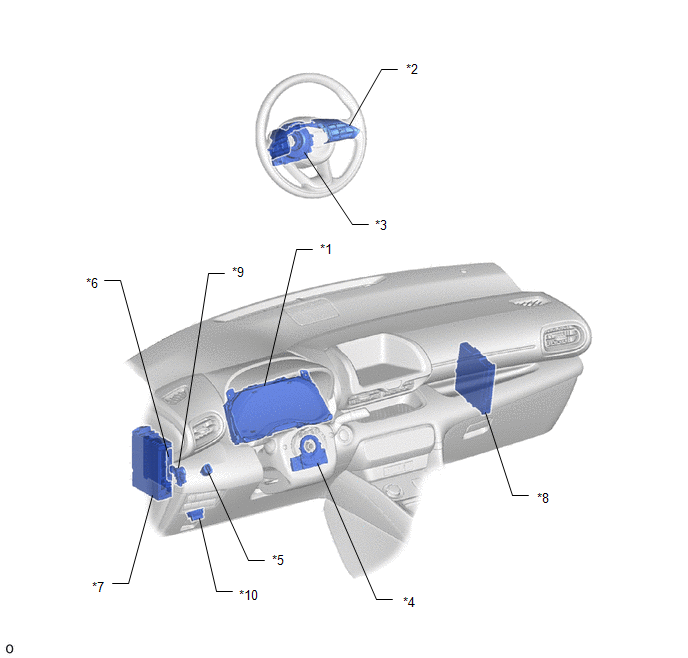 *1

COMBINATION METER ASSEMBLY

- MULTI-INFORMATION DISPLAY

- CRUISE CONTROL INDICATOR

- CRUISE SET INDICATOR

- WARNING BUZZER

*2

STEERING PAD SWITCH ASSEMBLY

- CRUISE CONTROL MAIN SWITCH

- -SET SWITCH

- +RES SWITCH

- CANCEL SWITCH

- VEHICLE-TO-VEHICLE DISTANCE CONTROL SWITCH

*3

SPIRAL CABLE SUB-ASSEMBLY

*4

STEERING SENSOR

*5

STOP LIGHT SWITCH ASSEMBLY

*6

MAIN BODY ECU (MULTIPLEX NETWORK BODY ECU)

*7

POWER DISTRIBUTION BOX ASSEMBLY

- ECU IGR NO. 1 FUSE

- ECU IGR NO. 2 FUSE

- STOP FUSE

*8

ENGINE STOP AND START ECU

*9

CLUTCH PEDAL STROKE SENSOR ASSEMBLY

*10

DLC3
PRECAUTION HANDLING PRECAUTION FOR DYNAMIC RADAR CRUISE CONTROL SYSTEM Keep in mind the following points when servicing vehicles equipped with the dynamic radar cruise control system...
Other information:
MONITOR DESCRIPTION The ECM uses air fuel ratio sensors mounted in front of and behind the Three-Way Catalytic Converter (TWC) to monitor its efficiency. The first sensor, the air fuel ratio sensor (sensor 1), sends pre-catalyst information to the ECM...
COMPONENTS ILLUSTRATION *1 MANUAL TRANSAXLE ASSEMBLY *2 TRANSFER ASSEMBLY *3 TRANSFER AND TRANSAXLE SETTING STUD BOLT - - Tightening torque for "Major areas involving basic vehicle performance such as moving/turning/stopping" : N*m (kgf*cm, ft...
Categories
WARNING
Never allow a person to ride in the luggage compartment/trunk
Allowing a person to ride in the luggage compartment/trunk is dangerous. The person in the luggage compartment/trunk could be seriously injured or killed during sudden braking or a collision.
Do not drive with the liftgate/trunk lid open