Toyota Yaris: Window Defogger System / Operation Check
OPERATION CHECK
CHECK WINDOW DEFOGGER SYSTEM
(a) Turn the ignition switch to ON.
(b) Check that the rear window defogger wire becomes warm by operating the rear window defogger switch of the air conditioning control assembly.
(c) When the vehicle is stopped, confirm that the window defogger system operation stops after approximately 15 minutes.
NOTICE:
If the auxiliary battery voltage becomes low, auxiliary battery load control will operate in order to ensure sufficient power is supplied to the power steering system. In this case, the window defogger system may not operate.
HINT:
The window defogger system is linked with the mirror heater function.
Categories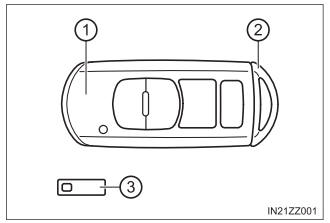 Smart key Auxiliary key Key code number plate
To use the auxiliary key, press the knob and pull out the auxiliary key from the smart key.