Toyota Yaris: Headlight Assembly / Installation
INSTALLATION
CAUTION / NOTICE / HINT
HINT:
Use the same procedure for the RH side and LH side.
The following procedure is for the LH side.
PROCEDURE
1. INSTALL HEADLIGHT ASSEMBLY
(a) Temporarily install the headlight assembly as shown in the illustration.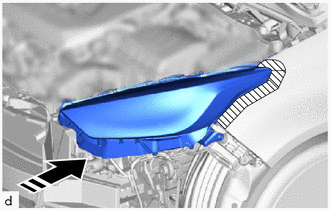 | | |
| --- | --- |
| | Install in this Direction |
(b) Install the headlight assembly with the 3 screws.
| | |
| --- | --- |
| (c) Connect the 2 connectors and engage the clamp. | |
(d) Remove the protective tape.
2. INSTALL FRONT BUMPER ASSEMBLY
Click here

3. ADJUST HEADLIGHT AIMING
Click here

REASSEMBLY CAUTION / NOTICE / HINT NOTICE: Handle components indoors as much as possible to prevent foreign matter from entering and adhering to headlight assembly components...
Other information:
MONITOR DESCRIPTION The ECM monitors the output voltage to the throttle actuator. This self-check ensures that the ECM is functioning properly. The output voltage is usually 0 V when the ignition switch is turned off. If the output voltage is 7 V or higher when the ignition switch is turned off, the ECM will illuminate the MIL and store this DTC when the ignition switch is turned to ON...
TERMINALS OF ECU CHECK POWER STEERING ECU ASSEMBLY *a Component without harness connected (Power Steering ECU Assembly) - - (a) Measure the voltage and resistance according to the value(s) in the table below. NOTICE: When the EPS warning light is illuminated due to a malfunction, the fail-safe function may cause the voltage of the power steering ECU assembly terminals to become 0 V...
Categories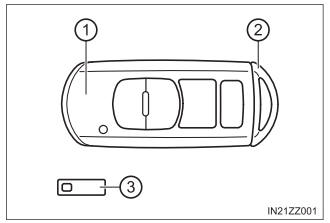 Smart key Auxiliary key Key code number plate
To use the auxiliary key, press the knob and pull out the auxiliary key from the smart key.