Toyota Yaris: Fuel and Engine Exhaust Precautions / Fuel Requirements
Vehicles with catalytic converters or oxygen sensors must use ONLY UNLEADED FUEL, which will reduce exhaust emissions and keep spark plug fouling to a minimum.
To achieve maximum engine performance, use the specified fuel.

* 1: U.S. federal law requires that octane ratings be posted on gas station pumps.
Fuel with a rating lower than 87 octane (91 RON) could cause the emission control system to lose effectiveness. It could also cause engine knocking and serious engine damage.
Gasoline blended with oxygenates such as alcohol or ether compounds are generally referred to as oxygenated fuels. The common gasoline blend that can be used with your vehicle is ethanol blended at no more than 10 %. Gasoline containing alcohol, such as ethanol or methanol, may be marketed under the name "Gasohol".
Vehicle damage and drivability problems resulting from the use of the following may not be covered by the warranty.
Gasohol containing more than 10 % ethanol.
Gasoline or gasohol containing methanol.
Leaded fuel or leaded gasohol.
NOTICE
This vehicle is equipped with an emission control system (the catalytic converter is part of this system) that enables the vehicle to comply with existing exhaust emissions requirements...
Other information:
Take the appropriate action and verify that the warning light turns off. KEY Warning Light Take the appropriate action and verify that the warning light turns off. Low Fuel Warning Light The light illumination timing may vary because fuel inside the fuel tank moves around according to the driving conditions and the vehicle posture...
Aha* 1 is an application which can be used to enjoy various Internet content such as Internet radio and podcasts. Stay connected to your friends activities by getting updates from Facebook and Twitter. Using the location-based service, nearby services and destinations can be searched or real-time local information can be obtained...
Categories
Before refueling, close all the doors, windows, and the liftgate/trunk lid, and switch the ignition OFF.
To open the fuel-filler lid, pull the remote fuel-filler lid release.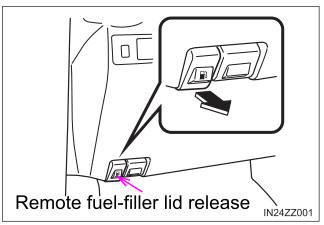 To remove the fuel-filler cap, turn it counterclockwise. Attach the removed cap to the inner side of the fuel-filler lid.