Toyota Yaris: Transfer Assembly / Components
COMPONENTS
ILLUSTRATION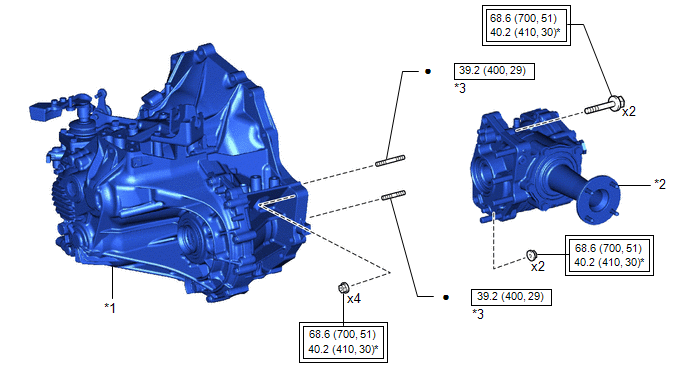 | | | | |
| --- | --- | --- | --- |
| *1 | MANUAL TRANSAXLE ASSEMBLY | *2 | TRANSFER ASSEMBLY |
| *3 | TRANSFER AND TRANSAXLE SETTING STUD BOLT | - | - |
| | Tightening torque for "Major areas involving basic vehicle performance such as moving/turning/stopping" : N*m (kgf*cm, ft.*lbf) | | N*m (kgf*cm, ft.*lbf): Specified torque |
| * | For use with SST and union nut wrench | ● | Non-reusable part |
| ★ | Precoated part | - | - |
ILLUSTRATION
| | | | |
| --- | --- | --- | --- |
| *1 | TRANSFER AND TRANSAXLE SETTING STUD BOLT | *2 | TRANSFER ASSEMBLY |
| *3 | TRANSFER CASE STRAIGHT PIN | *4 | NO. 1 TRANSFER CASE PLUG |
| *5 | TRANSFER DRAIN PLUG | *6 | TRANSFER FILLER PLUG |
| *7 | TRANSFER CASE BREATHER PLUG | *8 | TRANSFER CASE OIL SEAL |
| *9 | TRANSFER CASE OIL SEAL RH | - | - |
| | Tightening torque for "Major areas involving basic vehicle performance such as moving/turning/stopping" : N*m (kgf*cm, ft.*lbf) | ● | Non-reusable part |
| | MP Grease | ★ | Precoated part |
ILLUSTRATION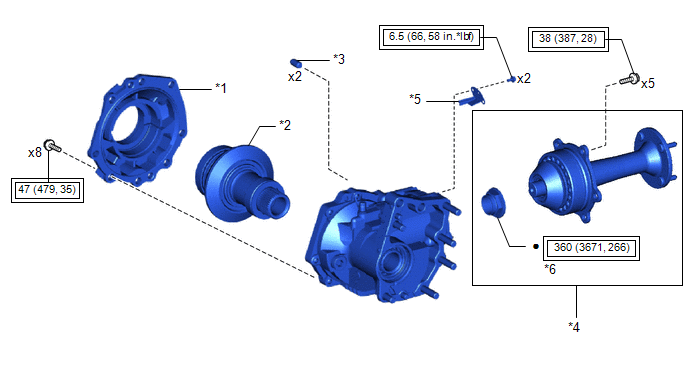 | | | | |
| --- | --- | --- | --- |
| *1 | NO. 1 TRANSFER CASE COVER | *2 | TRANSFER RING GEAR |
| *3 | TRANSFER CASE STRAIGHT PIN | *4 | REAR TRANSFER OUTPUT SHAFT SUB-ASSEMBLY |
| *5 | BREATHER OIL DEFLECTOR | *6 | TRANSFER GEAR NUT |
| | Tightening torque for "Major areas involving basic vehicle performance such as moving/turning/stopping" : N*m (kgf*cm, ft.*lbf) | ● | Non-reusable part |
ILLUSTRATION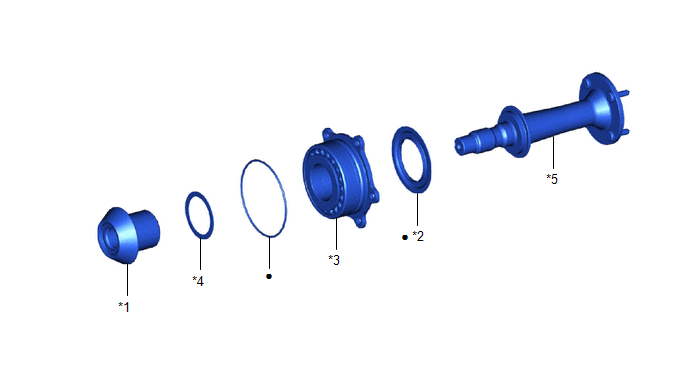 | | | | |
| --- | --- | --- | --- |
| *1 | TRANSFER DRIVEN PINION | *2 | REAR TRANSFER OUTPUT SHAFT DUST DEFLECTOR |
| *3 | FRONT TRANSFER DRIVEN PINION BEARING | *4 | TRANSFER OUTPUT SHAFT WASHER |
| *5 | TRANSFER OUTPUT SHAFT | - | - |
| ● | Non-reusable part | - | - |
ILLUSTRATION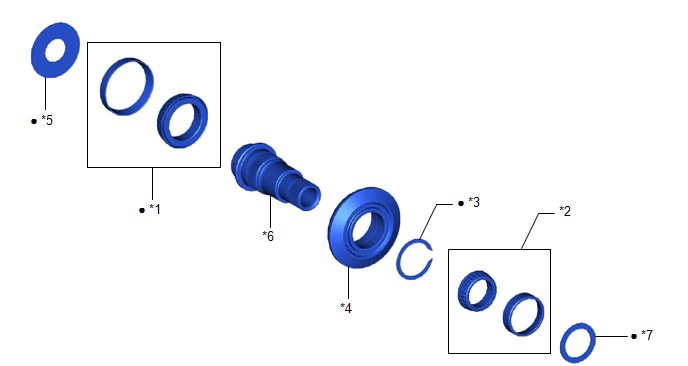 | | | | |
| --- | --- | --- | --- |
| *1 | RING GEAR MOUNTING CASE BEARING RH | *2 | RING GEAR MOUNTING CASE BEARING LH |
| *3 | SHAFT SNAP RING | *4 | TRANSFER RING GEAR |
| *5 | NO. 2 TRANSFER RING GEAR MOUNTING CASE WASHER | *6 | TRANSFER RING GEAR MOUNTING CASE |
| *7 | NO. 1 RING GEAR MOUNTING CASE WASHER | - | - |
| ● | Non-reusable part | - | - |
REMOVAL CAUTION / NOTICE / HINT The necessary procedures (adjustment, calibration, initialization, or registration) that must be performed after parts are removed and installed, or replaced during the transfer assembly removal/installation are shown below...
Other information:
Bluetooth® Hands-Free outline When a Bluetooth® device (mobile phone) is connected to the vehicle's Bluetooth® unit via radio wave transmission, a call can be made or received by pressing the talk button, pick-up button, or hang-up button on the audio remote control switch, or by operating the center display...
TERMINALS OF ECU CHECK AIR CONDITIONING AMPLIFIER ASSEMBLY (a) Check air conditioning amplifier assembly. (1) Disconnect the H24 air conditioning amplifier assembly connector. (2) Measure the voltage and resistance according to the value(s) in the table below...
Categories
If a key is left in the vehicle, the functions of the key left in the vehicle are temporarily suspended to prevent theft of the vehicle.
To restore the functions, press the unlock button on the functions-suspended key in the vehicle.