Toyota Yaris: Rear Differential Carrier Assembly / Components
COMPONENTS
ILLUSTRATION

| | | | |
| --- | --- | --- | --- |
| *1 | REAR DIFFERENTIAL DRAIN PLUG | *2 | REAR DIFFERENTIAL FILLER PLUG |
| *3 | GASKET | - | - |
| | Tightening torque for "Major areas involving basic vehicle performance such as moving/turning/stopping" : N*m (kgf*cm, ft.*lbf) | ● | Non-reusable part |
ILLUSTRATION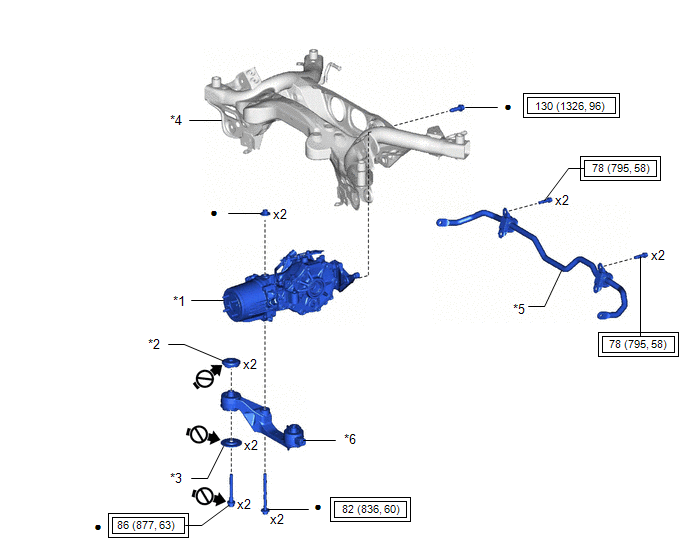 | | | | |
| --- | --- | --- | --- |
| *1 | REAR DIFFERENTIAL CARRIER ASSEMBLY | *2 | REAR UPPER DIFFERENTIAL MOUNT STOPPER |
| *3 | REAR LOWER DIFFERENTIAL MOUNT STOPPER | *4 | REAR SUSPENSION MEMBER SUB-ASSEMBLY |
| *5 | REAR STABILIZER BAR | *6 | REAR NO. 1 DIFFERENTIAL SUPPORT |
| | Tightening torque for "Major areas involving basic vehicle performance such as moving/turning/stopping" : N*m (kgf*cm, ft.*lbf) | ● | Non-reusable part |
| | Do not apply lubricants | - | - |
ILLUSTRATION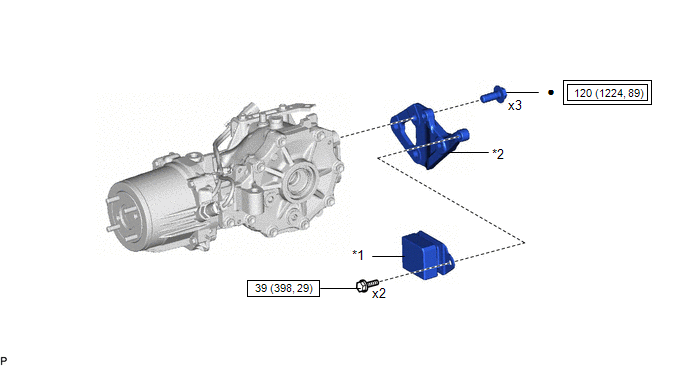 | | | | |
| --- | --- | --- | --- |
| *1 | REAR DIFFERENTIAL DYNAMIC DAMPER | *2 | REAR DIFFERENTIAL SUPPORT |
| | Tightening torque for "Major areas involving basic vehicle performance such as moving/turning/stopping" : N*m (kgf*cm, ft.*lbf) | | N*m (kgf*cm, ft.*lbf): Specified torque |
| ● | Non-reusable part | - | - |
ILLUSTRATION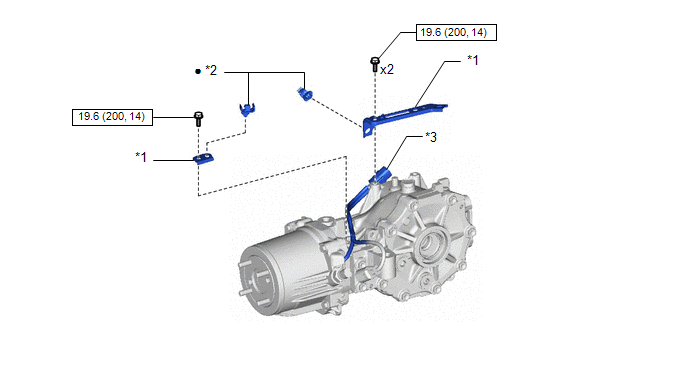 | | | | |
| --- | --- | --- | --- |
| *1 | CONNECTOR BRACKET | *2 | CLAMP |
| *3 | ELECTRO MAGNETIC CONTROL COUPLING WIRE HARNESS | - | - |
| | N*m (kgf*cm, ft.*lbf): Specified torque | ● | Non-reusable part |
ILLUSTRATION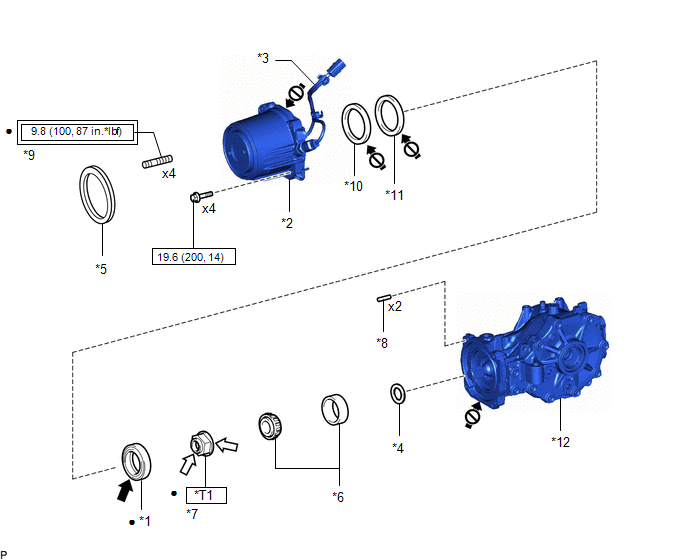 *1

DIAPHRAGM OIL SEAL

*2

ELECTRO MAGNETIC CONTROL COUPLING SUB-ASSEMBLY

*3

ELECTRO MAGNETIC CONTROL COUPLING WIRE HARNESS

*4

REAR DIFFERENTIAL DRIVE PINION OIL SLINGER

*5

REAR DIFFERENTIAL DUST DEFLECTOR

*6

REAR DRIVE PINION FRONT TAPERED ROLLER BEARING

*7

REAR DRIVE PINION NUT

*8

STRAIGHT PIN

*9

STUD BOLT

*10

TRANSMISSION COUPLING CONICAL SPRING WASHER

*11

TRANSMISSION COUPLING SPACER

*12

REAR DIFFERENTIAL CARRIER ASSEMBLY

Tightening torque for "Major areas involving basic vehicle performance such as moving/turning/stopping" : N*m (kgf*cm, ft.*lbf)

N*m (kgf*cm, ft.*lbf): Specified torque

*T1

For use without SST: 321 N*m (3273 kgf*cm, 237 ft.*lbf) or less

For use with SST: 307 N*m (3131 kgf*cm, 226 ft.*lbf) or less

●

Non-reusable part

MP grease

Hypoid gear oil LSD

Do not apply lubricants

-

-
ILLUSTRATION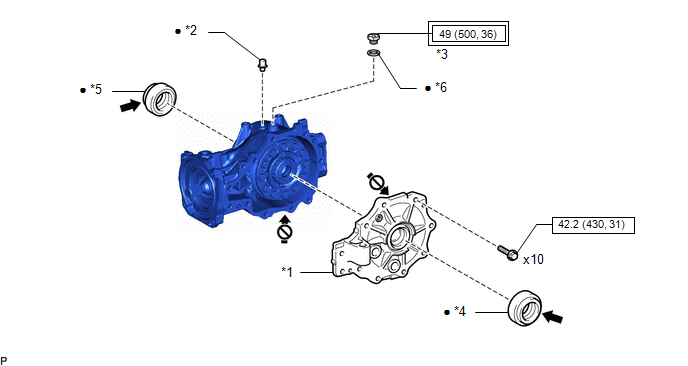 | | | | |
| --- | --- | --- | --- |
| *1 | DIFFERENTIAL SIDE BEARING RETAINER | *2 | REAR DIFFERENTIAL CARRIER COVER BREATHER PLUG |
| *3 | REAR DIFFERENTIAL FILLER PLUG | *4 | REAR DRIVE SHAFT OIL SEAL LH |
| *5 | REAR DRIVE SHAFT OIL SEAL RH | *6 | GASKET |
| | Tightening torque for "Major areas involving basic vehicle performance such as moving/turning/stopping" : N*m (kgf*cm, ft.*lbf) | | N*m (kgf*cm, ft.*lbf): Specified torque |
| ● | Non-reusable part | | MP grease |
| | Do not apply lubricants | - | - |
ILLUSTRATION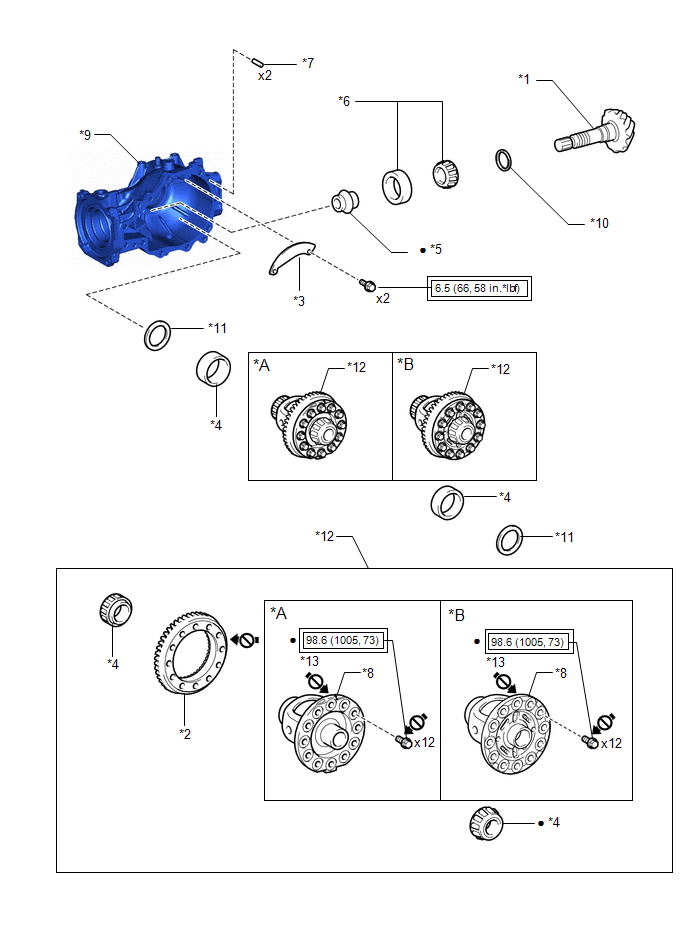 | | | | |
| --- | --- | --- | --- |
| *A | w/ LSD | *B | w/o LSD |
| *1 | DIFFERENTIAL DRIVE PINION | *2 | DIFFERENTIAL RING GEAR |
| *3 | REAR DIFFERENTIAL BREATHER PLUG OIL DEFLECTOR | *4 | REAR DIFFERENTIAL CASE BEARING |
| *5 | REAR DIFFERENTIAL DRIVE PINION BEARING SPACER | *6 | REAR DRIVE PINION REAR TAPERED ROLLER BEARING |
| *7 | STRAIGHT PIN | *8 | REAR DIFFERENTIAL CASE SUB-ASSEMBLY |
| *9 | REAR DIFFERENTIAL CARRIER | *10 | REAR DIFFERENTIAL DRIVE PINION PLATE WASHER |
| *11 | REAR DIFFERENTIAL SIDE GEAR SHAFT PLATE WASHER | *12 | REAR DIFFERENTIAL CASE ASSEMBLY |
| *13 | REAR DIFFERENTIAL CASE BOLT | - | - |
| | Tightening torque for "Major areas involving basic vehicle performance such as moving/turning/stopping" : N*m (kgf*cm, ft.*lbf) | ● | Non-reusable part |
| ★ | Precoated Part | | Do not apply lubricants |
REMOVAL CAUTION / NOTICE / HINT The necessary procedures (adjustment, calibration, initialization, or registration) that must be performed after parts are removed and installed, or replaced during the rear differential carrier assembly removal/installation are shown below...
Other information:
OPERATION CHECK CHECK FRONT WIPER CONTROL (a) Auto wiper function (1) Continuously apply water to the windshield glass in front of the rain sensor. (2) Turn the ignition switch to ON. (3) Move the front wiper switch to the AUTO position. (4) Check that the front wipers operate...
DESCRIPTION The ABS solenoid relay is built into the skid control ECU in the brake actuator assembly. The ABS solenoid relay supplies power to the holding solenoid and reduction solenoid. The solenoid relay is turned on 1.5 seconds after the ignition switch is turned to ON, and is turned off if an open or short in the solenoid is detected by self-diagnosis performed when the vehicle is starting off...
Categories
WARNING
Never allow a person to ride in the luggage compartment/trunk
Allowing a person to ride in the luggage compartment/trunk is dangerous. The person in the luggage compartment/trunk could be seriously injured or killed during sudden braking or a collision.
Do not drive with the liftgate/trunk lid open