Toyota Yaris: Generator / Components
COMPONENTS
ILLUSTRATION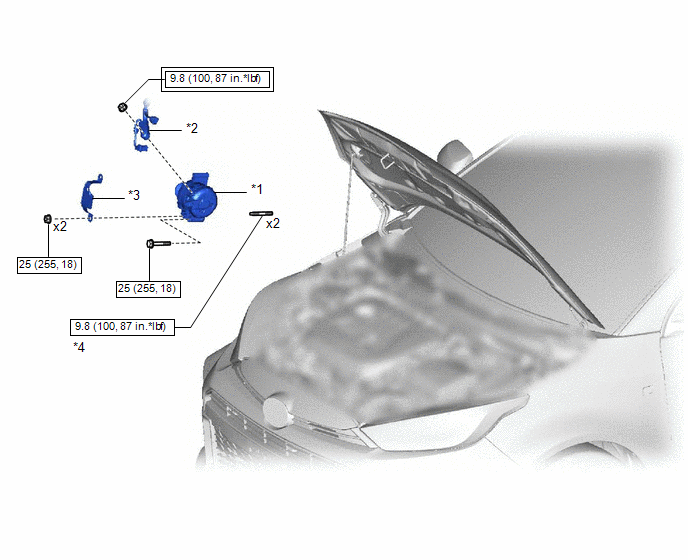 | | | | |
| --- | --- | --- | --- |
| *1 | GENERATOR WITH REGULATOR ASSEMBLY | *2 | ENGINE WIRE |
| *3 | GENERATOR SPLASH GUARD COVER ASSEMBLY | *4 | STUD BOLT |
| | Tightening torque for "Major areas involving basic vehicle performance such as moving/turning/stopping": N*m (kgf*cm, ft.*lbf) | | N*m (kgf*cm, ft.*lbf): Specified torque |
ILLUSTRATION
| | | | |
| --- | --- | --- | --- |
| *1 | GENERATOR BRUSH HOLDER ASSEMBLY | *2 | GENERATOR COIL ASSEMBLY |
| *3 | GENERATOR DRIVE END FRAME BEARING | *4 | GENERATOR PULLEY CAP |
| *5 | GENERATOR PULLEY WITH CLUTCH | *6 | GENERATOR REAR END COVER |
| *7 | GENERATOR ROTOR ASSEMBLY | *8 | GENERATOR TERMINAL INSULATOR |
| *9 | BEARING COVER PACKING | *10 | GENERATOR DRIVE END FRAME |
| *11 | RETAINER PLATE | - | - |
| | N*m (kgf*cm, ft.*lbf): Specified torque | * | For use with SST |
| ● | Non-reusable part | - | - |
REMOVAL CAUTION / NOTICE / HINT HINT: When the cable is disconnected / reconnected to the auxiliary battery terminal, systems temporarily stop operating...
Other information:
PrecautionPRECAUTION NOTICE OF REMOVING AND INSTALLING FRONT DRIVE SHAFT ASSEMBLY RH (a) When removing and installing the front drive shaft assembly RH, be sure to first drain all the transaxle oil and transfer oil. If removal and installation are carried out without draining these oils, the transfer oil will flow into the transaxle side...
MONITOR DESCRIPTION The fuel pump control ECU has a self-diagnosis function. If there is an internal malfunction, the fuel pump control ECU sends a malfunction signal to the ECM via the FPC drive circuit. Based on the signal, the ECM judges that there is a malfunction in the fuel pump control ECU stores a DTC...
Categories
Stop the vehicle completely. Manual transaxle: Shift into neutral and set the parking brake.
Automatic transaxle: Shift the selector lever to the P position and set the parking brake.
Press the push button start to turn off the engine. The ignition position is off.