Toyota Yaris: Tires / Tire Inflation Pressure
Inspect all tire pressures monthly (including the spare) when the tires are cold. Maintain recommended pressures for the best ride, handling, and minimum tire wear.
Refer to the specification charts.
With tire pressure monitoring system: After adjusting the tire pressure, initialization of the tire pressure monitoring system is necessary to make the system operate normally. Refer to Tire Pressure Monitoring System Initialization.
WARNING
Always inflate the tires to the correct pressure
Overinflation or underinflation of tires is dangerous. Adverse handling or unexpected tire failure could result in a serious accident.
Use only a Toyota-genuine tire valve cap
Use of a non-genuine part is dangerous as the correct tire air pressure cannot be maintained if the tire valve becomes damaged. If the vehicle is driven under this condition, the tire air pressure will decrease which could result in a serious accident. Do not use any part for the tire valve cap that is not a Toyota-genuine part.
For reasons of proper performance, safety, and better fuel economy, always maintain recommended tire inflation pressures and stay within the recommended load limits and weight distribution...
During rotation, inspect them for correct balance. Also, inspect them for uneven wear and damage. Abnormal wear is usually caused by one or a combination of the following: Incorrect tire pressure Improper wheel alignment Out-of-balance wheel Severe braking After rotation, inflate all tire pressures to specification and inspect the lug nuts for tightness...
Other information:
REMOVAL CAUTION / NOTICE / HINT The necessary procedures (adjustment, calibration, initialization or registration) that must be performed after parts are removed and installed, or replaced during fuel pump assembly removal/installation are shown below...
C..
Categories
Before refueling, close all the doors, windows, and the liftgate/trunk lid, and switch the ignition OFF.
To open the fuel-filler lid, pull the remote fuel-filler lid release.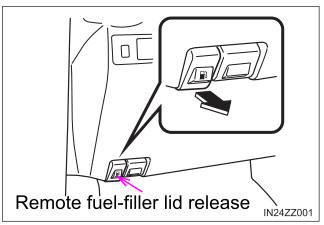 To remove the fuel-filler cap, turn it counterclockwise. Attach the removed cap to the inner side of the fuel-filler lid.