Toyota Yaris: Front Radar Sensor System / Terminals Of Ecu
TERMINALS OF ECU
NOTICE:
Turning the ignition switch to ON with connectors disconnected may cause DTCs to be stored. Make sure to clear the DTCs after inspection has been performed.
Do not apply excessive force to the millimeter wave radar sensor assembly connector.
CHECK MILLIMETER WAVE RADAR SENSOR ASSEMBLY
(a) Measure the voltage and resistance according to the value(s) in the table below.
Terminal No. (Symbol)

Terminal Description

Condition

Specified Condition

B8-8 (IGB) - B8-1 (SGND)

Power source

Ignition switch ON

10.5 to 16 V

Ignition switch off

Below 1 V

B8-1 (SGND) - Body ground

Ground

Always

Below 1 Ω
PROBLEM SYMPTOMS TABLE HINT: Use the table below to help determine the cause of problem symptoms. If multiple suspected areas are listed, the potential causes of the symptoms are listed in order of probability in the "Suspected Area" column of the table...
DIAGNOSIS SYSTEM DIAGNOSIS FUNCTION (a) If a malfunction is detected in the millimeter wave radar sensor assembly, the millimeter wave radar sensor assembly stores DTCs without directly informing the driver, and sends malfunction signals to the systems that use the millimeter wave radar sensor assembly...
Other information:
DESCRIPTION If the air outlet mode does not change even though the air outlet display changes, the following factors may be the cause. Symptom Factor Air outlet mode cannot be changed (Air outlet display changes) No. 1 air conditioning radiator damper servo sub-assembly malfunction Damper link disconnection Air conditioner unit assembly malfunction PROCEDURE 1...
C..
Categories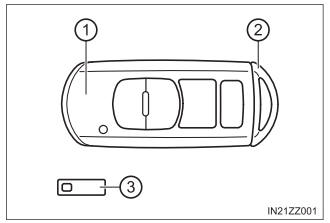 Smart key Auxiliary key Key code number plate
To use the auxiliary key, press the knob and pull out the auxiliary key from the smart key.