Toyota Yaris: Switches and Controls / Rear Window Defogger
The rear window defogger clears fog from the rear window.
The ignition must be switched ON to use the defogger.
Press the switch to turn on the rear window defogger. The rear window defogger operates for about 15 minutes and then turns off automatically.
The indicator light illuminates when the defogger is operating.
To turn off the rear window defogger before the 15 minutes has elapsed, press the switch again.
Manual Climate Control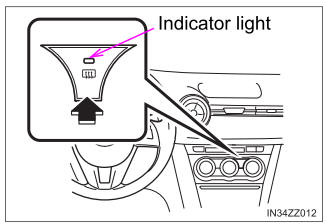 Fully Automatic Climate Control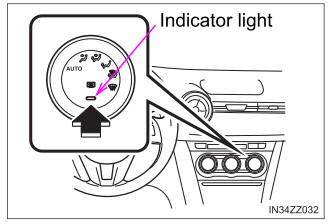 This defogger is not designed for melting snow. If there is an accumulation of snow on the rear window, remove it before using the defogger.
NOTICE
Do not use sharp instruments or window cleaners with abrasives to clean the inside of the rear window surface. They may damage the defogger grid inside the window.
Mirror Defogger (if equipped)
To turn on the mirror defoggers, switch the ignition ON and press the rear window defogger switch.
Categories
The front and side supplemental restraint systems (SRS) include different types of air bags. Please verify the different types of air bags which are equipped on your vehicle by locating the "SRS AIRBAG" location indicators. These indicators are visible in the area where the air bags are installed.
The air bags are installed in the following locations:
The steering wheel hub (driver air bag) The front passenger dashboard (front passenger air bag) The outboard sides of the front seatbacks (side air bags) The front and rear window pillars, and the roof edge along both sides (curtain air bags)