Toyota Yaris: Lane Tracing Assist System / Parts Location
PARTS LOCATION
ILLUSTRATION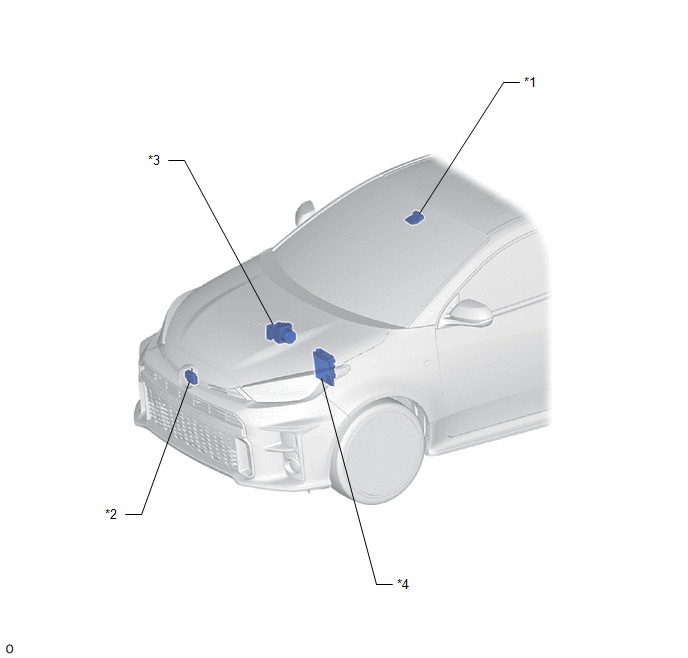 *1

FORWARD RECOGNITION CAMERA

*2

MILLIMETER WAVE RADAR SENSOR ASSEMBLY

*3

BRAKE ACTUATOR ASSEMBLY

- SKID CONTROL ECU

*4

ECM
ILLUSTRATION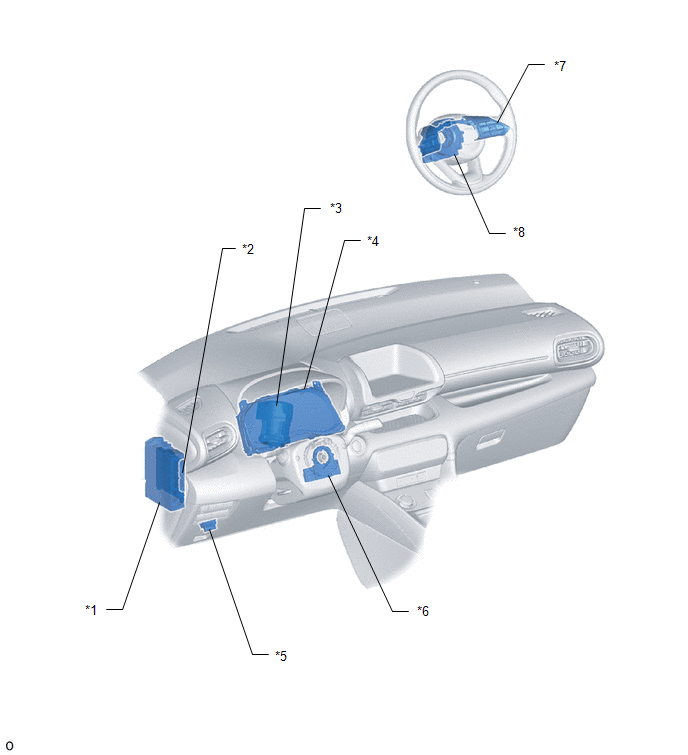 *1

POWER DISTRIBUTION BOX ASSEMBLY

- ECU-IGR NO. 1 FUSE

- ECU-IGR NO. 2 FUSE

*2

MAIN BODY ECU (MULTIPLEX NETWORK BODY ECU)

*3

POWER STEERING ECU ASSEMBLY

*4

COMBINATION METER ASSEMBLY

- MULTI-INFORMATION DISPLAY

- LTA INDICATOR

- METER BUZZER

*5

DLC3

*6

STEERING SENSOR

*7

STEERING PAD SWITCH ASSEMBLY

- LTA MAIN SWITCH

- FUNCTION SWITCH (CUSTOMIZE SWITCH)

*8

SPIRAL CABLE SUB-ASSEMBLY
PRECAUTION NOTICE: If the auxiliary battery has been discharged and charged or the cable has been disconnected and reconnected to the negative (-) auxiliary battery terminal, perform Steering Sensor Zero Point Calibration...
Other information:
REASSEMBLY CAUTION / NOTICE / HINT NOTICE: Before installation, thoroughly clean and dry each part and then apply Toyota Genuine Differential gear oil LX SAE 75W-85 GL-5 or equivalent to them. Do not use alkaline cleaner for aluminum or rubber parts and rear differential case bolts...
INSTALLATION PROCEDURE 1. INSTALL CAMSHAFT TIMING OIL CONTROL SOLENOID ASSEMBLY (for Intake Side) (a) Clean the O-ring groove of the camshaft timing oil control solenoid assembly. NOTICE: Make sure the O-ring groove is free of foreign matter. (b) Install the O-ring to the camshaft timing oil control solenoid assembly...
Categories
If a key is left in the vehicle, the functions of the key left in the vehicle are temporarily suspended to prevent theft of the vehicle.
To restore the functions, press the unlock button on the functions-suspended key in the vehicle.