Toyota Yaris: G16e-gts (engine Mechanical) / Front Crankshaft Oil Seal
Components
COMPONENTS
ILLUSTRATION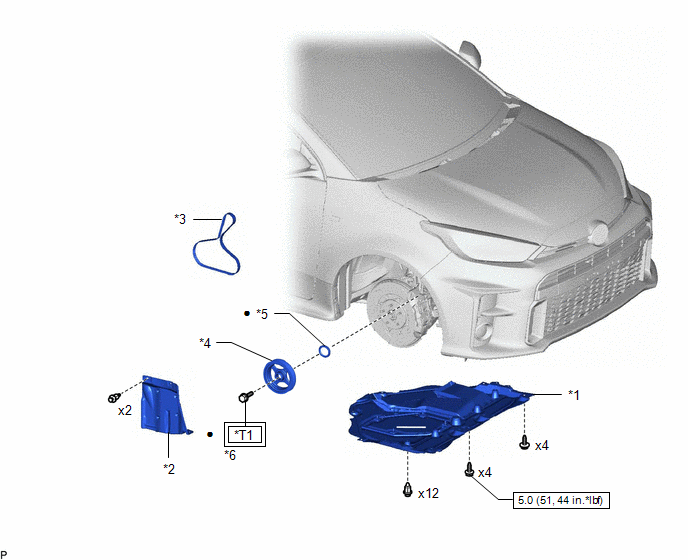 *1

NO. 1 ENGINE UNDER COVER ASSEMBLY

*2

ENGINE UNDER COVER RH

*3

FAN AND GENERATOR V BELT

*4

CRANKSHAFT PULLEY ASSEMBLY

*5

TIMING CHAIN COVER OIL SEAL

*6

CRANKSHAFT PULLEY SET BOLT

Tightening torque for "Major areas involving basic vehicle performance such as moving/turning/stopping" : N*m (kgf*cm, ft.*lbf)

N*m (kgf*cm, ft.*lbf): Specified torque

●

Non-reusable part

-

-

*T1

1st: 260 (2651, 192)

2nd: Turn 90°

-

-
Removal
REMOVAL
PROCEDURE
1. REMOVE FRONT WHEEL RH
Click here

2. REMOVE NO. 1 ENGINE UNDER COVER ASSEMBLY
Click here

3. REMOVE ENGINE UNDER COVER RH
Click here

4. REMOVE FAN AND GENERATOR V BELT
Click here

5. REMOVE CRANKSHAFT PULLEY
Click here

6. REMOVE TIMING CHAIN COVER OIL SEAL
(a) Using a screwdriver, pry out the timing chain cover oil seal.

NOTICE:

Do not damage the surface of the timing chain cover oil seal press fit hole or the crankshaft.

HINT:

Tape the screwdriver tip before use.
Installation
INSTALLATION
PROCEDURE
1. INSTALL TIMING CHAIN COVER OIL SEAL
(a) Apply MP grease to the lip of a new timing chain cover oil seal.
NOTICE:
Keep the lip free from foreign matter.
Do not allow MP grease to contact the dust seal.
(b) Using SST and a hammer, tap in the timing chain cover oil seal.

SST: 09223-00010

Standard Depth:

0 to 2 mm (0 to 0.0787 in.) (From the edge of the No. 2 timing chain cover assembly)

NOTICE:

Do not tap in the timing chain cover oil seal at an angle.
2. INSTALL CRANKSHAFT PULLEY
Click here

3. INSTALL FAN AND GENERATOR V BELT
Click here

4. INSPECT FOR ENGINE OIL LEAK
Click here

5. INSTALL ENGINE UNDER COVER RH
Click here

6. INSTALL NO. 1 ENGINE UNDER COVER ASSEMBLY
Click here

7. INSTALL FRONT WHEEL RH
Click here

INSTALLATION CAUTION / NOTICE / HINT NOTICE: This procedure includes the installation of small-head bolts. Refer to Small-Head Bolts of Basic Repair Hint to identify the small-head bolts...
Other information:
Mirror type Flat type (driver's side) Flat surface mirror. Convex type (front passenger side) The mirror has single curvature on its surface. Power mirror adjustment The ignition must be switched to ACC or ON position. To adjust: Rotate the mirror switch to the left or right to choose the left or right side mirror...
TERMINALS OF ECU CHECK MAIN BODY ECU (MULTIPLEX NETWORK BODY ECU) AND POWER DISTRIBUTION BOX ASSEMBLY *1 Power Distribution Box Assembly *2 Main Body ECU (Multiplex Network Body ECU) (a) Remove the main body ECU (multiplex network body ECU) from the power distribution box assembly...
Categories
Stop the vehicle completely. Manual transaxle: Shift into neutral and set the parking brake.
Automatic transaxle: Shift the selector lever to the P position and set the parking brake.
Press the push button start to turn off the engine. The ignition position is off.