Toyota Yaris: Drive Selection / Drive Selection Switch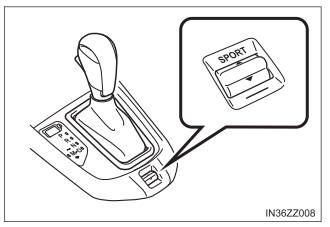 Press the drive selection switch to the

side (forward) to select the sport ̶ mode.
Pull the drive selection switch to the side (backward) to cancel the sport mode.
In the following cases, the drive selection is canceled.

The ignition is switched OFF.
Cruise control is set.

Depending on the driving conditions when sport mode is selected, the vehicle may perform shiftdown or slightly accelerate.
Categories
Stop the vehicle completely. Manual transaxle: Shift into neutral and set the parking brake.
Automatic transaxle: Shift the selector lever to the P position and set the parking brake.
Press the push button start to turn off the engine. The ignition position is off.