Toyota Yaris: Differential Oil Seal (for Rh Side) / Components
COMPONENTS
ILLUSTRATION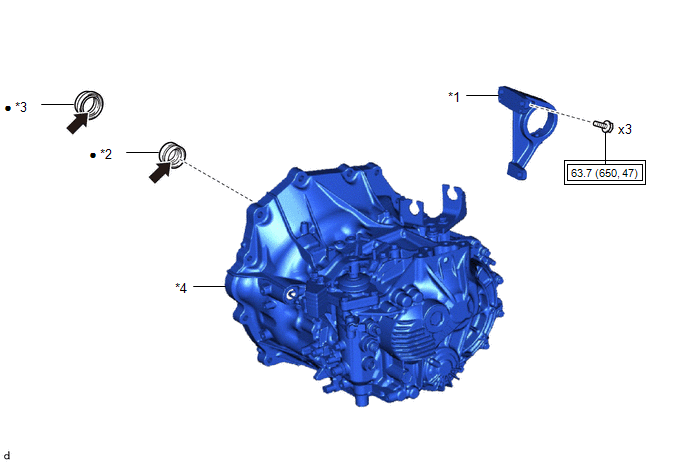 | | | | |
| --- | --- | --- | --- |
| *1 | DRIVE SHAFT BEARING BRACKET | *2 | FRONT DRIVE SHAFT OIL SEAL RH |
| *3 | TRANSAXLE CASE OIL SEAL | *4 | MANUAL TRANSAXLE ASSEMBLY |
| | Tightening torque for "Major areas involving basic vehicle performance such as moving/turning/stopping": N*m (kgf*cm, ft.*lbf) | ● | Non-reusable part |
| | MP grease | - | - |
REPLACEMENT CAUTION / NOTICE / HINT The necessary procedures (adjustment, calibration, initialization, or registration) that must be performed after parts are removed and installed, or replaced during the transaxle case oil seal and front dirve shaft oil seal RH removal/installation are shown below...
Other information:
PARTS LOCATION ILLUSTRATION *A w/ Toyota Safety Sense - - *1 SIDE TURN SIGNAL LIGHT ASSEMBLY LH *2 SIDE TURN SIGNAL LIGHT ASSEMBLY RH *3 HEADLIGHT ASSEMBLY LH *4 HEADLIGHT ASSEMBLY RH *5 HEADLIGHT LENS SUB-ASSEMBLY LH *6 HEADLIGHT LENS SUB-ASSEMBLY RH *7 HEADLIGHT UNIT ASSEMBLY LH *8 HEADLIGHT UNIT ASSEMBLY RH *9 LIGHT CONTROL LED ECU LH *10 LIGHT CONTROL LED ECU RH *11 HEADLIGHT LEVELING MOTOR LH *12 HEADLIGHT LEVELING MOTOR RH *13 HEADLIGHT HOUSING SUB-ASSEMBLY LH (WIRE HARNESS LH) *14 HEADLIGHT HOUSING SUB-ASSEMBLY RH (WIRE HARNESS RH) *15 FOG LIGHT ASSEMBLY LH *16 FOG LIGHT ASSEMBLY RH *17 FORWARD RECOGNITION CAMERA *18 MILLIMETER WAVE RADAR SENSOR ASSEMBLY *19 ECM *20 POWER STEERING ECU ASSEMBLY *21 SKID CONTROL ECU (BRAKE ACTUATOR ASSEMBLY) *22 NO...
DESCRIPTION If the entry lock and unlock functions do not operate for the front passenger door only, the request code may not be being transmitted from the front passenger door or the front door outside handle assembly RH (touch sensor) may be malfunctioning...
Categories
No special break-in is necessary, but a few precautions in the first 600 miles (1,000 km) may add to the performance, economy, and life of the vehicle.
Do not race the engine. Do not maintain one constant speed, either slow or fast, for a long period of time. Do not drive constantly at full-throttle or high engine rpm for extended periods of time. Avoid unnecessary hard stops. Avoid full-throttle starts.