Toyota Yaris: Front Drive Shaft Assembly / Components
COMPONENTS
ILLUSTRATION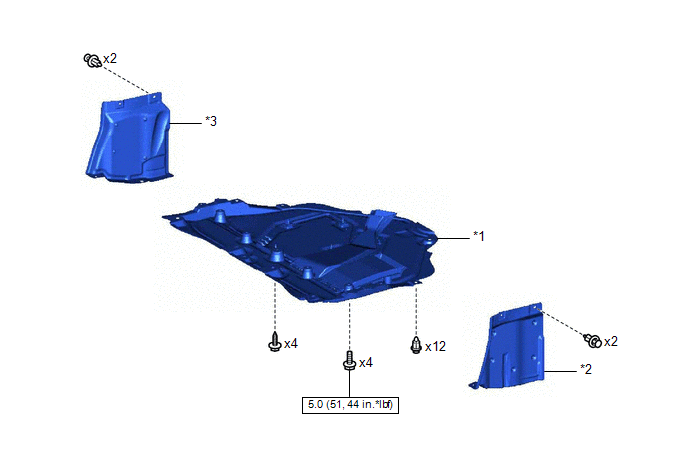 | | | | |
| --- | --- | --- | --- |
| *1 | NO. 1 ENGINE UNDER COVER ASSEMBLY | *2 | ENGINE UNDER COVER LH |
| *3 | ENGINE UNDER COVER RH | - | - |
| | N*m (kgf*cm, ft.*lbf): Specified torque | - | - |
ILLUSTRATION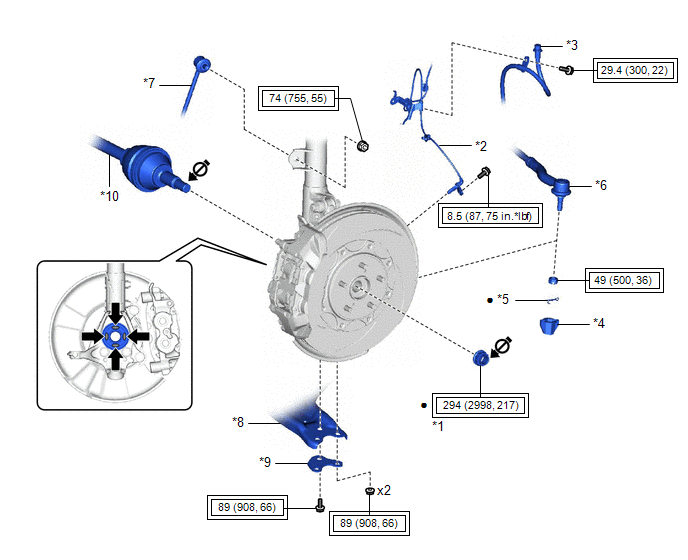 | | | | |
| --- | --- | --- | --- |
| *1 | FRONT AXLE SHAFT NUT | *2 | FRONT SPEED SENSOR |
| *3 | FRONT FLEXIBLE HOSE | *4 | STEERING KNUCKLE SEAL |
| *5 | COTTER PIN | *6 | TIE ROD END SUB-ASSEMBLY |
| *7 | FRONT STABILIZER LINK ASSEMBLY | *8 | FRONT LOWER NO.1 SUSPENSION ARM SUB-ASSEMBLY |
| *9 | INNER NO. 1 ARM ATTACHMENT PLATE | *10 | FRONT DRIVE SHAFT ASSEMBLY |
| | Tightening torque for "Major areas involving basic vehicle performance such as moving/turning/stopping": N*m (kgf*cm, ft.*lbf) | ● | Non-reusable part |
| | Toyota Body Grease W | | Do not apply lubricants to the threaded parts |
ILLUSTRATION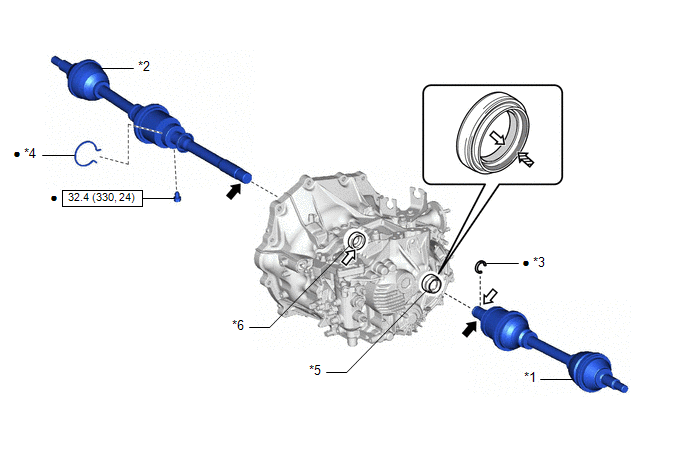 | | | | |
| --- | --- | --- | --- |
| *1 | FRONT DRIVE SHAFT ASSEMBLY LH | *2 | FRONT DRIVE SHAFT ASSEMBLY RH |
| *3 | FRONT DRIVE SHAFT HOLE SNAP RING LH | *4 | DRIVE SHAFT BEARING BRACKET HOLE SNAP RING |
| *5 | FRONT DRIVE SHAFT OIL SEAL LH | *6 | TRANSFER CASE OIL SEAL RH |
| | N*m (kgf*cm, ft.*lbf): Specified torque | ● | Non-reusable part |
| | Toyota genuine manual transmission gear oil LV | | MP grease |
| | Toyota genuine oil seal side lip grease | - | - |
ILLUSTRATION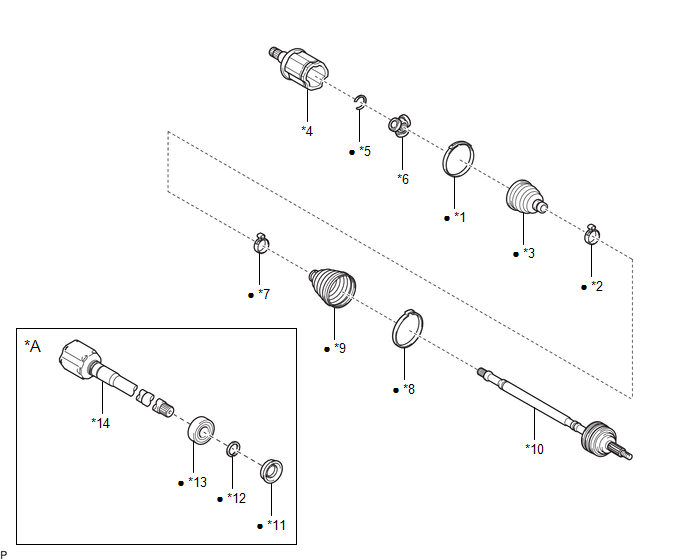 | | | | |
| --- | --- | --- | --- |
| *A | for RH Side | - | - |
| *1 | FRONT NO. 2 AXLE INBOARD JOINT BOOT CLAMP | *2 | FRONT AXLE INBOARD JOINT BOOT CLAMP |
| *3 | FRONT AXLE INBOARD JOINT BOOT | *4 | FRONT DRIVE INBOARD JOINT ASSEMBLY |
| *5 | SHAFT SNAP RING | *6 | TRIPOD JOINT |
| *7 | FRONT AXLE OUTBOARD JOINT BOOT CLAMP | *8 | FRONT NO. 2 AXLE OUTBOARD JOINT BOOT CLAMP |
| *9 | FRONT AXLE OUTBOARD JOINT BOOT | *10 | FRONT DRIVE OUTBOARD JOINT SHAFT ASSEMBLY |
| *11 | FRONT DRIVE SHAFT DUST COVER RH | *12 | SNAP RING |
| *13 | FRONT DRIVE SHAFT BEARING | *14 | FRONT DRIVE INBOARD JOINT ASSEMBLY RH |
| ● | Non-reusable part | - | - |
REMOVAL CAUTION / NOTICE / HINT The necessary procedures (adjustment, calibration, initialization, or registration) that must be performed after parts are removed and installed, or replaced during the front drive shaft assembly removal/installation are shown below...
Other information:
D..
PARTS LOCATION ILLUSTRATION *1 ECM *2 NO. 1 ENGINE ROOM RELAY BLOCK ASSEMBLY - ST NO. 1 FUSE - EFI NO. 1 FUSE - IGP RELAY - ST NO. 1 RELAY *3 SKID CONTROL ECU (BRAKE ACTUATOR ASSEMBLY) - - ILLUSTRATION *1 NO. 1 INDOOR ELECTRICAL KEY ANTENNA ASSEMBLY (FRONT FLOOR) *2 NO...
Categories
Stop the vehicle completely. Manual transaxle: Shift into neutral and set the parking brake.
Automatic transaxle: Shift the selector lever to the P position and set the parking brake.
Press the push button start to turn off the engine. The ignition position is off.