Toyota Yaris: Brake System / Brake Pad Wear Indicator
When the disc brake pads become worn, the built-in wear indicators contact the disc plates. This causes a screeching noise to warn that the pads should be replaced.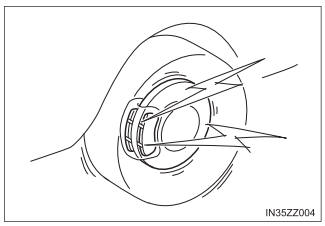 When you hear this noise, consult your Toyota dealer as soon as possible.
WARNING
Do not drive with worn disc pads
Driving with worn disc pads is dangerous. The brakes could fail and cause a serious accident. As soon as you hear a screeching noise consult your Toyota dealer.
In high humidity weather conditions, brake noises, such as brake squeak or brake squeal can be heard. It does not indicate a malfunction.
During emergency braking situations when it is necessary to depress the brake pedal with greater force, the brake assist system provides braking assistance, thus enhancing braking performance...
Other information:
DESCRIPTION A backup boost converter is built into the engine stop and start ECU. The backup boost converter helps maintain auxiliary battery voltage to prevent various functions from failing if power source voltage supplied from the backup boost converter drops due to the high electrical load when the engine is restarted by stop and start control...
DESCRIPTION Refer to DTC P008A00. Click here DTC No. Detection Item DTC Detection Condition Trouble Area MIL Note P008B00 Low Pressure Fuel System Pressure - Too High The actual fuel pressure (for low pressure side) value is higher than target fuel pressure (for low pressure side) by 200 kPa [29 psi] or more (1 trip detection logic)...
Categories
WARNING
When removing the fuel-filler cap, loosen the cap slightly and wait for any hissing to stop, then remove it
Fuel spray is dangerous. Fuel can burn skin and eyes and cause illness if ingested. Fuel spray is released when there is pressure in the fuel tank and the fuel-filler cap is removed too quickly.