Toyota Yaris: Brake System / Brake Pad Wear Indicator
When the disc brake pads become worn, the built-in wear indicators contact the disc plates. This causes a screeching noise to warn that the pads should be replaced.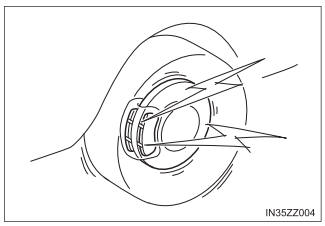 When you hear this noise, consult your Toyota dealer as soon as possible.
WARNING
Do not drive with worn disc pads
Driving with worn disc pads is dangerous. The brakes could fail and cause a serious accident. As soon as you hear a screeching noise consult your Toyota dealer.
In high humidity weather conditions, brake noises, such as brake squeak or brake squeal can be heard. It does not indicate a malfunction.
During emergency braking situations when it is necessary to depress the brake pedal with greater force, the brake assist system provides braking assistance, thus enhancing braking performance...
Other information:
REMOVAL CAUTION / NOTICE / HINT HINT: When the cable is disconnected/reconnected to the auxiliary battery terminal, systems temporarily stop operating. However, each system has a function that completes learning the first time the system is used. Learning completes when vehicle is driven Effect/Inoperative Function When Necessary Procedures are not Performed Necessary Procedures Link Lane tracing assist system Drive the vehicle straight ahead at 35 km/h (22 mph) or more for 5 second or more...
INSPECTION PROCEDURE 1. INSPECT FUEL PUMP ASSEMBLY (a) Measure the resistance according to the value(s) in the table below. Standard Resistance: Tester Connection Condition Specified Condition D24-1 - D24-2 20°C (68°F) 0.45 to 0.55 Ω If the result is not as specified, replace the fuel pump assembly...
Categories
WARNING
When removing the fuel-filler cap, loosen the cap slightly and wait for any hissing to stop, then remove it
Fuel spray is dangerous. Fuel can burn skin and eyes and cause illness if ingested. Fuel spray is released when there is pressure in the fuel tank and the fuel-filler cap is removed too quickly.