Toyota Yaris: Active Safety System / Active Safety System
Pre-Crash Safety Technology
Pre-crash safety technology is designed to assist the driver in averting collisions or reduce their severity in situations where they cannot be avoided.
Sensor
Laser sensor

The laser sensor emits a near-infrared laser beam and receives the beam reflected off the reflective surface of a vehicle or obstruction in front, and the detected beam is then used for measurement. The laser sensor is used for the Low Speed Pre-Collision System.

The laser sensor is installed at the top of the windshield near the rearview mirror. Refer to Laser Sensor.
The Low Speed Pre-Collision System is designed to reduce damage in the event of a collision by operating the brake control (Low Speed Pre-Collision System brake) when the system's laser sensor detects a vehicle ahead and determines that a collision with a vehicle ahead is unavoidable...
Other information:
D..
COMPONENTS ILLUSTRATION *1 CLUTCH MASTER CYLINDER GASKET *2 CLUTCH MASTER CYLINDER ASSEMBLY *3 CLUTCH MASTER CYLINDER PUSH ROD CLEVIS WITH HOLE PIN *4 CLUTCH MASTER CYLINDER TO FLEXIBLE HOSE TUBE *5 NO. 1 CLUTCH RESERVOIR HOSE - - Tightening torque for "Major areas involving basic vehicle performance such as moving/turning/stopping": N*m (kgf*cm, ft...
Categories
Before refueling, close all the doors, windows, and the liftgate/trunk lid, and switch the ignition OFF.
To open the fuel-filler lid, pull the remote fuel-filler lid release.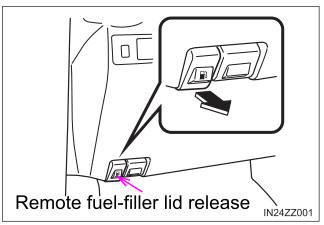 To remove the fuel-filler cap, turn it counterclockwise. Attach the removed cap to the inner side of the fuel-filler lid.