Toyota Yaris: Reporting Safety Defects / Reporting Safety Defects (Canada)
Canadian customers who wish to report a safety-related defect to Transport Canada, Defect Investigations and Recalls, may telephone the toll free hotline 1-800-333-0510, or contact Transport Canada by mail at: Transport Canada, ASFAD, Place de Ville Tower C, 330 Sparks Street, Ottawa ON K1A 0N5.
For additional road safety information, please visit the Road Safety website at: http://www.tc.gc.ca/roadsafety/menu.htm
If you believe that your vehicle has a defect which could cause a crash or could cause injury or death, you should immediately inform the National Highway Traffic Safety Administration (NHTSA) in addition to notifying Toyota Motor Sales, U...
Other information:
Proper tire balancing provides the best riding comfort and helps reduce tread wear. Out-of-balance tires can cause vibration and uneven wear, such as cupping and flat spots. When replacing a wheel, make sure the new one is the same as the original factory wheel in diameter, rim width, and offset (inset/outset)...
WARNING Please comply with the legal regulations concerning the use of communication equipment in vehicles in your country Use of any electrical devices such as cell phones, computers, portable radios, vehicle navigation or other devices by the driver while the vehicle is moving is dangerous...
Categories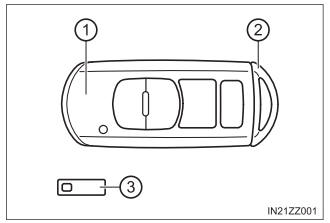 Smart key Auxiliary key Key code number plate
To use the auxiliary key, press the knob and pull out the auxiliary key from the smart key.