Toyota Yaris: Fuel Tank / Components
COMPONENTS
ILLUSTRATION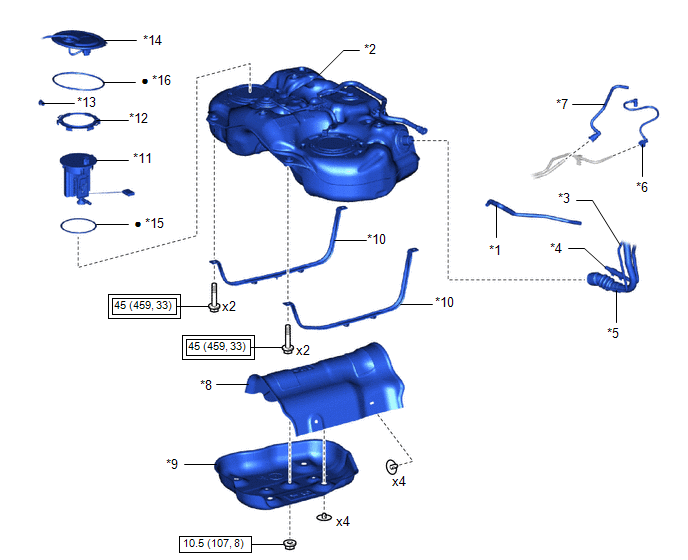 | | | | |
| --- | --- | --- | --- |
| *1 | CHARCOAL CANISTER OUTLET HOSE | *2 | FUEL TANK ASSEMBLY |
| *3 | NO. 6 FUEL TANK BREATHER TUBE | *4 | FUEL TANK FILLER PIPE SUB-ASSEMBLY |
| *5 | FUEL TANK TO FILLER PIPE HOSE | *6 | FUEL TANK MAIN TUBE SUB-ASSEMBLY |
| *7 | NO. 1 FUEL EMISSION TUBE SUB-ASSEMBLY | *8 | NO. 1 FUEL TANK PROTECTOR SUB-ASSEMBLY |
| *9 | NO. 2 FUEL TANK PROTECTOR | *10 | FUEL TANK BAND SUB-ASSEMBLY |
| *11 | FUEL TANK VENT TUBE ASSEMBLY | *12 | FUEL PUMP GAUGE RETAINER |
| *13 | NO. 1 FUEL TUBE CLAMP | *14 | FLOOR SERVICE HOLE COVER |
| *15 | GASKET | *16 | BUTYL TAPE |
| | Tightening torque for "Major areas involving basic vehicle performance such as moving/turning/stopping": N*m (kgf*cm, ft.*lbf) | | N*m (kgf*cm, ft.*lbf): Specified torque |
| ● | Non-reusable part | - | - |
REMOVAL CAUTION / NOTICE / HINT The necessary procedures (adjustment, calibration, initialization or registration) that must be performed after parts are removed and installed, or replaced during fuel tank assembly removal/installation are shown below...
Other information:
Jump-Starting Jump-starting is dangerous if done incorrectly. So follow the procedure carefully. If you feel unsure about jump-starting, we strongly recommend that you have a competent service technician do the work. Move the booster vehicle so that its battery is as close as possible to your vehicle's battery...
MONITOR DESCRIPTION The ECM continuously monitors its main CPU and monitor IC. This self-check ensures that the ECM is functioning properly. If outputs from main CPU and monitor IC are different and deviate from the standard, the ECM will illuminate the MIL and store this DTC...
Categories
If a key is left in the vehicle, the functions of the key left in the vehicle are temporarily suspended to prevent theft of the vehicle.
To restore the functions, press the unlock button on the functions-suspended key in the vehicle.